How to Get Homer Free Trials With a Virtual Credit Card

Free trials, are they really free? Most people are often skeptical about free trials, as they should be. While some companies offer genuine free trials, a vast majority trick consumers into subscribing to their products or services. These companies hide important information in their fine prints and peg their hopes on the consumer's inability to remember to cancel their free trial on time.
If you are interested in signing up for a  without losing your money, DoNotPay can help you with this easily.
What Is Homer Learn and Grow?    
Homer Learn and Grow is a reading and learning application that is targeted at kids 2 to 8. The app uses interactive activities such as stories, songs, animations, and voice instructions to teach children how to read. In addition to literature,  Learn and Grow teaches math and helps children grow emotionally and socially. While supporting independent learning, the app makes learning fun for students. The other great thing about this learning application is that all activities are customized to accommodate your child's needs and learning style.
Does Homer Learn and Grow Offer a Free Trial?
Yes, Homer offers a 30-day free trial. This gives you sufficient time to notice changes in your child's reading.
How Can I Get the Homer Free Trial?
Follow these steps to start your free trial with Homer:
Visit the Homer website
In the upper right corner, select "Try for Free."
You will be prompted to fill out the name of your child and their date of birth
Select your child's fields of interest and their level of comprehension
Wind up the signing up process by providing your credit card information
Go to your email to confirm your membership
Upon signing up for Homer's free trial, you will get:
Unlimited access to all the learning programs and activities
Personalized learning tracking
Access to up to four learner profiles
Many offline activities
How Can I Cancel the Homer Free Trial?
To cancel your free trial, you will have to log in to your account at any time before the end of the 30 days and cancel.
How Much Will Homer Cost After My Free Trial?
Both you and your child can enjoy Homer by either paying a monthly or annual subscription.
This means that if you subscribe to the annual plan, you will save 54%. In both subscriptions, your child will enjoy the following services:
Personalized programs that cater to the interests of your child
An introductory quiz to establish the right program and level of activity for your child
Numerous interactive plays, stories, and videos
Does the Homer Free Trial Automatically Renew Into a Paid Subscription?
Yes, once the trial period is up, you will be automatically charged $7.95 a month. However, you will have had sufficient time to determine if this application is fit for your child. If you see improvements in your child's reading and learning ability, then the monthly bill will be a favorable price to pay. If not, you can cancel any time you like before the free trial expires. No harm, no foul.
The Most Popular Alternatives to Homer
Here are some other great applications, like Homer, to help your kids improve their reading and learning skills:
ClassDojo
This is a simple learning communications app for teachers, students, and their parents. The app encourages teamwork and allows parents to be part of their child's learning journey by enabling teachers to send instant messages to parents.
First Grade Learning Games
The app offers 18 amazing and fun games to help children learn First Grade lessons. Students learn first-grade spelling, science, fractions, fossils, and so much more.
Avoid Automatic Renewal With DoNotPay Virtual Credit Card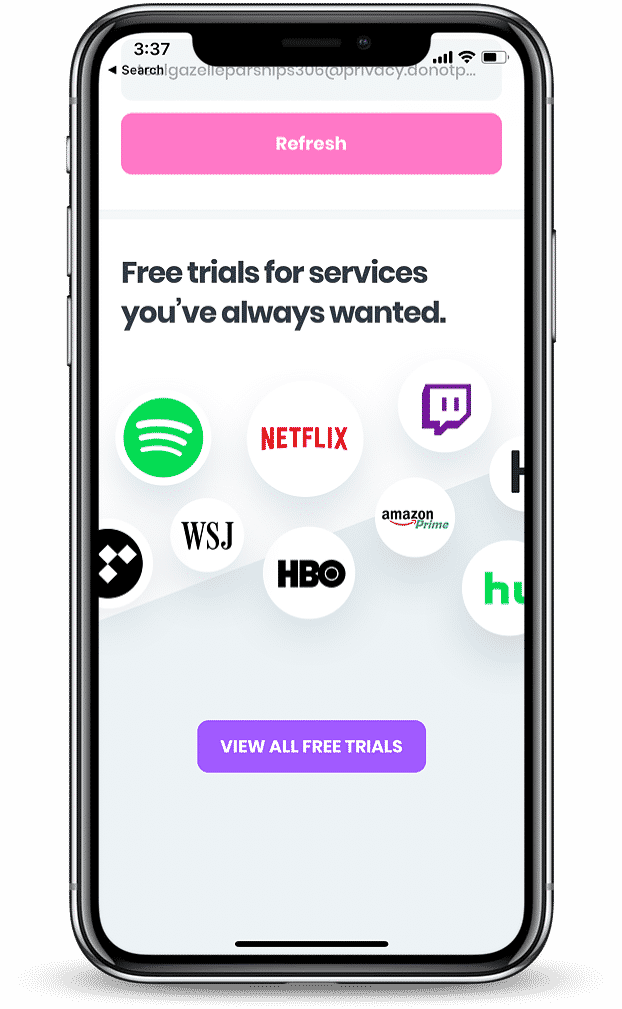 We have all been there: we sign up for a free trial, forget to cancel before the trial ends, and end up being charged for services or products that we did not need. Most of the time, we overestimate our ability to cancel free trials on time. That said, you can use DoNotPay's Virtual Credit Card to avoid charges every time you sign up for a free trial.
To Use DoNotPay's Virtual Credit Card, Follow These Easy Steps:
Search free trial card on DoNotPay and enter the company you want a free trial for.
We'll automatically generate a virtual credit card that you can use for that merchant. Copy the card details shown on your screen.
Use the card to sign up for your free trial and sit back to relax and enjoy!
*The card will be deactivated and not usable once it's been used once
Why Should You Use DoNotPay's Virtual Credit Card?
The following are the top reasons why DoNotPay's Virtual Credit Card is a very important product:
You will receive a new card number every time you sign up for a free trial
Because the card has no money, you will not be billed if you forget to cancel your free trial
The Virtual Credit Card will offer you an extra layer of protection from identity thieves on the internet.
What Other Services Can DoNotPay Offer You?

DoNotPay can provide you with many other services, such as:
And so much more!  with DoNotPay today to get started.