How to Get HMA VPN Free Trials Securely With a Virtual Credit Card

The world can be a dangerous place, and that includes the digital world. With cybersecurity becoming more and more critical every day, it's high time people started taking their online privacy more seriously. One way to do this is by using a VPN to mask their online activity, especially when working on a public WiFi network. HMA is one VPN service that you might want to consider, especially since it comes with a free trial. But what if you're at risk of forgetting about the trial and getting charged anyway?
That's where  comes in, and we can show you exactly what you can do to avoid any charges that might come with forgetting about your .
Does HMA Offer a Free Trial?
HMA VPN offers a free trial to new users. You can download their full VPN program for free and use it without restrictions for a full week before you need to pay.
How Can I Get an HMA VPN Free Trial?
Getting a free trial of HMA VPN is extremely easy since the company is very upfront about this offer. In order to start using the VPN free trial, all you need to do is:
Go to the "Pricing" section on the HMA website.
Click the first option that gives you a free week of service.
Head to checkout and input your information, then pay the $0 price tag.
Download the VPN program and set it up, then start using it.
Does the HMA VPN Free Trial Automatically Renew Into a Paid Subscription?
If you don't cancel your HMA free trial after the week is up, you will automatically be charged for a full year of service. You agree to this when you sign up for the free trial, but the good news is that HMA lets you cancel your subscription at any time during the trial to avoid being charged.
Avoid Automatic Renewal With DoNotPay Virtual Credit Card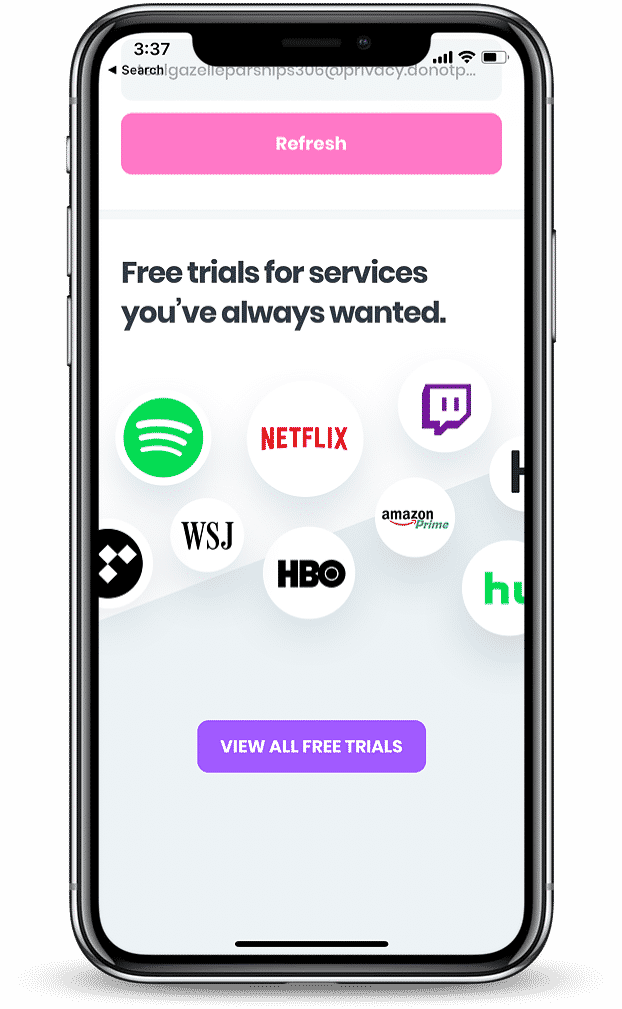 Using a VPN is a smart cybersecurity decision, but finding the right VPN can be a challenge. It's not always the first one you pick, so if you find out that HMA isn't the right choice for you, you shouldn't have to worry about forgetting about your trial and getting charged for a whole year of a service you don't want. DoNotPay agrees with this sentiment, which is why we have the free virtual credit card service for our users to take advantage of.
A virtual credit card is a great utility for signing up for free trials, since you don't even have to remember to cancel. When you use ours, we generate a working card and card info to input into the checkout fields.
Your real credit card information never gets shown to the company, so they can't charge you. That goes double for the virtual credit card itself, since it doesn't have any money on it unless you pay into it.
If they try to charge it, the charge won't go through, and your subscription will be canceled automatically.
To learn more about the virtual credit card and all it can do, click the link here.
How Much Does HMA VPN Cost After the Trial?
HMA offers a few different prices for the paid subscription of their VPN. If you don't cancel during your free trial and continue to use the VPN, you can choose between these payment options as a subscriber:
| | |
| --- | --- |
| 1 Year | The default plan for HMA is a single year plan. It's $4.99 per month and charged as a single sum of $59.88 once per year. This is the plan you're automatically enrolled in if you don't cancel your free trial. |
| 3 Years | You can save by signing up for three years of service at once. This option costs $2.99 per month and is charged as one payment of $107.64 every three years. |
Not that all of these options entitle you to use your HMA VPN on up to five devices at once. While options for 10 devices at once exist, these do not allow a free trial.
What Are the Most Popular Alternatives to HMA VPN?
These days, you can find a lot of VPNs that work great. If HMA isn't what you want to use to protect yourself online, you might want to try out some of these other services' free trials:
Surfshark
NordVPN
TorGuard VPN
Proton VPN
Tunnel Bear
What Else Can DoNotPay Do?
DoNotPay isn't just for making your HMA VPN free trial stay free. We offer you and our other users plenty of other services, including:
No matter what you're struggling with, DNP is here to help. Try the app today to start saving.