How to Sign Up For History Vault Free Trials With a Virtual Credit Card

The History Channel is a must-watch for history buffs and those seeking unique reality shows or documentaries. Now History Channel fans have a way to watch their favorite shows or explore new series with History Vault. Starting a  is a way to preview the hundreds of videos offered on the app before committing to another monthly streaming service payment. Since most free trials, including History Vault, require your credit card information before taking advantage of the trial period, some people may be wary of trying out the service. 
Surprising to most, you can get History Vault free trial without using your credit card thanks to DoNotPay's Virtual Credit Card service. DoNotPay makes signing up for free trials simple and worry-free by using a free virtual credit card that expires after the initial use. 
How History Vault Differs from the History Streaming Service
The History Channel offers two streaming services for those seeking knowledge about the past, the free History and the paid History Vault, which can confuse those wondering about a free trial for watching history-related shows and films. While History is free and provides full episodes of fan-favorite reality shows and documentaries, most shows require a cable subscription to view and to watch the latest episodes from the current seasons of top shows, such as Pawn Stars or Swamp People.  On the other hand, History Vault is a paid service featuring documentaries and series not usually played during the normal History Channel lineup. 
Does History Vault Offer a Free Trial? 
The History Vault is worth a stream for those searching for history videos about the past, present, and top-watched History Channel series. Luckily, History Vault offers a 7-day free trial for first-time users to try it before signing up for a monthly subscription. 
Reasons For Not Getting A Free History Vault Trial
Since the free trial period for History Vault is a one-time-only offer, not everyone will be eligible for a free trial. The reasons a free trial is not offered for your account may be because of the following: 
Previously initiated a free trial

Renewing your History Vault subscription 

Signed up for the history streaming service using a promotional discount 

Redeemed a gift code for your History Vault subscription 
How to Sign Up for a History Vault Free Trial?
The 7-day free trial of History Vault is only available for first-time subscribers. Therefore, if you already use History Vault or previously signed up for the streaming service, you're no longer eligible for a free trial. If you are a History Channel fan ready to dive into the past using History Vault for the first time, follow this step-by-step approach. 
Register for a new account at www.historyvault.com or download the History Vault app on your device. 

Choose whether you want a monthly or annual subscription plan. 

Provide valid payment info to cover your first billing period's full amount (the monthly or annual price). 

Start streaming your favorite shows and documentaries on the past and present without commercials. 

After your 7-day free trial, you'll automatically be charged the amount for your chosen billing period. 
Where to Access History Vault
historyvault.com

Apple Devices

Apple TV

Android Devices

Amazon Fire TV

Chromecast

Roku
Will You Automatically Get Charged After the Free History Vault Trial is Over?
The short answer is yes you are automatically charged the monthly or annual subscription fee if you do not cancel before the end of your free trial of History Vault. You have up until the 7th day at the same time you initially signed up for the service to cancel if you do not want to get charged. For example, if you signed up for a free trial at 1PM on January 20th, your payment would process on January 27th at 1:01PM if you did not initiate a cancelation before then. 
How Do You Cancel the History Vault?
If you want to avoid automatic payments after your free trial, follow the cancelation instructions provided on the History Channel's website. Alternatively, you can let DoNotPay handle it for you with our . 
Avoid History Vault Automatic Renewal With DoNotPay Virtual Credit Card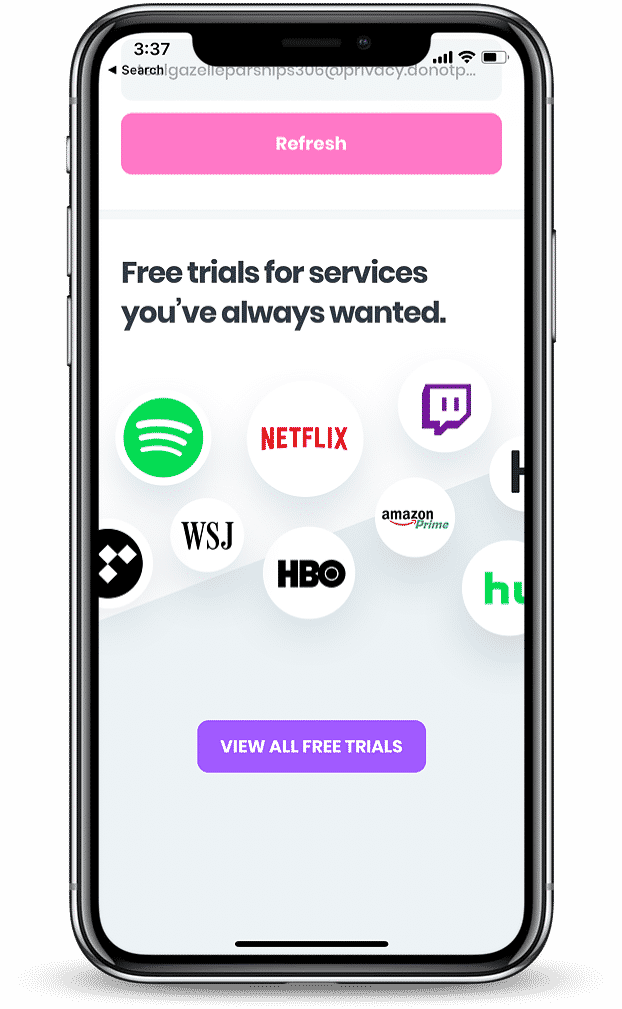 Free trials are excellent for testing the waters of services before jumping into another monthly payment. However, one issue is forgetting to cancel before the free trial expires. Since it is usually a minuscule charge each month, many people continue to pay for a service they don't want or use without noticing the unwanted payment.
However, to avoid the stress and hassle of remembering to cancel your History Vault subscription within your 7-day trial, use a Virtual Credit Card from DoNotPay. The service allows you to sign up for a free trial without using your personal credit card. Since the virtual card is only for one-time use, the service can't charge you after the trial ends because there's no money on the card, leading to automatically being unsubscribed from the service without any extra effort on your part. 
Search free trial card on DoNotPay and enter the company you want a free trial for.

We'll automatically generate a virtual credit card that you can use for that merchant. Copy the card details shown on your screen.

Use the card to sign up for your free trial and sit back to relax and enjoy!
It's that simple and fast with DoNotPay! Contact us to learn how we save you from unwanted payments after your History Vault or any other free trial ends. 
How Much Does History Vault Cost After the Trial?
You can download the History Vault app for free, however, to access its content, you must have a paid subscription.
| | |
| --- | --- |
| Monthly | $4.99/month |
| Yearly | $49.99/year |
Count on DoNotPay for Getting Free Trials without a Credit Card and More

While DoNotPay makes enjoying your risk-free  easy, we are also here to solve a variety of your problems and make things easier, from online service issues to fighting parking tickets and much more.