How to Get a Hayu Free Trial Without Providing Your Credit Card Information

Hayu is a subscription-based video streaming service that shows reality shows and true-crime TV. There is a  for people who want to try their service before making any financial commitments. However, like most companies, they want your credit card information before signing up.
If you're like most people, you probably forget when your free trial ends and will end up paying for the service. However, you don't have to give away your credit card information anymore. Instead, you can sign up for free trials and protect yourself from unwanted charges using DoNotPay's virtual credit cards.
Can You Get a Free Trial From Hayu?
Hayu offers a one-month free trial for new subscribers.
How Do I Sign Up for a Hayu Free Trial?
To sign up for a , follow these steps:
Go to Hayu's website and click on the "try for free" button.
You have four ways to sign in. You can use your email, Apple account, Facebook, or Twitter.
After filling out your information, the Hayu subscription page will come up,
On their subscription page, click the "Get one-month free" button.
Next, provide your billing details when the next screen pops up. This is where you'll provide your credit card information.
After you fill out your credit card information, click the "Submit Your Details Button."
Next, you'll see a screen with your subscription details. You'll also get an email confirmation. Click continue.
Another screen will pop up to choose which types of shows you like to watch. Then click the "Add to My Shows" button on the bottom. After that, you're all set for your free trial.
Does the Hayu Free Trial Automatically Renew Into a Paid Subscription?
You may cancel your Hayu free trial at any time during the free period. If you do, the subscription will run until the end of the free period. If you cancel your subscription after the free trial period, you will be charged for the following month. They will not issue a refund if you forget to cancel before your free trial period.
Avoid Automatic Renewal Using DoNotPay's Virtual Credit Card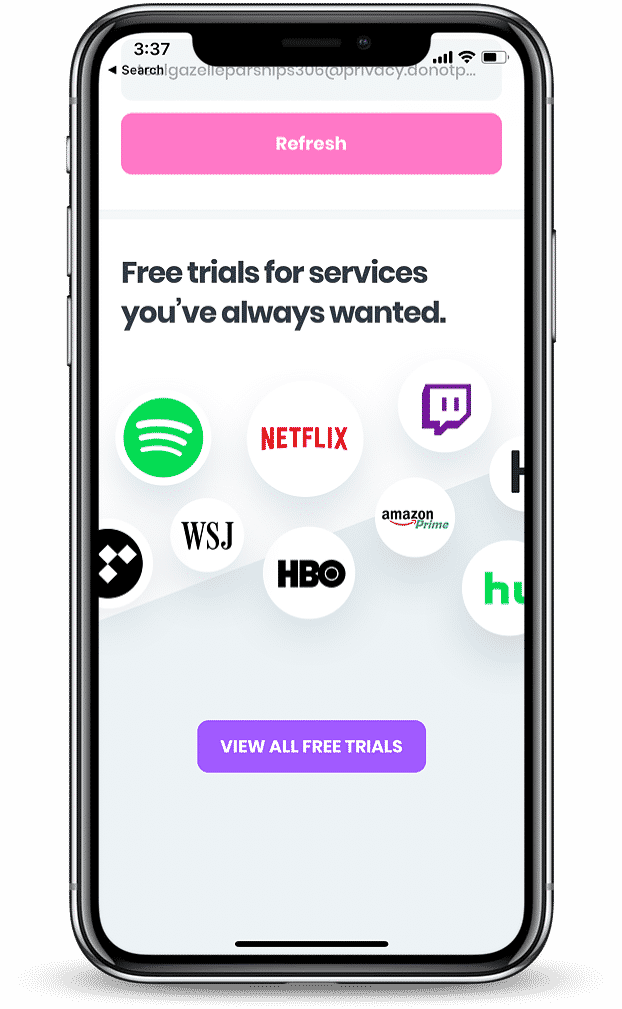 Companies know that offering "free" trials is an excellent way to get customers to sign up for a streaming service, a membership site, or a subscription service. In most cases, you have to provide your credit card information and the subscription automatically renews.
Unfortunately, most people forget to cancel their trials on time, allowing the company to charge their cards automatically. Then they have to find the information they need online to cancel the account.
To cancel your free trial from Hayu, you have to cancel it within one month. However, you don't have to worry about this at all if you use DoNotPay's virtual credit card to sign up.
For a risk-free solution, use DoNotPay's virtual credit cards to sign up for free trials. These virtual credit cards can:
Bypass authentication
Protect your credit card information
Ensure that you won't have to pay unwanted costs
Help you never have to worry about getting charged, since these cards don't process any charges
You won't pay a dime if you forget to cancel the free trial. Our virtual credit cards won't let the payments go through, so you won't have to worry about remembering when to cancel your free trial. We will generate a random, one-time-use credit card number for you. Then, you can sign up for the trials you want, enjoy them, and never worry about canceling before it ends again.
Here's how the DoNotPay Free Trial Credit Cards work:
It generates a random credit card number.
You copy and paste that credit card number for your Hayu free trial.
You can sign up for the free trial without worries.
If you forget to cancel, we will reject any charges to that card.
How Much Does Hayu Cost After the Trial?
When the free trial is over, Hayu costs $5.99 per month. Remember, this $5.99 will automatically be charged if you forget to cancel or don't use a virtual credit card number.
What Are the Most Popular Alternatives to Hayu?
Here are some of the five most popular streaming service alternatives to Hayu and their monthly cost:
| | | |
| --- | --- | --- |
| Alternative to Hayu | Price | More Information |
| Amazon Prime Video | $7.99 per month | Access to a large variety of films and TV shows, as well as Amazon's exclusive productions |
| Apple TV+ | $5.99 per month | They also offer a free 7-day trial period. |
| Crave TV | Starts at $9.99 per month | Crave TV is a Canadian streaming platform that offers Canadian and international content. |
| Disney+ | $8.99 per month | Disney+ is becoming one of the most popular streaming services. Disney stands out from its competitors because of the vast supply of its original content. |
| Netflix | Starts at $9.99 per month | Netflix is probably the most used streaming service worldwide. The Netflix library offers a wide variety of content. |
Get More Successful Solutions From DoNotPay

Besides helping you avoid unwanted charges after signing up for free trials, DoNotPay can also help you:
 for DoNotPay to get all of these helpful solutions and more.