How To Get a Haverdash Free Trial With a Virtual Credit Card

If you're someone who loves trying out all the new fashions but doesn't necessarily want to purchase every piece of clothing to keep for good, Haverdash is for you. This rental site is designed to allow women to rent up to three pieces of clothing each month, try them out, and return them. All you need is a subscription to start renting. And to begin, you may be able to test out the site with a  to see if this service fills your needs!
Does Haverdash Offer a Free Trial
Haverdash does not generally . However, they may occasionally offer a first month free trial opportunity as part of a discount or promotion. This trial offers all the benefits of a regular subscription, you simply don't have to pay for that first month. In general, though, a subscription with Haverdash is going to cost $59 per month.
How Do I Sign Up for a Haverdash Free Trial
The process of signing up for a free trial with Haverdash is easy.
Head to https://www.haverdash.com/ and click Get Started.
Sign in with Facebook, Google, or Apple, or create an account with your email and password.
Fill out a brief sizing profile by entering your typical size in your favorite brands.
Enter your personal information and address.
Enter your credit card information and sign up.
If you sign up during a promotional period, you'll get your first month free. If not, you'll be charged $59 to get started with the Haverdash subscription.
Will the Free Trial Automatically Renew With a Paid Subscription
If you signed up with a free trial, you will be billed automatically to begin a paid subscription when your first free month is up. To avoid paying for a Haverdash subscription, cancel your membership before the billing date. Haverdash does not offer any refunds if you cancel midway through a subscription, though you are allowed to keep any outfits in your possession until the next billing cycle.
How Do I Cancel My Haverdash Membership During the Free Trial
If you want to cancel your membership, there is a very simple process. Simply call 866-445-1623 during Haverdash's business hours, which are Monday to Friday from 9:00 A.M. to 5:00 P.M. Eastern Time. Your cancellation will be effective immediately, but Haverdash will not offer any refund, partial refund, or credit for your canceled subscription.
How To Avoid Automatic Renewal of a Haverdash Free Trial with DoNotPay's Virtual Credit Card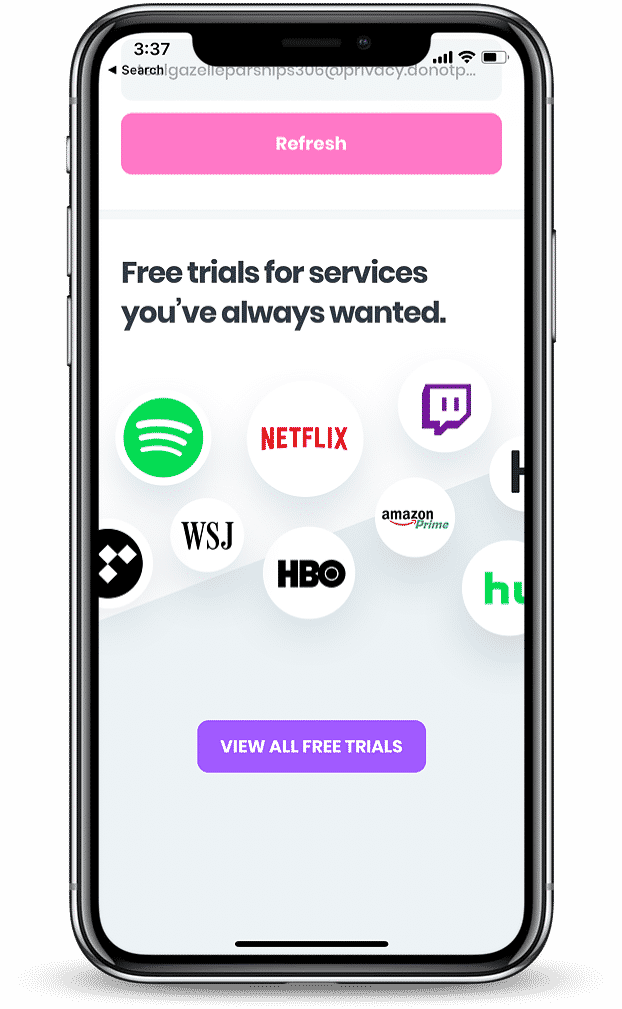 If you want to try out Haverdash but are afraid that you'll forget to cancel you subscription within the appropriate time period, you're not alone. Many Americans find themselves stuck paying for services and subscriptions they don't want every single year. If you're interested in trying Haverdash without having to pay, you can use DoNotPay to do just that.
DoNotPay is a simple solution to help you save money. This service is:
Fast. You can use DoNotPay to sign up for an account within seconds without providing any important information that you'd rather not share with Haverdash.
Easy. There's no need to fill out paperwork or complicated account information with DoNotPay.
Effective. DoNotPay's virtual credit card will get you an account without letting you get stuck paying, every single time.
Here's how it works:
Search free trial card on DoNotPay and enter the company you want a free trial for.
We'll automatically generate a virtual credit card that you can use for that merchant. Copy the card details shown on your screen.
Use the card to sign up for your free trial and sit back to relax and enjoy!
*The card will be deactivated and not usable once it's been used once.
That's all it takes! Now, you can sign up for a free trial without having to worry about canceling it. When Haverdash tries to charge the virtual credit card you entered, they won't be able to. By the time they call you for information, you should be ready to cancel your subscription without having had to pay a cent.
Other Ways DoNotPay Can Help You Save Money
DoNotPay's virtual credit card works in all sorts of companies so that you can sign up for as many free trials as you like without having to pay the consequences. If you'd like help to save money on other services, DoNotPay has you covered there too. DoNotPay can help you with:
And that's just the beginning! If you're looking for ways to save money and deal with small legal issues,  to get started with DoNotPay today!