Sign Up for Hallmark Free Trial Without Submitting Your Credit Card Info

The Hallmark channel is a pay television cable channel that is primarily targeted at families and has a mixture of television miniseries and movies, lifestyle programs, and original and acquired television series.
Having undergone numerous instances of rebranding since its inception in the late 1900s, Hallmark is currently one of the best and most affordable TV channels for most Americans.
Does Hallmark Have a Free Trial?
Yes, Hallmark has a . As a new subscriber, you can enjoy entertainment from the Hallmark channel for seven days uninterrupted. Regardless of your medium of watching—whether phone, tablet, television, or on the website—you can enjoy all the features typical of a premium Hallmark channel.
How Can I Get the Hallmark Free Trial?
Fortunately, getting your  is easy and convenient thanks to the well-laid-out website and user interface. Here's how:
To sign up for the free trial, head over to Hallmark's entertainment website.
At the top right corner of the page, click the 'Start your 7-day free trial' yellow button
Create your account by submitting your name, email address, and password
Choose a pricing plan, whether monthly or annual.
Upon choosing the plan, you are directed to enter your payment details, after which you will be able to access the Hallmark 7-day free trial upon successful card verification
Does Hallmark Free Trial Automatically Renew Into a Paid Subscription?
After the end of the , your payment card will be automatically charged either a monthly or annual fee, depending on the plan you choose.
If you want to avoid being charged automatically, you need to cancel your free trial at least 24 hours before the lapse of the 7-day trial (before renewal).
If you forget to cancel the free trial on time and get charged, you might plead your case and request a refund. This process is stressful and has higher chances of failure. Fortunately, you can rely on DoNotPay to actually get you a Hallmark refund.
Avoid Automatic Renewal With DoNotPay Virtual Credit Card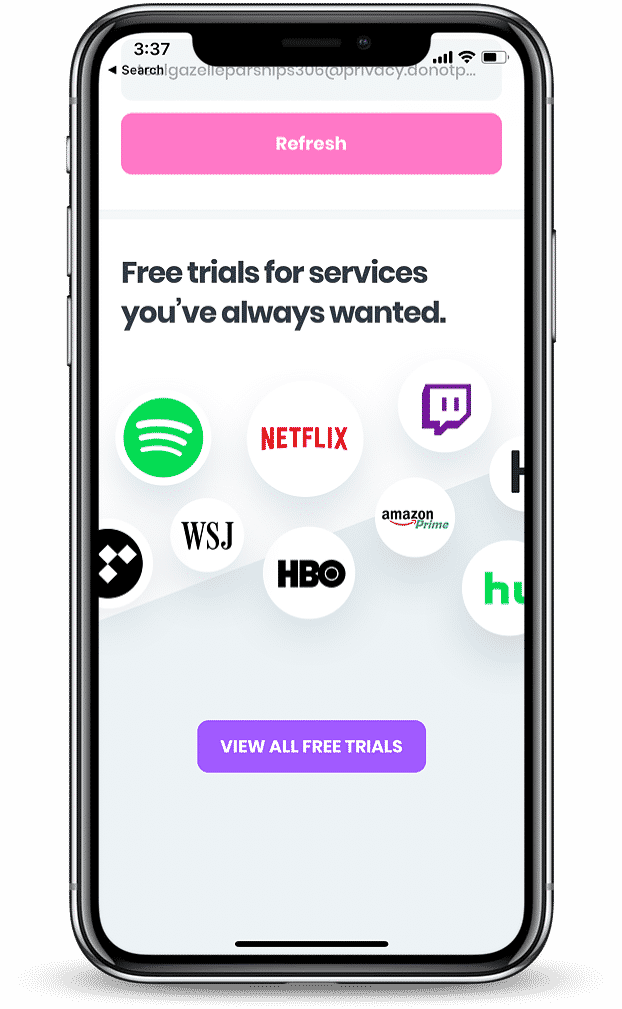 It is not uncommon for most people to forget to cancel their Hallmark free trial subscription. Unfortunately, the result is you being charged for a service you won't use or need.
Whether you are too busy to cancel the account on your own or simply anticipate that you will forget, DoNotPay can help you cancel your Hallmark account with no hassle. That way, you won't get charged automatically.
DNP generates a random number and credit card details that you will use when signing up for the free trial. Once the free trial ends, Hallmark won't charge you since you will have used DNP's free virtual credit card, which typically has no money on it. With this, you will be able to:
Generate a new credit card number with each use
Make it impossible for a subscription service to auto-renew your membership
Keeps your identity safe
Not have subscriptions show up on your credit card statement
As a result, you will get unsubscribed automatically and avoid paying any fee. If you want to enjoy a Hallmark free trial without getting charged, sign up with DoNotPay to get access to its virtual credit cards that you can use.
How Much Does Hallmark Cost After the Free Trial?
Hallmark has both monthly and annual pricing plans. The monthly plan costs $5.99 per month, which will be charged at the end of your 7-day free trial. The annual plan costs $59.99 per year, which is also charged at the end of the 7-day free trial.
What Are the Most Popular Alternatives to Hallmark?
The entertainment industry is currently packed with loads of entertainment options for almost any genre type. While Hallmark is a relatively affordable and viable choice for entertainment movies and series, other alternatives exist that you can enjoy at higher or lower subscription fees.
Below are some of the most popular alternatives to Hallmark movies:
Channel
Pricing
Features
Dove Channel
$4.99/month
Provides a mixture of new family content and old favorites. It favors all members of the household, including kids.
VidAngel
$9.99/month
Works with your current Prime and Netflix account to filter out the violence, sexuality, and coarse language common in many movies and

series.

Netflix
$9.99 - $19.99/month
It is among the top popular homes for entertainment collected globally.
Disney+
$8 - $20/month
Unlimited stories from Pixar, National Geographic, Star Wars, Marvel, and Disney. A premium ad-free experience.
Paramount+
$5/month for the ad-supported

$10/month for the ad-free

Breaking news, live sports, and plenty of entertainment. You can stream over 30,000 full episodes, including favorites from Smithsonian Channel, MTV, BET, Comedy Central, Nickelodeon, and CBS.
Hulu
$6.99/month
Enjoy thousands of TV shows and movies with your own personalized plan.
HBO Max
$14.99/month
It combines all the offerings of HBO and exclusive Max Originals.
Amazon Prime TV
$12.99/month
Watch sports, movies, and TV, including most of Amazon Originals.
How Else Can DoNotPay Help?

Besides providing free virtual cards to sign you up for the Hallmark free trial, DoNotPay can also help you:
Reach out to DoNotPay to help you sign up for the Hallmark 7-day free trial risk-free.