How to Get Great Courses Plus Free Trial Without Giving Your Credit Card Info

Great Courses Plus is a subscription purchased through Wondrium. The site has video lectures, a magazine, documentaries, and offers discounts on a variety of products from the Great Courses. They strive to give people more opportunities to learn and love to learn.
Does Great Courses Plus Offer a Free Trial?
Yes, Wondrium offers a s when you first sign up for the subscription. They have three different plans you can choose from, each offering the same 14-day trial period. The plans offered are based on when a payment is taken out, so you can opt for monthly, quarterly, or annual payments. 
How Can I Get a Free Trial for Great Courses Plus?
Signing up for  through Wondrium is fairly simple. You do have to enter your credit card information, but there are no weird hoops you have to jump through.
To sign up for a Great Courses Plus free trial:
Go to Wondrium's website.
Click on the yellow button that says "start your free trial".
Select the plan you want your free trial for. If you remember to cancel it before the trial is up, it doesn't matter which plan you select, as they all offer the same benefits.
You'll then enter your email address and create a password.
Click "create account and continue".
After that, you'll be required to input your billing address and credit card information.
Click "join now" and start your free trial!
Will Great Courses Plus Immediately Renew Into a Paid Subscription?
Yes, Great Courses Plus will immediately charge you for a subscription after the free trial is up. You will have to cancel on the 14th day if you don't want to get charged for another month of service. The site does not give out refunds.
Avoid Automatic Renewal with DoNotPay's Free Virtual Credit Card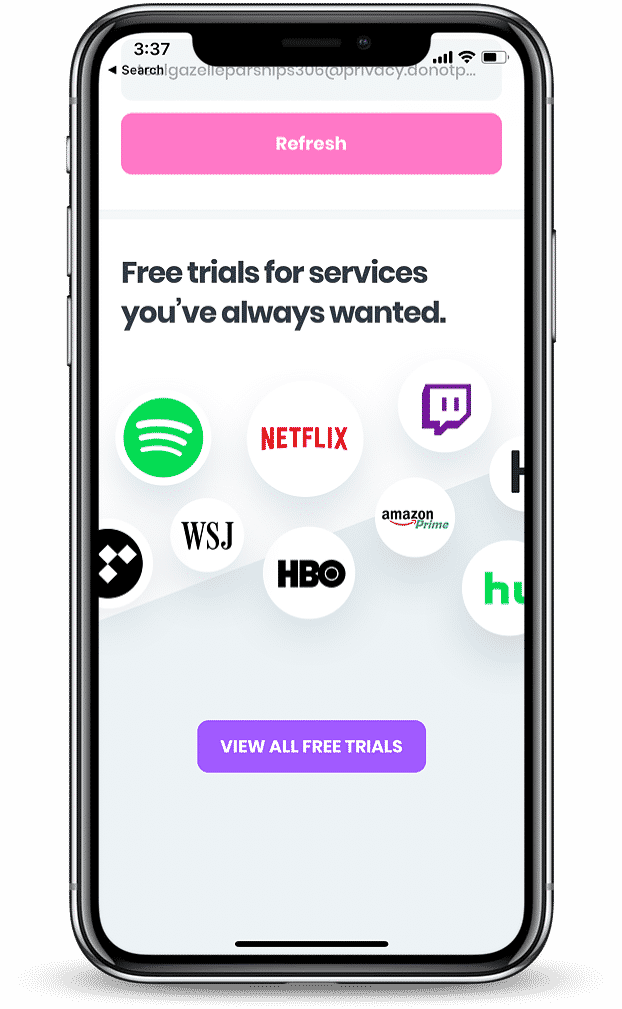 If you're one of those many people who forget to cancel free trials before getting charged, DoNotPay has the perfect solution for you. They'll generate a virtual credit card for you to use to sign up for any free trial you can think of, and you won't get charged for it if you forget to cancel! Basically, the virtual card can only be used for a free trial with the merchant you select, so there's absolutely no risk of extra money coming out of your own bank account. You won't fall into the hole of forgetting to cancel before your subscription is up every single month.
To get a free virtual credit card with DoNotPay:
Search free trial card on DoNotPay and enter the company you want a free trial for.
We'll automatically generate a virtual credit for you to use with that merchant. Copy the card details shown on your screen.
Use the card to sign up for your free trial and sit back to relax and enjoy!
It really is that easy! No more worrying about getting charged extra fees for a service you only wanted to use for a few days.
How Much Does Great Courses Plus Cost After the Free Trial?
It depends on the plan you select. All plans offer the same benefits, but you get a discount if you opt for annual or quarterly payments. 
Monthly Plan - $20/month - No discount
Quarterly Plan - $45/every three months - 25% off equal to $15/month
Annual Plan - $150/year - 35% off equal to $12.50/month
If you only plan to subscribe to the service for the length of the free trial, it's best to opt for the monthly plan, so you don't end up getting charged more than you can afford if you forget to cancel. Keep in mind that Wondrium doesn't offer refunds, so forgetting to cancel and get charged for it means you have the service for as long as the plan you selected allows. You definitely don't want to get charged for a service you won't use. 
What Are Some Popular Alternatives to Great Courses Plus?
Without the amount of knowledge available on the internet these days, it's no surprise that Great Courses Plus has a lot of alternatives.
Some alternatives include:
Free Courses
Pricing
Benefits
Khan Academy
Free

Unlimited access to 10 different categories worth of courses, including ACT/SAT prep courses

Coursera
Free

Access to free courses and resources for college degrees

Udacity
$399/month

Access to tech career courses to gain skills for a tech career

Udemy
Pay per course ($15 - $100+)

Access to hundreds of different courses in many fields

Plantoost
Basic: $19/month;

Growth: $29/month;

Scale: $39/month

Access to hundreds of courses
Free doesn't always mean better when it comes to course subscriptions, but many of these free programs provide great resources for people looking to learn something new or increase their skill sets.
What Else Can DoNotPay Do?
If you need help with something, there's a good chance DoNotPay can help you solve your problem. Basically, DoNotPay is your personal online lawyer, and they can help you solve almost any legal or everyday issue. This includes dealing with credit card issues, taking someone to small claims court, and protecting you from stalking and harassment. Whatever your problem is, let DoNotPay help you solve it and get the justice or compensation, you deserve.