How to Get the 30-Day Garmin Pilot Free Trial With a Virtual Credit Card

Garmin was one of the first commercial navigation devices on the market. While vehicle navigation has evolved to phones and in-dash tablets, pilots have seen Garmin develop a sophisticated suite of flight-ready planning and navigation tools. It is not uncommon for a pilot to have multiple Garmin devices in their cockpit on a single flight, unified by the Garmin Pilot app.
For pilots who are new to the Garmin suite, the is an excellent way to get started. Even if you're not sure that Garmin will be your final navigation planning solution, DoNotPay can help you try out the trial with no strings attached.
Does Garmin Pilot Offer a Free Trial?
Yes, Garmin Pilot provides a  to all new users who sign up for the service. That's an entire month to explore the features and multi-device management. Garmin Pilot makes it easier to plan your flight with overlays of departures, approaches, arrivals, and flight plans. The free trial is available through both Apple and Android app stores and typically is begun after you install the app on your device.
How Can I Get a Garmin Pilot Free Trial?
Getting the Garmin Pilot free trial should be easy. The free trial is offered directly through the app after you have installed it.
Download the Garmin Pilot App
Open the App
Log In With Your Garmin Account
Sign Up for the In-App Free Trial
The one trick is that the free trial start is based on when you installed the app. This can mean that those who installed the app a while ago but didn't know about the free trial - or who were not ready to start it - may not see the free trial link. If so, there are a few things you can try.
Uninstall and reinstall the app
Install the app under a new account
Install the app on a new device
If these measures don't work, you can contact Garmin customer service for support and access to your free trial.
Does the Garmin Pilot Free Trial Automatically Renew Into a Paid Subscription?
Yes. Once you activate the Pro version of Garmin Pilot through the free app, the app is then able to charge you through your app store. This functions like the subscription is an in-app purchase. It is presumably why the free trial is primarily available through the app itself. You can expect to be billed for a Standard account or Premium account depending on what you chose while starting the free trial.
Avoid Automatic Renewal With DoNotPay Virtual Credit Card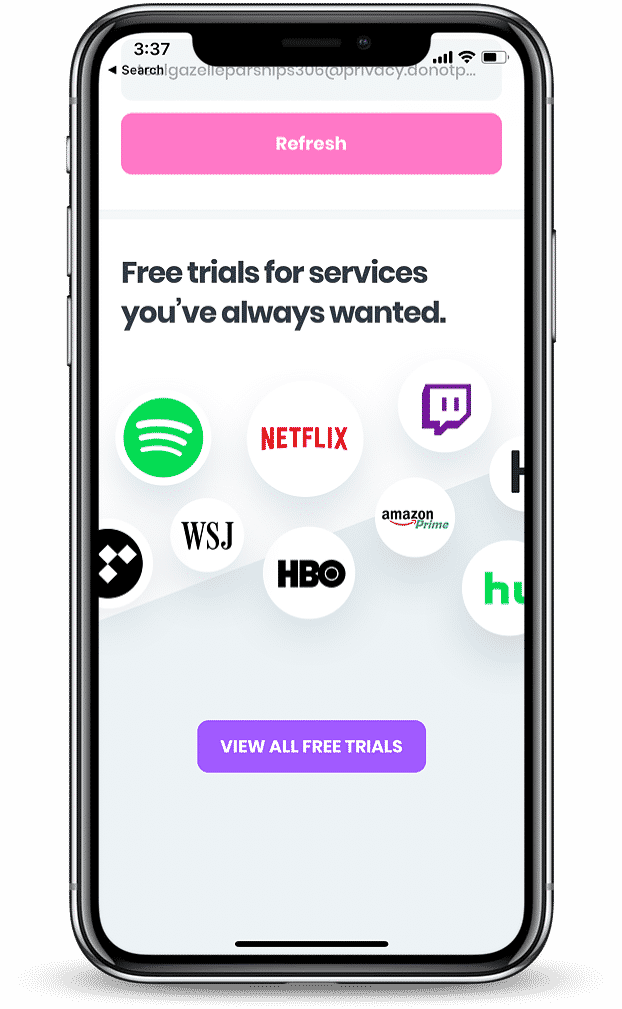 Everyone deserves to try free trials without an obligation to buy. After all, that's the entire point of a free trial; to give you a chance to decide. If that decision is taken away from you by an automatic charge,  then it was mostly an illusion. Only people who cancel their accounts can stop the automatic renewal cost when the free trial expires. Until now.
If you want a truly free Garmin Pilot free trial, or any other free trial service, all you need is a virtual credit card. These dummy-cards are randomly generated numbers that are temporarily accepted as valid. However, they don't authorize payment.
Here's how it works:
Search Free Trial Card on DoNotPay and enter the company you want a free trial for.
We'll automatically generate a virtual credit card that you can use for that merchant. Copy the card details shown on your screen.
Use the card to sign up for your free trial and sit back to relax and enjoy.
You can enjoy your free trial and take your time getting to know the software without a stressful count-down to payment. Simply put in the virtual credit card instead of your payment card when signing up for a free trial.
Want to try out more than just Garmin Pilot? You can get as many free virtual credit cards as you need from DoNotPay. We'll just generate a few more numbers on the fly.
How Much Does a Garmin Pilot Cost After the Trial?
The  costs as much as the subscription you chose when signing up. There are two tiers to choose from, US standard and US premium.
Plan
Annual Fee
Inclusions
Garmin Pilot US Standard
$80

Flight Planning
Weather
VFR/IFR charts and terrain

Garmin Pilot US Premium
$160

US Standard Features
Gero-referenced charts
Icing forecasts
Garmin FliteCharts
Terrain/obstacle alerts
Synthetic vision
Safe Taxi airport diagrams
What Else Can DoNotPay Do?

What else can DoNotPay do to make your life easier or your flight plans safer? There are dozens of services and tools designed to save you time, money, and headaches. Whether you need to apply for permits or cash a few gift cards, we have the tools you need to check those important items off your checklist.
Here are just a few more of the useful things we can do for you.