How to Get a Gaia GPS Free Trial Without a Credit Card

 is a digital mapping software that allows users to find and locate different destinations. It is an app that was created in 2009 and has since merged with Outside Inc to provide the best navigation tools available. Do you need to pay to get a Gaia GPS membership, and does the company have free trials available? This  guide will answer these questions and more about Gaia GPS!
Does Gaia GPS Offer Free Trials?
Yes, offers a few ways in which you can try different aspects of their products. The following are the ways in which you can try a Gaia GPS membership for free:
Free Membership
Gaia GPS offers a free membership that gives you access to their basic features. The free membership offers the following:
Tracking Waypoints
Backing Up Tracks On GaiaGPS.com 
Route Planning Options
Recording Your Trips
Sharing Routes With Friends
Use Of GPS
Online Access To Other Gaia GPS features, such as Air Quality and Smoke Forecast
With the basic membership, you have limited access to Gaia GPS' available features. You can only use your account online and cannot download maps or other offline features.
Premium Free Trial Membership
Gaia GPS is currently offering a free 1-month trial for the Premium Off-Grid Adventurers Membership. The free trial offers unlimited access to all the basic features, plus the following:
Access To Over 250 Maps
The Ability To Download Maps To Use Offline
The Ability To Print Maps From Their Website
With Gaia GPS' maps, you can view many of them with overlays as well, including private and public land overlays, SwissTopo, France IGN, and more!
How to Sign Up for a Free Trial From Gaia GPS
To sign up for a free membership and a premium free trial membership, follow the instructions below:
Go to the Gaia GPS website.
On the landing page, it will ask you to make an account by typing in your email address and creating a password.
After creating an account, there are additional steps to get a free trial of the premium membership. To get this free trial, continue with the steps below:
Once you have made an initial account, go to the green mountain icon located on the top right corner of the page.
Click on the icon and scroll to the My Subscriptions tab.
It will ask you if you would like to upgrade to the premium membership. It will also offer you a 10% discount on the annual subscription as well as the free 1-month trial for the premium membership. Click on the Redeem tab.
Once you click the Redeem tab, you are all set for the free 1-month trial!
Do the Gaia GPS Free Trials Automatically Renew to a Paid Subscription?
No, the free trial subscriptions do not automatically renew to a paid subscription. When signing up for a free membership and a free premium trial, you are not asked for any credit card information. Therefore, in order to continue the premium membership, you will need to set up a payment plan before the free trial ends. Once you set up a payment plan, your free trial will fully continue until it expires. Then the paid version will be initiated, and you can continue the service without interruption.
When it comes to getting free trials, it can be somewhat difficult in figuring out how to get a free trial. It can also be time-consuming to locate the different options available. Having a guide that can show you special features and offers for various products can make all the difference. DoNotPay offers this assistance and so much more!
The Benefits Of Using A DoNotPay Virtual Free Trial Card!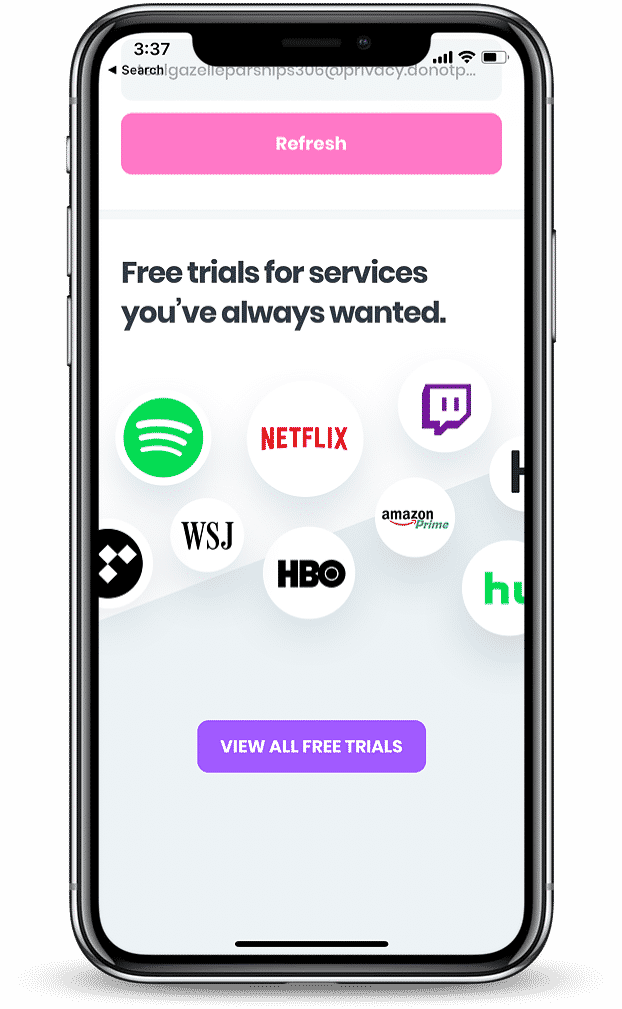 When it comes to getting free trials, DoNotPay has an incredible option to avoid paying for subscriptions after using free trials. By using a DoNotPay virtual free trial card, you have the ability to start a free trial without the need to enter in personal financial information. A DoNotPay free trial card works like a virtual credit card, by having a generated credit card number, expiration date, and CCV number. When a free trial expires, you don't have to worry about ending the subscription. DoNotPay will cancel your free trial on the day it expires, and you have the peace of mind in knowing that your financial information is kept safe without a charge added to your account.
If you want to sign up for a DoNotPay virtual credit card, follow the instructions below:
Search for the Free Trial Card on DoNotPay and enter in the company from which you would like a free trial.
A DoNotPay virtual credit card will automatically be generated for you. Write down or copy the information on your screen.
Use the information on the website of the specific company you've chosen when signing up for their free trial.
Once the free trial is fully set up, that's it! You can now enjoy your free trial stress-free. DoNotPay will handle the rest when the free trial ends!
What Else Can DoNotPay Offer?

DoNotPay provides a simple and easy way to enjoy numerous free trials! DoNotPay also offers perfect solutions for other areas as well! To learn more, check out the following:
Use for all your free trial needs and more!