How to Get a FreeStyle Libre Free Trial Without a Credit Card

If you're diabetic, you've probably wondered about the . Is it legit? Can you sample without providing a credit card? Like so many other services out there, free trials can sound too good to be true. And if you're required to enter credit card or payment information, you might be facing a FreeStyle Libre free trial turned paid subscription.
So, how can you avoid this situation but still take advantage of the FreeStyle Libre free trial? There are tips and tricks to know when exploring your free sample sign-up process. But missing a step and opting in could lead to surprise charges and enrolled subscriptions later.
We'll help you navigate the process for sampling the FreeStyle Libre free trials. And if these steps seem too complex, DoNotPay has a super-easy solution to get that Freestyle Libre free trial without being charged.
Does FreeStyle Libre Offer a Free Trial?
 Libre's Flash Glucose Monitoring system provides device monitoring for users in a way that allows them to avoid routine pricks for blood glucose testing. On the market now are the Libre and Libre 2 devices. But what you want to know is if there is a FreeStyle Libre free trial. Yes, yes, there is.
| | |
| --- | --- |
| The 14-day FreeStyle Libre Free Trial | You can request your FreeStyle Libre free trial, which provides you with a 14-day opportunity to try the Libre 2 device. Some users who have already purchased the device from Abbott will not be permitted to sample the free trial period. |
| Different Requirements in the UK | Depending on where you reside, your FreeStyle Libre free trial might come with additional stipulations. In the UK, for example, the patient must be 18 years old to participate. |
| The MyFreeStyle Program | Visiting the FreeStyle Abbott website to explore your options, you can sign up for the MyFreeStyle Program with your 14-day free trial of the device. |
How Can I Get a FreeStyle Libre Free Trial?
To get your FreeStyle Libre free trial with the Libre 2 system, you'll first need to connect with your healthcare provider to secure a prescription. You can then fill out the online form to request your free trial voucher. You can redeem for FreeStyle Libre free trial voucher from your preferred pharmacy. A credit card is not required with the initial form completion for the free trial request.
Does the FreeStyle Libre Free Trial Automatically Renew into a Paid Subscription?
Right now, you are not required to enter credit card information in the online form requesting a FreeStyle Libre free trial. However, you'll need to watch and be mindful of any forms you complete online, especially because terms and conditions do change without notice. And if you are required to enter in credit card information to leverage the free trial, look for an automatic renewal policy and potential refund requests should you forget to cancel the subscription.
How Much Does the FreeStyle Libre Cost After the Free Trial?
While the FreeStyle Libre free trial doesn't automatically transition into a subscription without your consent, the costs beyond the trial can be substantial.
FreeStyle Libre 14-Day Reader, No Insurance: $98.35 for 1
Commercially Insured Patients: $0-$60/month
Insured with Participating Pharmacies: No more than $65 for FreeStyle Libre 2 or FreeStyle Libre 14-Day Reader
Avoid Automatic Renewal With DoNotPay's Virtual Credit Card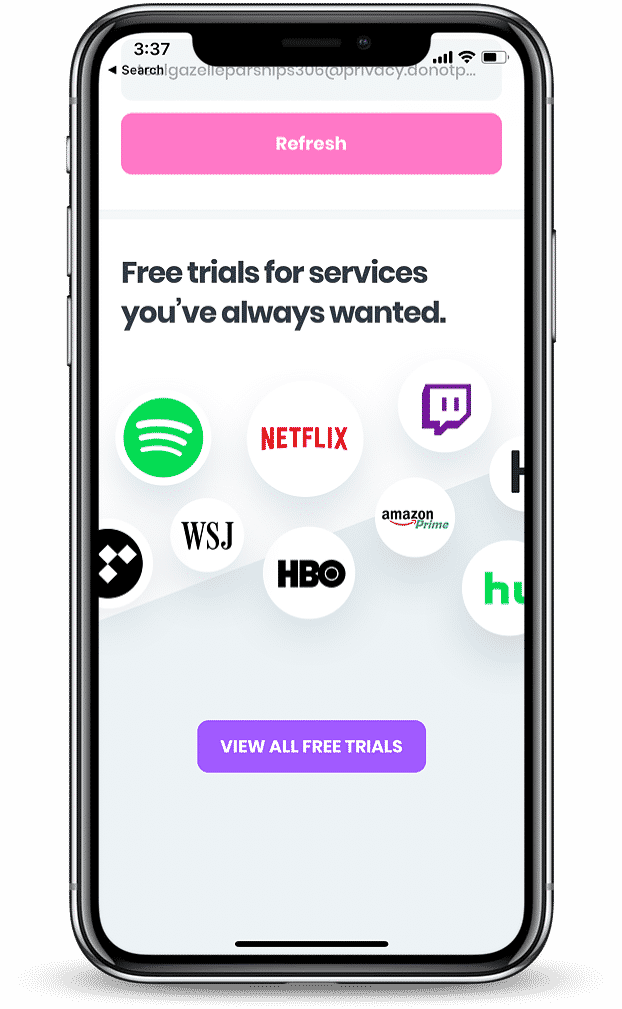 It's so easy to forget about a free trial deadline, even if you try to schedule cancelation reminders for yourself. Not canceling that free trial will mean paying for a subscription service you don't want. If you're worried about your  or any other trials set to expire, you should consider using DoNotPay's Virtual Credit Card.
DoNotPay generates random numbers, allowing you to safely subscribe to any free trial.
Once the free trial expires, the card cannot be drawn upon for payment, automatically canceling or unsubscribing altogether.
Learn more about DoNotPay's Virtual Credit Card here!
What Will FreeStyle Libre Charges Look Like on My Statement?
If you use a credit card to order FreeStyle Libre products, you'll see a charge for Abbott or FreeStyle Libre itemized. Per the terms and conditions, and after a FreeStyle Libre free trial has expired, purchases can be made through authorized channels, including with the use of an email account or by phone. Once you've created an account, you can manage your products there and will receive email notifications of qualified purchases.
What Are the Most Popular Alternatives to FreeStyle Libre?
If you don't want to mess with a FreeStyle Libre free trial, Healthline says these blood glucose monitor alternatives are worth considering.
Care Touch Blood Glucose Monitoring System
Dexcom G6
Eversense
Guardian Connect System
Rite Aid TrueMetrix Meter
Walgreens TrueMetrix Bluetooth Blood Glucose Meter
What Else Can DoNotPay Help You Do?

DoNotPay can help you with almost anything, including:
Before you consider signing up for that free trial, don't forget to use DoNotPay's Virtual Credit Card service. It can save you from unnecessary charges later and allow you to make the most use of any free trial service you'd like to try!