How to Get Contact Lenses Subscription Free Trials Without Giving Your Credit Card Information

, also known as contacts, are thin lenses worn directly at the eye's cornea. When used in the right way, they effectively correct eyesight. They can be used as an alternative to eyeglasses because they correct the same conditions such as
presbyopia (need for bifocals)
myopia (short-sightedness)
hyperopia (long-sightedness)
astigmatism (distorted vision)
Some conditions such as keratoconus and aniseikonia are corrected better with contact lenses than eyeglasses. Contacts can also be worn for aesthetic purposes, especially for people who desire to change the color of their eyes.
As a result of the many options available in the market, selecting the best and most efficient contact lenses per your needs can be challenging. The surest way of doing so is by testing them through companies that offer free trials of contact lenses to their customers. However, some eye contact lens companies charge their customers even if they are using the contact lenses on free trials. Using the DoNotPay virtual credit card can protect you from these unwanted charges. Read along the article to find out how.
How Can I Get Contact Lenses on a Free Trial? 
may require you to provide your credit card information to ascertain that you are indeed a serious buyer. However, providing these details is not advisable because hackers may steal this information and use it to execute fraudulent activities. 
There are a few eye contact lens companies that offer a free trial of their products. You are required to sign up to their website to obtain the contacts on a free trial. The following are some examples:
Acuvue
They will issue you with a free trial certificate which you can show your doctor to obtain the contacts.
CooperVision
You can get an e-coupon from their website that gives you sample lenses. You just need to complete the online form to receive this coupon.
Waldo
You can get 10 pairs of its premium contact lenses, all for free.

Dailies- You can get a five-day free trial of their contact lenses once you have signed in to their website.

Air Optix
You only need to sign up for EyeFile, after which you will get a free trial of their contact lenses.
FreshLook Contacts
They offer colored contact lenses. You can get them on a free trial once you sign up for EyeFile.
Brausch + Lomb
They will give you a free trial certificate which you can present to your eye care professional to get PureVision2 for Astigmatism or PureVision for Presbyopia contact lenses.
Does the Contact Lenses Free Trial Automatically Renew into a Paid Subscription? 
Most eye contact lens companies automatically renew to a paid subscription once the free trial period has elapsed. It is essential to cancel this service, preferably 24 hours before its expiry, to avoid being charged if you had no intention of continuing with the paid subscription plan.
If you had no plans of using the free trial contact lenses after their expiry, you can get a refund of your money by informing the company's customer service and support. This may involve a tedious and time-consuming process, so you should ensure you have canceled the service.
How Can I Avoid the Automatic Renewal of Contact Lenses Free Trial With DoNotPay Virtual Credit Card?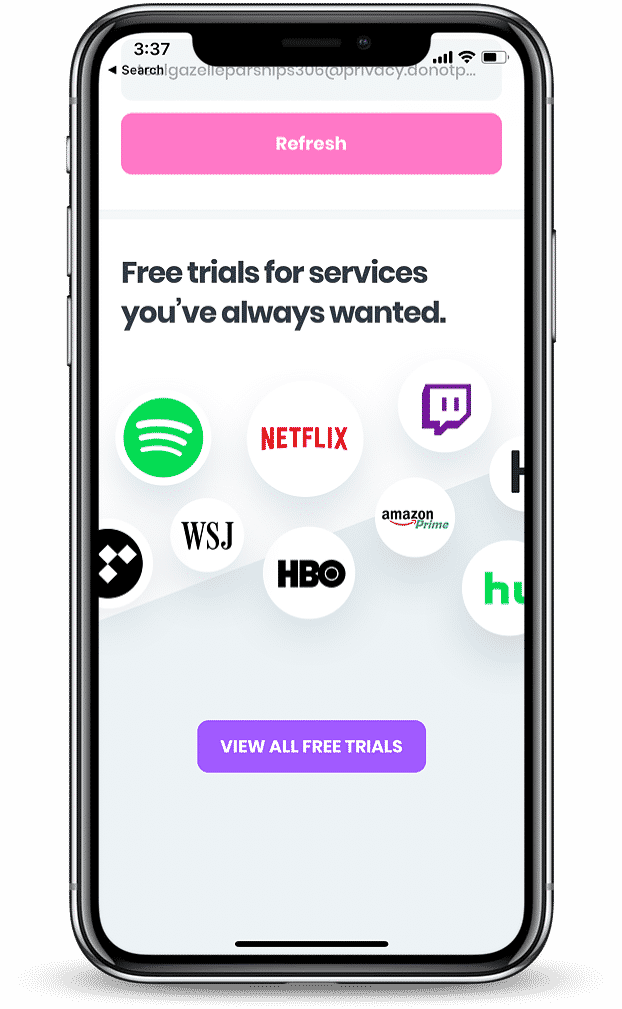 Many people forget to cancel their contact lens free trial. They, therefore, end up getting charged for the first monthly fee and then receive an order without their consent after the free trial expires. With DoNotPay
You can avoid these unwanted charges by using its virtual credit card.
The virtual credit card of DoNotPay works in a similar way to a regular credit card.
This card will create a temporary:
Account number
E-mail address
Which can only be used once in registering for the free trial of contact lenses.
Therefore, the virtual credit card protects your credit card details when signing up to platforms that provide contact lenses on a free trial. In addition, because the credit card cannot process any payments, it will prevent any unwanted charges from going through even after the expiry of the free trial period.
What Else Can DoNotPay Do? 

Apart from protecting you from unwanted charges when using contact lenses on a free trial, DoNotPay can help you with many other things. They include:
Why wait? Use DoNotPay today to avoid being charged when using contact lenses on a free trial.