How to Get Hair Growth Product Free Trials With a Virtual Credit Card

If you're getting a little sparse on top, there's no way to have a thinning wallet as well. You can take advantage of the many  out there if you know where to look… and how to read the fine print.
Here's what you need to know about finding hair growth product free trials, and how to prevent your credit card from being charged after your free trial's time is up using DoNotPay!
What Are the Best Types of Hair Growth Products
There are many products out there that claim to help , but you'll have the best luck with those that contain the only two ingredients approved by the Food and Drug Administration:
PRODUCT
BRAND NAME
DESCRIPTION
Finasteride

This is a prescription-only medication in oral tablet form. It blocks a component of testosterone called dihydrotestosterone (DHT) that causes hair loss.
Finasteride is also used to treat benign prostatic hyperplasia (BPH), and it is only covered by insurance when prescribed for this purpose. Proscar is the brand marketed for BPH, administered in 5mg doses; 1mg tablets are the recommended dosage for hair loss treatment.

Minoxidil

Rogaine (including variants marketed for both men and women)
Keranique
GoodSense
Shapiro MD
Hers
Equate

As an over-the-counter topical liquid or foam solution, minoxidil stimulates hair follicles to reduce hair loss and often triggers the regrowth of thick, new hair.
Minoxidil is far less frequently taken orally in prescription tablet form.
Request Free Trials for Hair Growth Products On Your Own
You have a few options for getting free trials if you're willing to do some homework, and you have free time on your hands.
1. Ask Your Doctor for Samples
If you have hair loss, it's a good idea to get checked out by your general practitioner to rule out medical problems, or side effects caused by other medications you might be taking. While you're there, if you've been cleared to take either minoxidil or finasteride, you can ask for free samples.
Pharmaceutical companies are always sending free samples to doctors, especially for products like these. If your GP doesn't have any, your dermatologist certainly will. But you'll be taking hair loss medication indefinitely, and freebies aren't going to help you out in the long haul.
2. Look For Offers in Print or Online
Over-the-counter minoxidil brands are big into marketing, which is why Rogaine is a household name. If you search hard enough, you might find offers for free trials or, at the very least, a heavily-discounted first month's supply. You might find these offers in men's and women's lifestyle magazines, either in print ads or those little postcards that are always falling out from in between the pages. Check the magazines in your dermatologist's waiting room—they're usually a goldmine for offers!
Want more options? Google "free trials hair growth products" or "free minoxidil" and your search results will be pages deep. The trick then is deciding which offer is the least likely to have fine print committing you to pay for future months! (Hint: If they require you to give your credit card number, this might be the case. At the very least, they're betting you'll forget to cancel your free trial so they can charge you for your next month's supply!
3. Contact The Manufacturer
Search online for the contact information for the brands listed above and ask them for a coupon for a free trial of their hair loss product. Sometimes they'll send samples direct to you! Here are some tips:
Look for an online contact form through which you can send your request.
Send a pre-printed address label to the company with a written request for a free month's supply. You might want to include a pre-paid shipping envelope with your label.
Call their customer service line and request a free sample. You might be put on hold, or given the runaround, but be patient: If these companies want you hooked for a lifetime of their product, they'll probably help you out if you hang in there. Tip: Learn how to jump the queue with customer service lines with DoNotPay!
Avoid the Free Trial Trap with DoNotPay's Virtual Credit Cards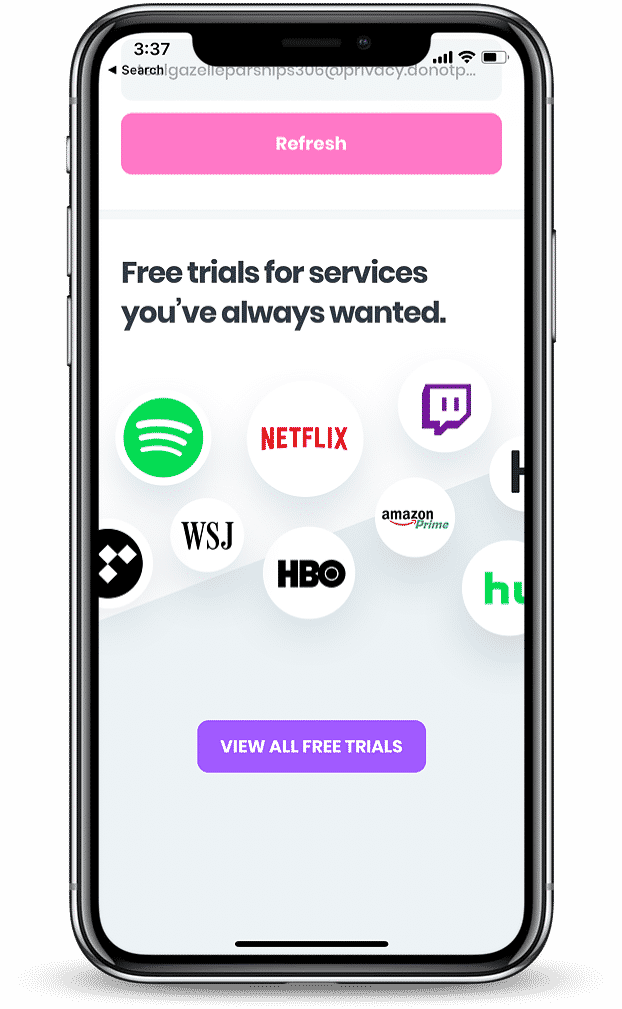 Some hair loss product-free trials require you to give them your credit card number so that, unless you go out of your way to cancel your trial, the company can begin charging you a monthly fee. This is an extremely popular method for "club"-type hair loss programs.
Did you know that you can legally and conveniently sign up with a "dummy" credit card number that gets you into the free trial program, but doesn't allow the company to make an actual charge when the time is up? These are called "virtual credit cards", and they're often offered on banking apps… or through companies like DoNotPay, who can go the extra mile and find you those free trials!
What Else Can DoNotPay Do

We offer a multitude of advocacy products that make your life easier. Here are just a few:
Save money on prescription medications
Try us today and find out how we can prevent  and tomorrow, you can explore the hundreds of ways we can save you time and money, no matter the challenge!