How to Get Cannabidiol Oil on a Free Trial Without Giving Your Credit Card Information

 (CBD) is a natural chemical derived from cannabis. Although it comes from the marijuana plant, CBD does not produce a "high" effect when used. Cannabis, also known as marijuana, is a psychoactive drug that is obtained from the cannabis plant. The legal status of cannabis varies among states primarily because of the debate about whether it causes harm to the body when used.
CBD oil is made by extracting cannabinoids from the cannabis plant and then mixing it with a carrier oil such as coconut oil or hemp seed oil.
CBD oil usage has increased, with scientific studies proving that it can treat anxiety and chronic pain.
Moreover, it is used to treat many other diseases and ailments, including:
| | | |
| --- | --- | --- |
| Type 1 diabetes | Alzheimer's disease | Chronic pain |
| Cancer | Anxiety | Stimulate appetite |
Is CBD Oil Available on a Free Trial? 
Many available for sale over the internet have a free trial that usually lasts for a month. Companies that produce it make the product available for a free trial to mainly enable consumers to try it out and assess whether it is worthy of buying.
How Can I Get CBD Oil on a Free Trial? 
While many suppliers of CBD oil require their customers to provide their credit card details to get the product, doing so is not recommendable as it may leave you at risk of identity theft when online hackers try to obtain this information illegally.
There are several suppliers of CBD oil all over the internet. It would help if you visited their web pages to find out how you can make an order for the free trial CBD oil. In most cases, you are required to sign up to their platform by providing a username (either your phone number or e-mail address) and a strong password. The following are a few examples:
Montkush
Ananda Professional CBD Oil
Amma
CBD XLT Oil
Does the CBD Oil Free Trial Automatically Renew into a Paid Subscription? 
Most CBD oils that are available automatically renew to a paid subscription once the free trial time has elapsed. For this reason, it would be best if you cancel the subscription if you do not intend to use the product after the free trial so as to avoid being charged. 
However, if you find out that you have been charged for the product after the expiry of the free trial, you can ask for a refund by informing the customer service support of the company. While you may get your money back, it is vital to note that not only is it not a guarantee, but also may involve a tedious and lengthy process.
Avoid Automatic Renewal With DoNotPay Virtual Credit Card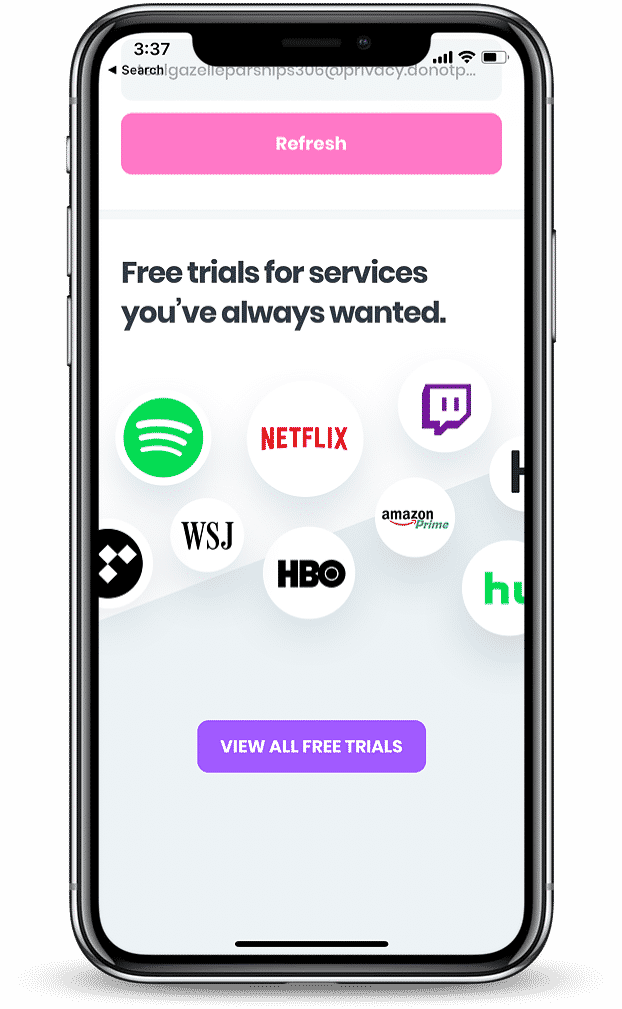 Many people using CBD oil on a free trial usually forget to cancel the service when they have no intentions of using it after the free trial period has elapsed. As a result, the product may automatically renew into a paid subscription, and they end up receiving charges for a product they are no longer using without their consent. However, the virtual credit card of DoNotPay can be of assistance in such a situation. It works just like an ordinary credit card, only that it has fake information like a randomly generated number, expiry date, and Card Verification Value (CVV). As a result, the virtual credit card is unable to process any payments, thereby preventing any unwanted charges from going through. In addition, it helps to keep your credit card information safe from hackers who may attempt to steal it and use it to practice fraudulent activities.
How Does It Work?   
Search free trial card on DoNotPay and enter the company you want a free trial for.
We'll automatically generate a virtual credit card that you can use for that merchant. Copy the card details shown on your screen.
Use the card to sign up for your free trial and sit back to relax and enjoy!
*The card will be deactivated and not usable once it's been used once
Read this article for more info: https://donotpay.com/learn/virtual-credit-cards/
What Else Can DoNotPay Do? 

Protecting you from receiving unwanted charges when using CBD oil on a free trial is just one of the many things DoNotPay can assist you with. Others include:
Conclusion 
Why wait? Use DoNotPay and let us prevent you from being charged when using CBD oil on a free trial.