How to Get Spoof Call Free Trial Without Giving Your Credit Card Information

 than ever in the modern world. Unlike emails that can be easily made and discarded, handing out your phone number to anyone who asks can cause real headaches down the line. In order to keep spam calls at bay, many are turning to spoof call programs to hide their real caller ID. Whether you're protecting your privacy or pranking some friends taking advantage of a  can be super helpful, as can DoNotPay's ability to make sure that free trial stays free.
Do Spoof Call Services Offer a Free Trial?
A ton of services offer free trials. This can range from one free call to calls with time limits to free calls with limited features compared to a paid plan. What you get in a free trial will depend on the service you use, so assess your options to decide what best fits your needs.
Some of the most popular spoof call services that offer free trials are:
MyPhoneRobot
SpoofTel
Spoof My Calls
Spoof My Number
Additionally, while it's not technically a call spoofer, Google offers the Voice service which gives anyone with an account a working phone number to use online.
How Can I Get a Call Spoof Free Trial?
Each service has different rules around its free spoof call trials. For some, it's as simple as
going to the website,
Filling in the information, and
Making the call.
For others, you may have to register an account with your email and phone number. In any case, you can expect that making a spoof call for free is an easier experience than getting most free trials.
Does the Spoof Call Free Trial Automatically Renew Into a Paid Subscription?
In many cases, a spoof call free trial will not turn into a paid subscription without further action on your part. Most of these sites work on a credit basis rather than a subscription, meaning you'll need to buy credits to use the service after your free or limited calls are used up. This is good news for you, as it greatly lowers the chance of having your credit card charged without you knowing.
Avoid Automatic Renewal With DoNotPay Virtual Credit Card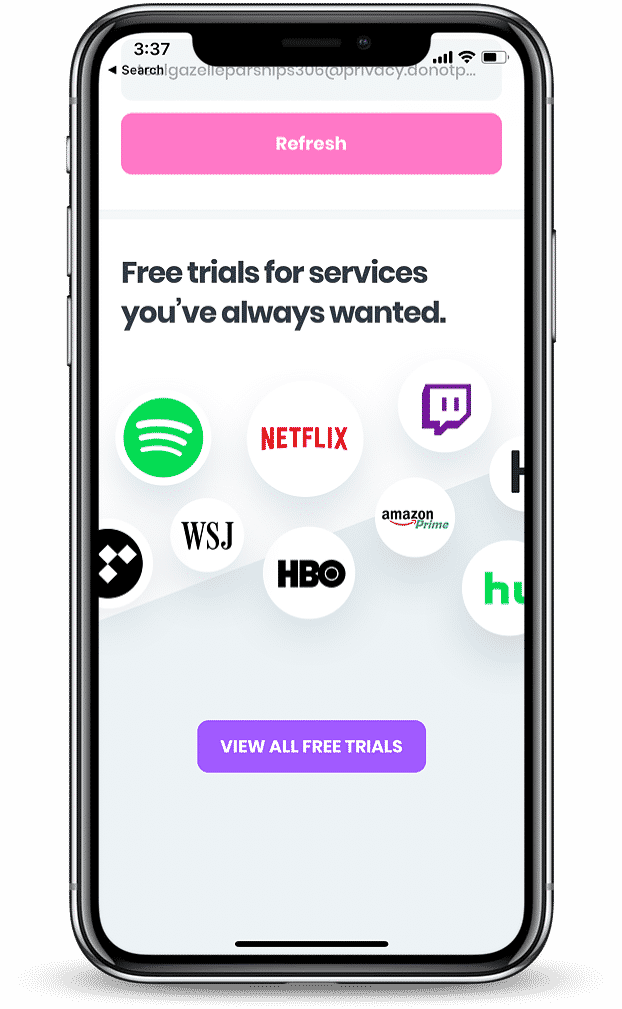 While spoof call free trials may not be as hard to manage as others, that doesn't change the fact that forgetting about free trials costs people a huge amount of money every year. For most, there's a high possibility that you'll get hit with at least one round of charges after forgetting to unsubscribe after you first use a service. All combined, this costs consumers millions of dollars every year, and all for stuff they don't even really need.
DoNotPay can help you with that. We offer our users a free virtual credit card service that can help protect their wallets from greedy subscription services. By using our pre-generated credit card information to sign up for free trials, you never expose your real financials to the company. Unless you decide to put money on the card, there won't be anything for the service to charge when the time comes around. That means you're automatically unsubscribed and won't lose any money.
If you want to learn more about this, check out the link here.
How Much Does a Spoof Call Service Cost After the Trial?
As we've said, there are a number of spoof call services you can use, meaning there are a lot of different prices you might pay if you want to upgrade from your free trial. If you want an idea as to what you can expect, here's a quick breakdown of some of the most popular options:
Services
Charges
Features
SpoofTel
10 cents per minute

They give you access to a free soundboard you can use during a call.

MyPhoneRobot
220 credits ($7.95) up to 12,000 credits ($239.95)

You spend credits when using the service, with 10 credits per minute on outbound calls and to change your display number, 20 credits per minute to use a voice changer, 30 credits to send an SMS message, and 10 credits to receive an SMS message to your number.

SpoofMyNumber
15 cents per minute

25 cents

50 cents

15 cents per minute for calls, 25 cents per minute for a voice changer, and 50 cents per minute/message for call recording and SMS spoofing.

SpoofMyCall
10 cents per minute

50 cents per message/minute

10 cents per minute on spoofed calls, with additional options for SMS spoofing and voice changing at 50 cents per message/minute, and call recording for an extra dollar per minute.
What Else Can DoNotPay Do?

You can do a lot with DoNotPay, and not all of it is ensuring your f programs stay free. Some of our other services include:
No matter what kind of problems you might be having, DoNotPay can offer an easier solution. Try the app today to start simplifying what bothers you and making your life less stressful.