Can I Get the ForeFlight Free Trial Without Giving My Credit Card Info?

ForeFlight is an integrated flight simulator for pilots, but it's a lot more than that too. It is a full software package that makes flight planning a breeze for pilots of all experience levels. It provides aeronautical data and charts so pilots can easily plan their flight, keep an eye on the weather, and take care of all briefing, filing, and charting requirements. Before you purchase ForeFlight, you might want to try out a free trial first.
Does ForeFlight Have a Free Trial?
ForeFlight offers its users a 30-day free trial. It is only for Apple users and the app must be downloaded to use the service. There are alternatives for people who use android operating services, but they are not affiliated with the ForeFlight app or service.
There are three tiers, Basic, Pro, and Performance, each offering a bit more features and amenities. The basic is the lowest cost plan ForeFlight offers but it is so packed with features most users say its enough for newbie pilots. The free version has everything offered in the Basic package. This includes:
FPL window
Full charts
Full library of weather maps
Graphical weather briefings
Flight plan filing
Detailed airport information
That's enough tools to plan a route, provide accurate times en route, fuel burn reports, weather briefings, and navigate in flight with current FAA charts. Outside the essentials, the Basic package provides a few beneficial extras that a lot of pilots tend to overlook, such as the built-in logbook, which is an easy solution to tracking your cash and a legal substitute for traditional logbooks.
The weight and balance tool is another valuable freebie. It calculates gross weight and center of gravity for a range of airplanes. The checklist feature is also valuable for pilots. It can keep your flight organized using preloaded templates with many options for customization.
Here's an overview of ForeFlight's pricing for the individual package:
| | |
| --- | --- |
| Plan | Pricing |
| Basic Plus | $99.99/yr |
| Pro Plus | $199.99/yr |
| Performance Plus | $299.99/yr |
For the business plan, here's the pricing for each package:
| | |
| --- | --- |
| Plan | Pricing |
| Business Pro | $200/yr |
| Business Performance | $300/yr |
How Do I Get a ForeFlight Free Trial?
To get the free trial from ForeFlight, you have to do a few things first. Initial setup takes roughly 15 to 20 minutes including the application process on the website. Follow these steps closely to ensure your free trial of ForeFlight is successful.
Sign up for an account on the ForeFlight website.
Download the ForeFlight app from iTunes.
Log into your account on the app.
Configure chart downloads.
Create aircraft profiles.
Start planning your flight!
Does ForeFlight Free Trial Automatically Renew Into a Paid Subscription?
Yes, ForeFlight's free 30-day trial does automatically renew into a paid subscription once your 30 days have passed. To stop your credit card from being charged for this automatic renewal, you'll need to cancel at least one day before the subscription begins. This means that you'll need to keep track of the day that you started the subscription and remind yourself to cancel 30 days later. Some people ask their Smartphones to remind them. Others mark it on a paper calendar.
Avoid Automatic Renewal With DoNotPay Virtual Credit Card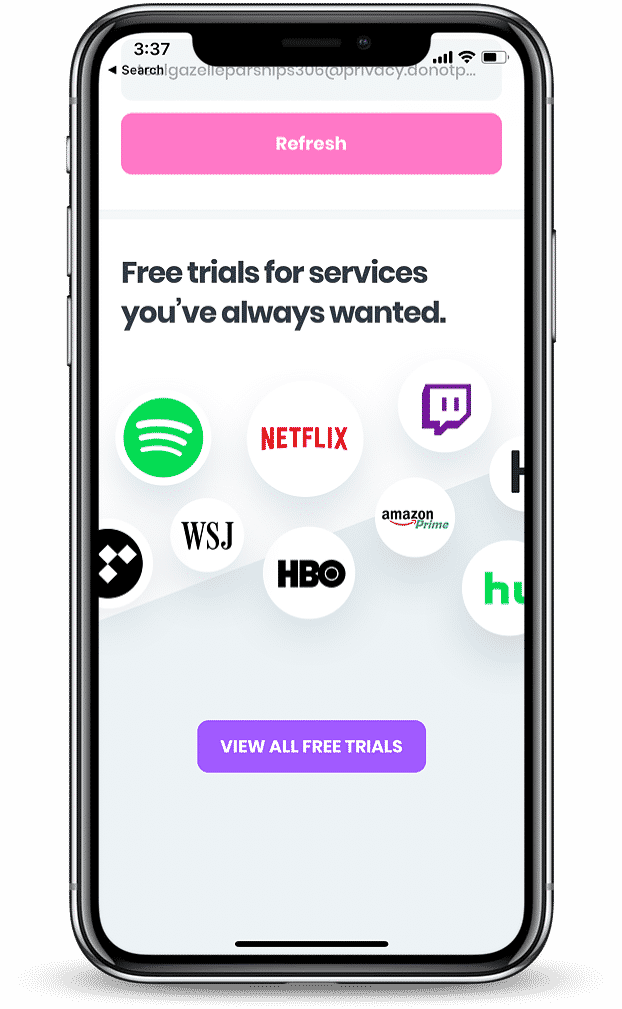 The DoNotPay virtual credit card allows you to sign up for free trials without fear of being charged at the end of the subscription. Even if you forget to cancel, the virtual credit card from DoNotPay will not accept any charges. Here's how it works and why it's so awesome:
DNP generates a random number and credit card info that you can use to subscribe to any service
Once the free trial expires, the service can't charge you because there's no money on that card, so you get unsubscribed automatically
Find more info about this amazing product.
What Are the Alternatives to ForeFlight?
ForeFlight has a few alternatives. They do not have an app compatible with the Android system, so there are a few similar products Android users can use, such as:
Garmin Pilot
AirData
FlightDocs
Safelog
Traxxal
Each has different features and different tiers of amenities for the price. The main difference is the operating system. Most pilots prefer to use an iPad on board their flights as it pairs easier with flight commands.
What Else Can DoNotPay Do?

You can have DoNotPay help you with almost anything! Anytime you've been abused by the system, we can help, including:
DoNotPay started life as a way for people to pay for unfair speeding tickets. Now it is an unbelievable asset to anyone who has been treated unfairly and needs help to make it right. Reach out today and you'll find there are myriad ways we can help you level the playing field when you've been taken advantage of.