How to Get Flowkey Free Trials Without Using a Credit Card

Trying out a new product can be very exciting until you fail to cancel out your  subscriptions in time. Mostly, what follows is that you get charged involuntarily and when unnoticed, it can really eat into your money.
Do you want to avoid charges after a  ends? If yes, then this article is for you. In that case, follow through keenly as we reveal to you DoNotPay's a new way to get free trials without being charged.
Does Flowkey Offer a Free Trial?
Yes! However, not on all devices and plans. Unfortunately, Flowkey only gives a 7-day free trial to mobile phone and tablet users who want to subscribe to the yearly plan through mobile app stores.
The good thing about this plan is that you get full access to the premium features for 7 days at absolutely no cost. Therefore, if you are considering being a Flowkey member, but want to try it out before paying for it, then the yearly plan is very handy for you.
How Can I Get a Flowkey Free Trial?
There is only one sure way to get a Flowkey free trial. To get it, you need to
Download the Flowkey app from the app store.
Create an account by signing up.
Once that is done, check out the homepage. There, you will see the free trial to the premium package you are signing up for.
Click the try free & subscribe button to start using the premium features.
However, one thing you ought to know is that you have to leave your credit card information so that they can automatically bill you once the trial is over.
Does Flowkey Free Trial Automatically Renew Into a Paid Subscription?
Yes! Flowkey's free trial automatically renews into a paid subscription. However, if you don't want to proceed with the premium package after the free trial, you have the option of canceling 24 hours before the trial expires. Failure to which, the trial will automatically renew into a yearly paid subscription.
One good thing about Flowkey is that even though you forget to cancel the trial or delete your account, you can still request to be refunded. After submitting your request, you can rest assured that you will be settled within 14 days.
Avoid Automatic Renewal With DoNotPay Virtual Credit Card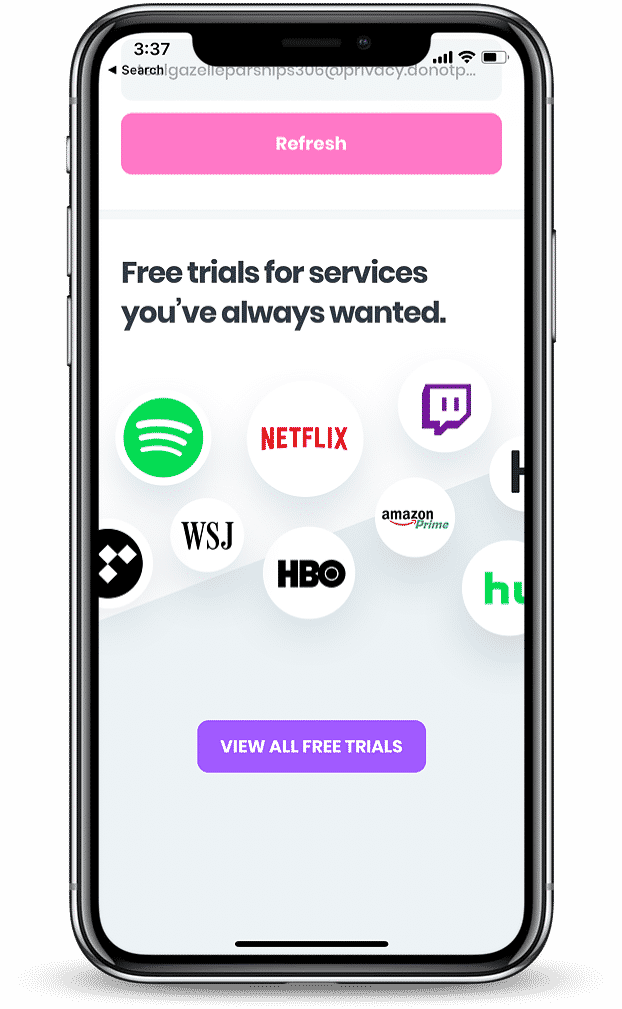 Did you know that now, with our free trial product, you can avoid any automatic renewal through our virtual credit card? Yes, that's right! Many people tend to forget to cancel free trial subscriptions and, often, they end up being charged unknowingly for a service they probably never wanted.
But now, you can sigh a relief and say "not anymore!" By using DoNotPay's virtual credit card you can try out a new product without the fear of being charged when the free trial ends. One good thing about this product is that you can only use one card for one product. This allows you to avoid confusion that usually arises from using one credit card for more than one product.
Other reasons why our virtual credit card is awesome for you are as follows:
If you want to subscribe to any service, DNP generates credit card info and a random number that you can use on your service subscription
When your free trial comes to an end, the service providers can't charge you because the card isn't loaded with funds. In that case, you only get unsubscribed automatically.
How Much Does Flowkey Cost After the Trial?
Since Flowkey only offers a free trial for the yearly plan, you will be charged a total of 119.99 USD/EUR or an equivalent of your local currency. Other than the yearly plan, there are other plans you can go for but which don't offer free trials such as
| | |
| --- | --- |
| Membership Plan | Cost |
| Monthly plan | $19.99 |
| 6-month plan | $83.99 |
| Yearly plan | $119.99 |
| Lifetime membership | $329.99 |
If you have questions concerning these plans, you can reach out to Flowkey's customer care desk for help.
What Will Flowkey Charges Look Like on My Statement?
Basically, your charges will be visible on the credit card that you have subscribed to.
The monthly plan on your statement will read $19.99.
For the 6-month plan, your credit card statement will read $83.99.
For the yearly plan, your credit card statement will read $119.99.
For the lifetime plan., your credit card statement will read $329.99.
What Else Can DoNotPay Do?

Apart from helping you get free trials, DoNotPay can help you with almost anything! Including
Therefore, if you have any issues concerning the above-mentioned situations, feel free to reach out to us for assistance.