How to Get a FloSports Free Trial Without a Credit Card

If you are obsessed with sports, you may be wondering if FloSports is right for you. Thankfully, you may have taken advantage of a free offer, and now you have decided it is not quite what you are looking for. But the problem is that you have already given up your credit card information, and you don't want to have a charge for a service you do not want. So, how can you get a and not get charged? Let DoNotPay show you how with our new Get Free Trials and Don't Get Charged product.
FloSports is a subscription video streaming service that specializes in all things sport-related, offering live and on-demand access to competitions throughout the US and abroad. You can also get exclusive, behind-the-scenes coverage and original programming covering over 25 different sports platforms. FloSports doesn't generally advertise a free trial period, but if you call, they will usually honor a seven-day free trial, as long as you give them your credit card information ahead of time. Your card will be verified at the beginning of the trial period, and if not canceled, will be charged at the end of the trial for your subscription to begin.
What Kind of Sports Can I Watch on FloSports?
 offers live and streaming sports programs, documentaries, and worldwide competitions. They cover these sports extensively;
Wrestling
Football
Grappling
Basketball
Soccer
Varsity sports
Racing
Marching
Track
Cycling
Mile Split
Baseball
Softball
Cheer
Fitness
Hockey
Rodeo
Volleyball
Gymnastics
Lacrosse
Swimming
Dance
Combat
Voice
Dirt on Dirt
How Does a FloSports Free Trial Work?
It is only occasional that FloSports offers a free trial, but if you are lucky enough to be offered one, it is typically for a short period of time, most likely seven days. The company wants you to enjoy their service so that you will want to become a regular subscriber.
Subscription Prices
Monthly
$30
Annually
$150
If your free trial is not canceled, your subscription will remain in effect on a month-to-month basis (or year to year if you have opted for an annual subscription), with charges automatically being applied to your card. If you want to cancel, you must do so before your renewal date. If you do not cancel before the renewal date, your subscription will remain active until the end of the cycle. You will not be given a refund when terminating before the end of the billing cycle.
Avoid Automatic Renewal With DoNotPay Virtual Credit Card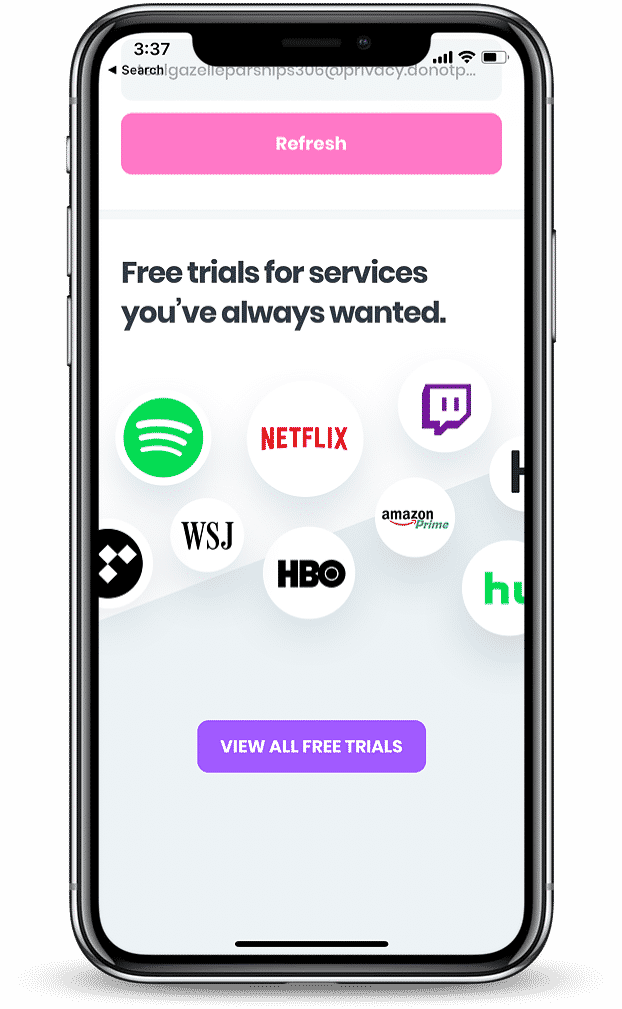 It is always easy to forget to cancel free trials, especially if the trial period is short, like the seven days with FloSports. That's why DoNotPay created a virtual credit card so that you never get charged for free trials again.
If you are unfamiliar with DoNotPay's virtual credit card, here is how that works:
DoNotPay generates a random number and credit card information that you can use to subscribe to any service.
The credit card is easily verified by the company you are subscribing to.
When the trial period ends, the service is unable to place charges since there is no money on that card. The subscription automatically ends.
DoNotPay makes it simple and fast to get a free trial and never get charged.
What Do I Need to Do to Get Started?
Getting started is easy with DoNotPay.
Search free trial card on DoNotPay and enter the company you want a free trial for.
We'll automatically generate a virtual credit card that you can use for that merchant. Copy the card details shown on your screen.
Use the card to sign up for your free trial and sit back to relax and enjoy!
What if I Need to Cancel an Existing Subscription?
If you want to cancel an existing subscription with FloSports:
Go to the FloSports site, log in and click on the icon in the top right-hand corner of the page.
Select Account from the drop-down.
Click Subscription.
Click on Manage.
Choose Cancel Subscription. (This will not automatically cancel your subscription, so keep going to the next step.)
Answer the question about why you are canceling.
At this point, you will be offered a special rate to continue your subscription. If you want this offer, click on it. If not, you must click on the box that says "No thanks. Cancel my Subscription."
You will receive an email confirming your cancellation.
What Else Can DoNotPay Do?

DoNotPay doesn't just help you to cancel a subscription or get a free trial without being charged. We can help solve many of the problems you have on a daily basis. Here are a few of the things we can do:
DoNotPay can save you time and money and help you easily and quickly solve the problems you are dealing with. How can DoNotPay help you?