Flight or Fight—How to Get a Flight Delay Refund in Minutes
Air travel is a convenient mode of transportation that, unfortunately, comes with a few inconveniences. Delays are a common occurrence with scheduled flights. Flight delays can interfere with your plans, especially if they happen during a transit flight. Passengers can get stuck in unfamiliar locations where finding a hotel isn't easy. You never know how long a delay will last, which only worsens the situation.
Getting a refund for flight delays is tricky, especially if the airline isn't at fault. DoNotPay will walk you through the process and make sure you get compensation for a delayed flight.
What Is Most Airlines' Delayed Flight Refund Policy?

Airlines are aware of the inconvenience that flight delays pose to their passengers. Their policies range from lax refunds to no compensation at all. There is no legal obligation to provide compensation to passengers for flight delays, as long as it's a short delay.
Airline policies differ when it comes to refunds for delayed flights. Some, like Southwest and Delta, will allow passengers partial refunds or redirect them to another airline. Other airlines might offer food or accommodation for passengers as they wait for their flight. Since there's no guarantee of refunds, frequent flyers are left to take action on their own.
Am I Legally Entitled to Refunds for Flight Delays?
Yes and no. The U.S. Department of Transportation says that significant delays warrant refunds. There is no exact definition of a significant delay on the DOT website, as it is evaluated on a case-by-case basis. You have to file a complaint with the Department of Transportation if you believe that the airline has wronged you and wasted your time.
The reason for the flight delay is crucial.
If the airline is at fault for the delay, you are entitled to some form of compensation. Bad weather and security issues aren't considered viable reasons for a refund, as they are out of the airline's control. Even if the airline is at fault for your delayed flight, filing a complaint doesn't guarantee compensation.
Want to Ask for a Flight Delay Refund? Here's How You Can Do It
If you want to rely on the goodwill of an airline, asking them directly for a refund or compensation is your next move. More than 90% of passengers who experience delayed flights don't request refunds from their airline. You can use a few different methods to ask for flight compensation:
Filling out a form on the airline's website

Sending a letter to the airline

Talking to a representative at the airport

Reaching out in social media
Filling Out a Form
Many airlines allow passengers to voice their concerns on their websites. Claiming compensation for canceled flights or delays can be done on the American Airlines website, for example. You will find these forms on airline customer support pages.
Sending a Letter
You can send a letter to the airline to explain your current issue and hope that they will refund your plane ticket or offer some other form of compensation. Here's how you do it:
Write down your complaint and explain how you were inconvenienced by the delay

Gather proof of the issue (include your boarding pass and bill statements)

Find the appropriate department to send the letter to on the airline's website

Include copies of the relevant paperwork and send
Use registered mail so that you can have proof that it arrived to the chosen recipient.
Talking to an Airline Representative
When facing a flight delay, your best course of action is to speak up as soon as possible. There's not much you can do once you've boarded the flight or landed in another airport. Ask the ticket agent how long you can expect the delay to last. Communicate your concern and request some form of compensation if the flight hampers your plans.
Reaching Out on Social Media
Airline customer support teams are active on social media and quick to answer questions. They prioritize customer loyalty and want to keep a good image on every platform. Remember to tag the social media team of the airline you use when you voice your complaints.
You can choose from one of these options to request a flight delay refund:
| | |
| --- | --- |
| Can I Request Compensation Using | Yes / No |
| DoNotPay | Yes |
| Phone | No |
| Website form | Yes |
| Letter | Yes |
| In-person | Yes |
| Social media | Yes |
| Email | No |
DoNotPay Helps You Refund Any Delayed Flight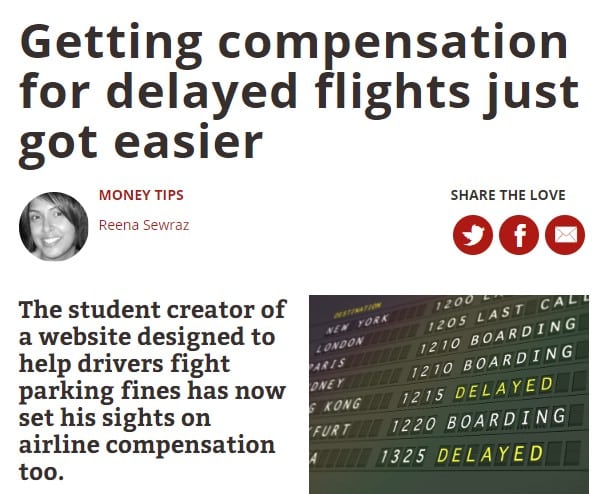 Requesting a refund for flight delays isn't always a fruitful endeavor. Airlines aim to reduce losses, and compensations aren't in their best interest. Instead of arguing with a representative or wasting time filling out forms, let DoNotPay do it for you. Our handy robot lawyer app does the job in minutes, with little necessary input from the user. If you need a refund stat, open the app in your . To use this feature, you have to:
Sign in to DoNotPay

Go to the

File a Chargeback

tab and click on

Get Protected

Answer a few questions about the charge on your card and the airline that issued it

Confirm your issue and provide your digital signature

Submit
DoNotPay will then request a chargeback. The app will include relevant credit card codes that will help bolster your case. It can also contact the airline on your behalf to get additional proof for your request.
How Long Will It Take for the Airline to Grant a Refund?
It depends on the airline in question. It can take days or even weeks for the refund to reach your account if any refund is granted. Take a look at how different airlines handle requests:
Airline

How Long It Takes to Process Refunds

From one to two weeks for credit card purchases

Within three weeks with cash purchases

Within five to seven business days

Within seven business days of a credit card purchase

Up to business 20 days for payments in cash or check
Take It Easy and Let DoNotPay Handle Day-to-Day Problems

There's a lot more to DoNotPay than simply refunding flight delays. Our handy robot lawyer app helps people lower their bills, dispute parking tickets, and even sue harassers. If you're not sure how to stop robocallers or get rid of cyberstalkers, DoNotPay has your back. You would think that our app would have more to offer—and it does! We help users with a wide array of daily tasks so that they don't have to waste too much of their time.
Open our app in your and see what DoNotPay can do for you. Here are some of the daily challenges that our app simplifies:
Fighting speeding tickets

Disputing traffic tickets