How to Secure Your FL Studio Free Trial Without Getting Charged

As one of the world's most well-known music software programs, FL Studio is used by producers for famous artists such as Jay Z, Tyga, Destiny's Child, and Travis Scott. At the same time, FL Studio is popular among aspiring producers and beginners because of its user-friendly digital audio workstation that helps create music. If you are interested in giving FL Studio a try, you may have the following questions:
"How can I secure a FL Studio Free Trial?"
"Are there any FL Studio Free Trial limitations?"
"How much does FL Studio cost?"
"What are some popular alternatives to FL Studio?"
In addition to these common questions, you may wonder whether there is any way to secure a free trial without providing your credit card information. Read on to discover the answers to all these questions and how you can secure your  today.
Does FL Studio Offer a Free Trial?
Yes, the FL Studio website clearly features a highly visible "Try For Free" button in the center of their top navigation bar. The site also outlines some of the key benefits of their free trial. These include the following:
You can use all FL Studio functions
There are no time limitations
Users can save FL Studio Projects
You can export WAV, MP3, FLAC, MIDI, and Video
Are There Any FL Studio Free Trial Limitations?
Yes. FL Studio's Free Trial is feature-rich, but there is one significant limitation. While you are able to save your FL Studio projects, you may not be able to open them again until you purchase and unlock FL Studio. You may also need to purchase additional plugins if you used features that were not included in the edition you decide to purchase.
How Much Does FL Studio Cost?
The cost of FL Studio depends on the edition you choose. The least expensive paid edition is $99 per license, and the most expensive edition is $899 per license. Users can choose from one of the following four paid editions:
| | |
| --- | --- |
| FL Studio Edition Type | Price Per License |
| Fruity | $99 |
| Producer | $199 |
| Signature Bundle | $299 |
| All Plugins | $899 |
Do FL Studio Free Trials Automatically Renew to Paid Subscriptions After the Free Trial Ends?
No. Since there are no time limitations on , you do not have to worry about your credit card being automatically billed after you finish your free trial. If you decide you would like one of the paid editions above, so you can regularly open and edit your projects, you simply purchase the version that meets your needs at any time. FL Studio does not store credit card information, so you don't have to worry about your card being billed without your knowledge.
Avoid Automatic Paid Renewal of Other Free Trials With a DoNotPay Virtual Credit Card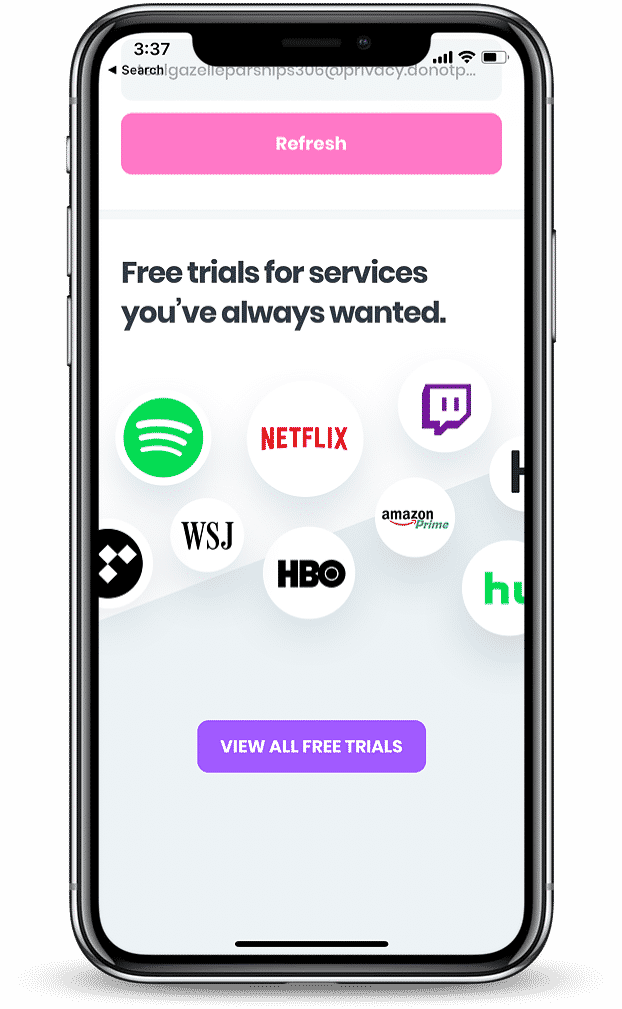 FL Studio's Free Trial is unique because it is unlimited, and you don't have to provide any credit card details to secure it. However, if you are comparing multiple music software programs, you may decide to sign up for other free trials that do require you to provide your credit card information. If this is the case, you could find yourself facing a host of monthly or yearly charges if you forget to unsubscribe when your free trial ends.
Fortunately, there is now an easy way to prevent these unwanted automatic paid subscriptions from unfolding. With the help of a DoNotPay virtual credit card, you can register for free trials without supplying your personal debit or credit card information. The process works like this:
Find a free trial for a music software program that interests you.
Secure a free virtual credit card from DoNotPay. This free virtual card will consist of randomly generated numbers.
You can use the free virtual credit card to sign up for the free trial instead of your personal credit card.
The random number declines any charges. This prevents you from being automatically billed at the end of the trial period.
Use DoNotPay's Cancel Subscriptions product to easily cancel any of your music studio subscriptions once you're done using them.
What Are Some Popular Alternatives to FL Studio?
If you aren't thrilled with your FL Studio free trial experience, do not worry! There is a wide variety of similar music software programs you can try. Here are some popular alternatives to FL Studio:
While Audacity may not offer the same wide array of features FL Studio offers, it continues to gain traction among aspiring composers and artists. Here are some of the top reasons behind Audacity's growing popularity:
Audacity is FREE for anyone to use
Its interface is extremely easy for new users to master
Audacity offers 16-bit, 24-bit, and 32-bit support
It is compatible with Windows, macOS, and Linux
Avid Pro Tools offers state-of-the-art collaboration tools, a variety of sound libraries, and outstanding music production capabilities. While it is more costly than many programs, Avid Pro Tools is so impressive that it is used by professional studios worldwide. If you decide to try Avid Pro Tools, make sure you allow yourself plenty of time to learn the complex features of this digital audio workstation.
Reaper is short for Rapid Environment for Audio Production, Engineering, and Recording. Reaper is known for its fast software loading time and offers a host of recording, mixing, and editing features. While the home use version is fairly affordable, you can expect to pay substantially more for a commercial-use license.
How Else Can DoNotPay Help You Stretch Your Cash and Maximize Your Free Time?

Securing free trials without remitting payment is just one of the many ways DoNotPay can help you boost your efficiency without overpaying. Here are some other ways DoNotPay can help you stretch your cash and maximize your free time:
If you are looking for a simple way to stretch your budget and save time, we encourage you to . Signing up is a breeze and you can start enjoying DoNotPay's many benefits right away!