How to Start A Fite TV Free Trial With a Virtual Credit Card

Fite TV is a digital network that is dedicated to showcasing live sports events, such as professional wrestling and boxing. They provide hours of live content, pay-per-view programs, sports on demand, and so much more. How much do their subscriptions cost? And does Fite TV provide free trials for their subscriptions?  will inform you as you read on in this guide about available ! 
Does Fite TV Offer Free Trials
Yes, Fite TV has several free trial options when choosing a subscription. The following are the available trials for Fite TV:
SUBSCRIPTION
COST
PERIOD
BENEFITS
Fite+

No Commercials
Unlimited Access To On-Demand, Selected Pay-Per-Views
Special Premium Events Selections (including combat sports, boxing, and more)
Exclusive Fite+ Content
Fite DVR
The Fite+ subscription has two free trial options - pay by month or pay by year. Each  lasts for seven days.
SUBSCRIPTION
COST
PERIOD
BENEFITS
TrillerVerzPass

Unlimited Access To TrillerVerz Boxing
Unlimited Access To Verzuz Games
Unlimited Access To TrillerVerz Music
Exclusive Events Throughout The Subscription
Fite DVR
Unlimited Access To On-Demand Events
In this subscription, there are also two options to choose from - pay by the month or pay by the year. Each option has a 14-day free trial.
How To Sign Up For A Fite TV Free Trial
To sign up for either the Fite+ free trial or the TrillerVerzPass free trial, follow the instructions below:
Go to Fite TV's website.
In the top right corner of the home screen page, click on the Subscriptions tab.
Scroll to either the Fite+ option or the TrillerVerzPass and click the View Options tab.
Choose between the monthly or annual subscription.
Once you choose your preferred option, it will ask you to make an account. You have five different sign-up options through which you can make an account; they are as follows:
Amazon Account
Apple Account
Email
Gmail
Twitter Account
Once you make an initial account, it will ask you to enter your credit card information. This is to ensure that your subscription will not be interrupted once the free trial is over.
Does The Fite TV Free Trial Automatically Renew To A Paid Subscription
Yes, if you do not cancel before the free trial ends, you will automatically be charged for the following month for the subscription option you have chosen. In order to avoid unwanted subscription charges, you must cancel before the seven-day period expires. Otherwise, you will be charged for the next month. If you have a pay-per-month plan, you will continue to be charged until you cancel.
Getting a free subscription on your own can seem frustrating. You have to make sure that you cancel before the free trial expires in order to avoid unwanted charges. You also put your information at risk when entering it into a site on which you haven't used it before. What if getting a free trial could be made so much more simple by having a free trial automatically cancel as well as keeping your financial information safe all at the same time? DoNotPay has the perfect solution!
Avoid Automatic Renewal With A DoNotPay Free Trial Card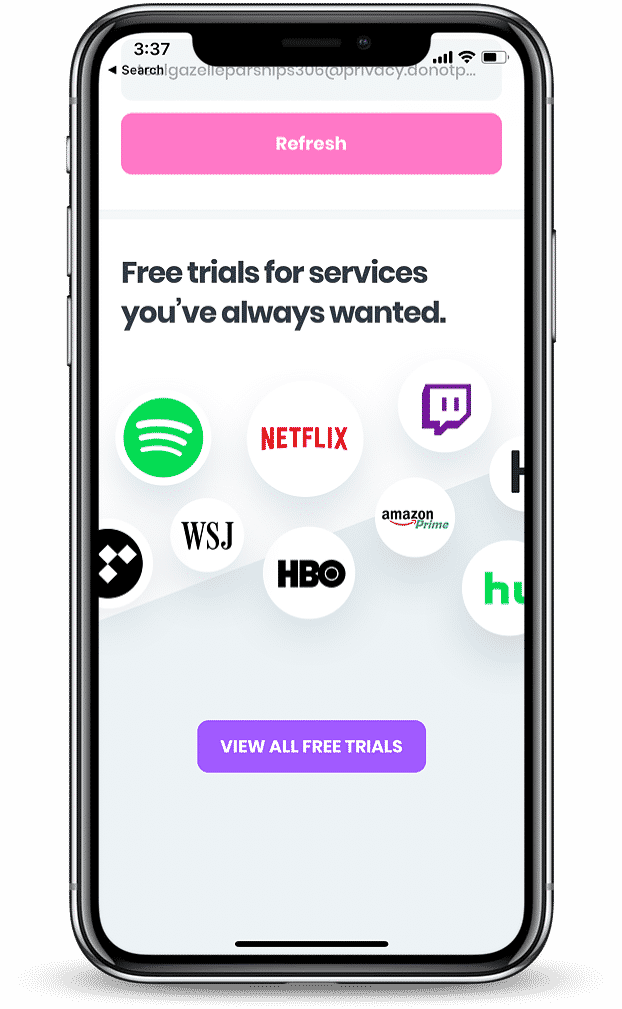 Using a DoNotPay free trial card is one of the best ways to obtain a free trial from almost any company! A DoNotPay trial card acts as a temporary credit card. A unique credit card number, CCV number, and the expiration date is generated each time you choose to use DoNotPay's virtual credit card for a free trial. By doing so, you keep your personal information safe, prevent a financial information breach, and are guaranteed not to get charged for a paid subscription that you didn't want!
To sign up for a DoNotPay virtual credit card, follow the instructions below:
Search for Free Trial Card section on DoNotPay and enter the company information from which you would like a free trial.
DoNotPay will automatically generate a virtual free trial card for you. Copy or write down the information on your screen.
Enter the information onto the company's website (which you have chosen) and start your free trial.
You can begin to enjoy all the benefits of the free trial without having to remember to cancel the subscription! When the free trial ends, DoNotPay will take care of the rest; and you can have peace of mind in knowing that you won't be charged for the paid subscription!
Other Areas DoNotPay Assists In

A DoNotPay virtual credit card can help you try an unlimited number of free trials! is the best source when it comes to needing assistance in a variety of areas! To learn more, check out the following:
Get started with a DoNotPay virtual free trial card today!