Get an
Avast Refund
in Nothing Flat 
Avast is a multinational cybersecurity software company based in Prague, Czech Republic. The firm specializes in developing computer security software, machine learning, and artificial intelligence. The company's most popular product is the Avast Antivirus, followed by services like the Avast Secure Browser, and the Avast SecureLine VPN.
Avast is reported to have more than 435 million monthly active users.
How to Request a Refund From Avast
on Your Own
Are you not entirely pleased with your Avast purchase, or don't intend to use it for some other reason? That's ok—you should be able to get your money back without a hassle if it's within 30 days since you made the purchase.
You can only request an Avast refund through DoNotPay and the Avast website.
| | |
| --- | --- |
| Can you request a refund via | Yes / No |
| DoNotPay | Yes |
| Email | No |
| Phone | No |
| Letter | No |
| Website | Yes |
| In-person | No |
Request a Refund Through Avast's Website
To get your money back from Avast, follow these steps:
Go to the Avast refund request form

Follow the on-screen instructions to complete your request

For detailed directions to locate your Order ID, learn how to

find your Avast order ID number
Once you've submitted your request, a ticket will be created, and a customer service representative will pick it up. You will shortly receive an email with your ticket ID number.
Let DoNotPay Request Your
Avast Subscription Refund

Why tinker with a refund request by yourself, if DoNotPay can do it instead of you? Thanks to some state-of-the-art artificial intelligence, our app can learn the key parameters about your demand, build a case, then solve the issue on your behalf.
Here's how to get your money back from Avast through DoNotPay:
Open the DoNotPay app in your

web browser

Select

Get Protected

under the

Chargeback Instantly

icon

Answer to the simple questions our chatbot will ask you 

Verify your signature and submit the request
Once DoNotPay builds your case with all the relevant information, it will instantly fax the refund request to your bank. It will also enclose the applicable VISA and Mastercard codes and regulations that will fortify your case. 
If you want to contact the merchant to ask for a refund, DoNotPay can get in touch with them on your behalf. Simple and quick!
Can You Apply For an
Avast Auto-Renewal Refund
?
Yes, you can apply to get your money back if your free trial or limited-time subscription automatically turned into a paid subscription fee. Take note that the refund can be claimed within 30 days after Avast charged the amount. Demanding a refund will permanently deactivate the auto-renewal service.
To request a refund of your subscription fee, team up with DoNotPay for help or fill out the Avast refund request form.
What Is Avast's Refund Policy?
The rule of thumb is simple. If you are not happy with your Avast product, you should contact the company within 30 days of purchase to be eligible for a full refund. 
Their Cancellation and Refund Policy specifies the following:
"We offer a 30-day money-back guarantee on subscriptions for certain Avast, AVG, CCleaner (including Defraggler, Recuva, and Speccy) and HMA Solutions that end-users purchase directly from us through our online retail stores or Google Play. If your purchase qualifies, and you follow all the instructions in this Cancellation and Refund Policy within 30 days of the date of purchase, we will terminate your subscription and refund 100% of the price you paid for the then-current Subscription Term."
Their 30-day-money-back guarantee applies only to those products that were purchased in the following way:
Online via the

Avast Store

Online via an offer within another Avast product on Windows or Mac
If you purchased hardware (such as the Avast Omni hub), you must return it before starting the refund process. Get in touch with Avast's support team so that they can assist you with all the necessary steps you need to take.  
Exceptions to Avast Refund Rules
Avast typically doesn't issue refunds if it's been more than 30 days since the purchase. The 30-day-money-back guarantee also does not apply if you've purchased your Avast products in:
Retail stores or through third-party resellers

The App Store

by Apple or other online resellers
In both cases, get in touch with the vendors directly and enquire about their refund policy. Avast doesn't grant refunds for such purchases.
Obtain a Refund for an Avast Product Purchased in the Google Play App Store
To request a cancellation and refund for a subscription or solution you bought from Google Play, Avast will need the email address and Transaction ID that you used to complete the purchase in the app store. 
You can find the Transaction ID in either:
The confirmation email sent to your Google Play account when you completed the purchase

The Subscription and Services section of Google Play Store
Once you get these details, fill out the standard Avast refund request form.
How Long Does Avast Take to Refund?
Users have reported that Avast's processing of your refund request can take up to ten working days. Others have received their money back in seven or even three days after making the refund claim. The processing time varies, but you should get your compensation fairly quickly.
Try Out Free Online Trials With DoNotPay's Virtual Credit Card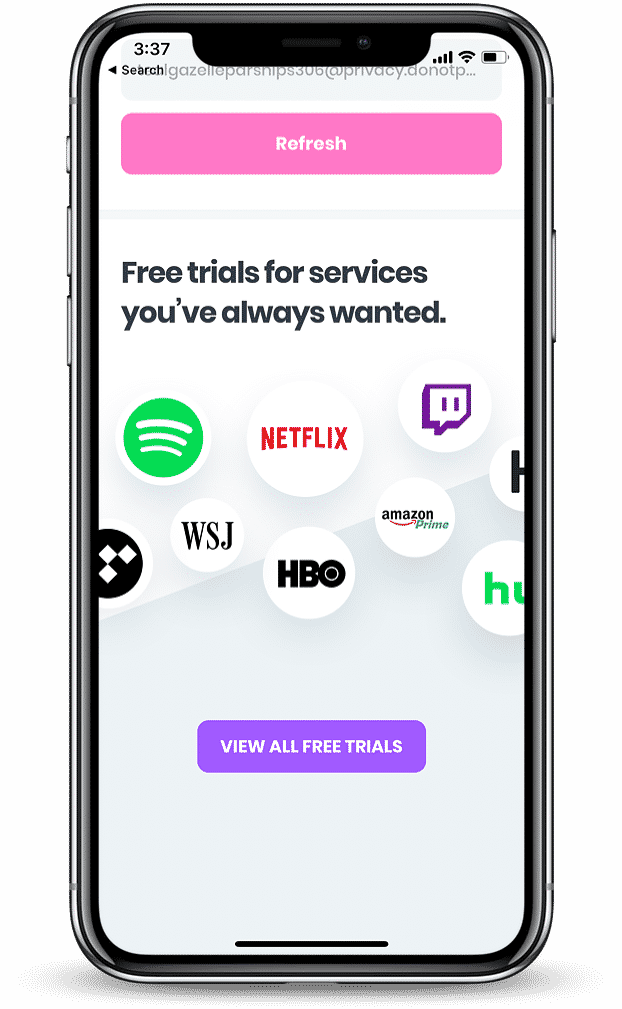 Research by West Monroe Partners has found that the average user spends $237.33 a month on assorted subscription fees, which is 197% higher than their original guess! That's a substantial cost, especially if you take into account the automatically renewed charges you didn't even know were coming. While some companies like Avast are being fair with their subscription and refund policies and will refund your unwanted auto-renewed subscription fee, many others will not. 
Are you looking for a way to stave off unwanted auto-renewed subscription fees? Our Free Trial Card may just fit the bill. By generating random and unique credit card information, DoNotPay's virtual credit card is perfect for signing up for online free trials. The main feature of any virtual credit card is its ability to produce a single-use, randomly generated credit card number that can be used when you're shopping online or trying out new services for free.
The DoNotPay Free Trial Card has a threefold way of approaching this issue:
It creates random credit card information 

It gets approved on free trial pages

It doesn't get approved on subscription pages
DoNotPay Is Your Ticket to Being More Efficient

Are you struggling to pay your utility bills and could use an extension? Are those scammy robocalls driving you up the wall fourteen times a day? That parking ticket you received was beyond unfair? We may have a solution for you.
Tagged as the world's first "robot lawyer," DoNotPay offers a lot of fantastic services that can make your day-to-day life a substantial deal easier. Once you open our app in your web browser, you will unlock a whole bunch of valuable tools and features.
Let's get to work! We can help you with:
Appealing speeding tickets

Challenging traffic tickets