How to Sign Up for the Eset Free Trial Without Giving Your Credit Card Info

Founded in 1992 and headquartered in Bratislava, Slovakia, Eset is an internet security company that provides antivirus and firewall products.
It is currently ranked among the top antivirus products by several independent testing labs and is popular for its superb ability to identify and disable malware without slowing down a device.
Does Eset Offer a Free Trial?
Yes, Eset has a that runs for 30 days. However, while you can enjoy the protective features and benefits of Eset, the Eset free trial does not allow full access to its features. For instance, the Eset free trial does not allow you to encrypt files and photos.
It also does not allow you to safely store and prefill your passwords. More importantly, the Eset free trial covers only one device, meaning you can only protect additional devices by buying the product's full version.
How Can I Access the Eset Free Trial?
Head over to the free trial page. Under the Downloads drop-down menu, select your free trial for either your home or business. Download the free trial installer. Select the Free Trial option located in the installer file, then activate it with a valid email address.
Fortunately, Eset doesn't require your credit card information when signing up for the free trial. Enjoy the 30-day Eset free trial of full-featured, comprehensive digital protection. Eset informs you when the free trial is about to end.
Does the Eset Free Trial Automatically Renew into a Paid Subscription?
No, it doesn't. Eset does not charge you during the . Once the free trial is over, you will decide if you want to buy and proceed using the full product version. However, once you pay for the premium, you can expect regular automated payments made to your account.
If you want to avoid an automatic charge, ensure you cancel the subscription at least 24 hours before the renewal date. Regardless, if you still get charged despite not wanting an automatic charge, you can request a company refund.
Unfortunately, you are less likely to secure a refund on your own. But you can reach out to DoNotPay to help you get an Eset refund.
Avoid Automatic Renewal with DoNotPay Virtual Credit Cards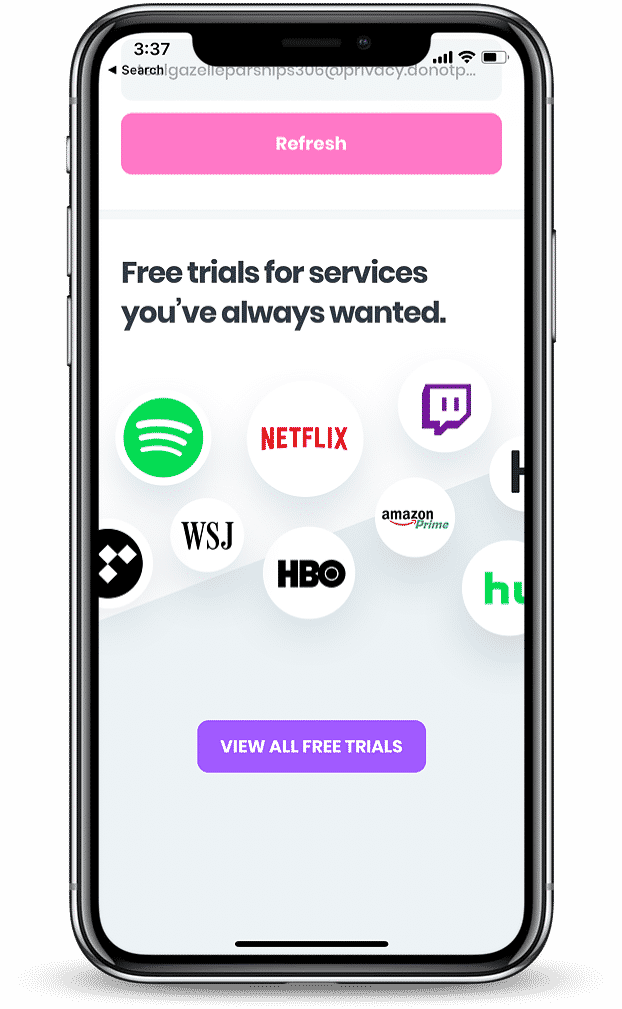 It is not uncommon for people to forget to cancel their free trials and paid subscriptions. Sadly, this translates to an automatic charge for a product or service they no longer need. DoNotPay can help you cancel a subscription to avoid any unwanted consequences.
With the help of DoNotPay's virtual credit cards, you can sign up for a free trial and not get charged. DoNotPay generates random credit card info and a number that you will use to sign up for the Eset free trial.
Therefore, the service provider can't charge you once the free trial ends since DoNotPay's free virtual credit card doesn't have any money. Consequently, the service provider will unsubscribe you automatically.
How Much Does Eset Cost After the Free Trial?
Eset's pricing depends on factors such as the number of devices you want to protect and the number of years you intend the protection to last. Following is the cost for 1 device:
| | |
| --- | --- |
| Duration | Cost |
| 1 Year | $49.99 |
| 2 Years | $74.99 |
| 3 Years | $99.98 |
What Are the Most Popular Eset Alternatives?
If you are not conversant with Eset's antivirus, there are currently several alternatives to choose from in the market. When evaluating various solutions, prospective buyers compare competencies in categories such as specific product capabilities, service and support, integration and deployment, and evaluation and contracting.
Some of the top Eset competitors and alternatives include:
Kaspersky
McAfee
Malwarebytes for Business
End-User Endpoint Security
Webroot Business Endpoint Protection
MVISION Endpoint Security
FortiClient
F-Secure Endpoint Security
These antivirus and firewall solutions differ in functionality and pricing. However, some options don't allow for free trials. For those that do, you can rely on DoNotPay to sign you up without getting charged.
What Else Can DoNotPay Do?
DoNotPay's service extends beyond signing up individuals for free trials without getting charged. Besides signing up for a Eset free trial, you can rely on DoNotPay to help you:
with DoNotPay today!