How to Get Eloquii Unlimited Free Trial The Risk-Free Way

Are you interested in ? Eloquii is a popular clothing brand offering a range of plus-sized fashions. Getting free trials for clothing items isn't usually simple. In fact, many top clothing brands don't offer trial options for their clothing, which can make it difficult for those who prefer to do a try-on haul to commit to a brand.
DoNotPay is here to make getting free trials for all of your favorite brands easier for you! If you're interested in getting started with Eloquii Unlimited's free trial, read on to learn how their free trial works and how you can take advantage of any trial without risk with a virtual credit card.
What is Eloquii?
is positioning itself as the ultimate destination for trendy plus-size fashion. They offer a broad range of categories from dresses, tops, bottoms, jackets, work, and more. What makes Eloquii different is that they offer an unlimited membership, which enables you to choose from hundreds of styles that you can rent.
How Eloquii Works
Eloquii will send you four items at a time. You'll also get unlimited box exchanges throughout the month.

With Eloquii's membership, you'll get to wear the clothing items you've picked out for as long as you want to. Once you're ready for another box, just return all four pieces. But if you're interested in keeping your items, you can buy everything you've rented at a special discount.

You'll get to enjoy the perks of having a membership, such as free shipping both ways and complimentary dry cleaning.

Main Benefits of Eloquii Unlimited Membership

Free shipping and returns on every exchange
Unlimited exchanges
Free dry cleaning
Does Eloquii Offer Free Trials?
Yes, Eloquii offers a free trial for those who want to test out their Unlimited membership. You can rent sizes 14-28 and try out their program for 30 days. It's important to note that Eloquii states that free trials generally occur on a periodic basis. But it seems as though free trials are always available for those who are new subscribers that are signing up for their first month. It's important to note that once you've had access to the unlimited free trial, you won't be able to get a free trial again.
How Can I Get Eloquii's Unlimited Free Trial?
If you've never used Eloquii's unlimited membership before, you should be able to get a free trial using the following steps. 
Visit Eloquii's website.
In the navigation bar, head on over to the tab that says, "Unlimited".
On the following screen, there is a box that states, "Rent sizes from 14-28. Try it free for 30 days. Cancel anytime."
Click the link to get started.
You will need to create an account using an email and password. Or, you can continue with Facebook and Google.
You should have access to your 30-day free trial.
How Much Does Eloquii's Unlimited Free Trial Cost After the Trial Ends?
Regular membership fees include a four-garment plan of $79 a month plus taxes.
Does Eloquii's Unlimited Free Trial Automatically Renew Into a Paid Subscription?
Once your 30-day free trial ends, you will be automatically billed for a subscription service to the credit card that you put on file when you first registered. Members will be billed for the next billing period of service. Those on a free trial will be able to track their subscription trial by viewing their trial end date in the account section on the website or by visiting the "My Account" section and looking at your member details.
If you have any questions, you can contact Eloquii's support team:
by email
call their phone number at 1-888-270-0043, Monday – Friday 9:00 a.m. to 5:00 p.m. ET.
Avoid Automatic Renewal With DoNotPay Virtual Credit Card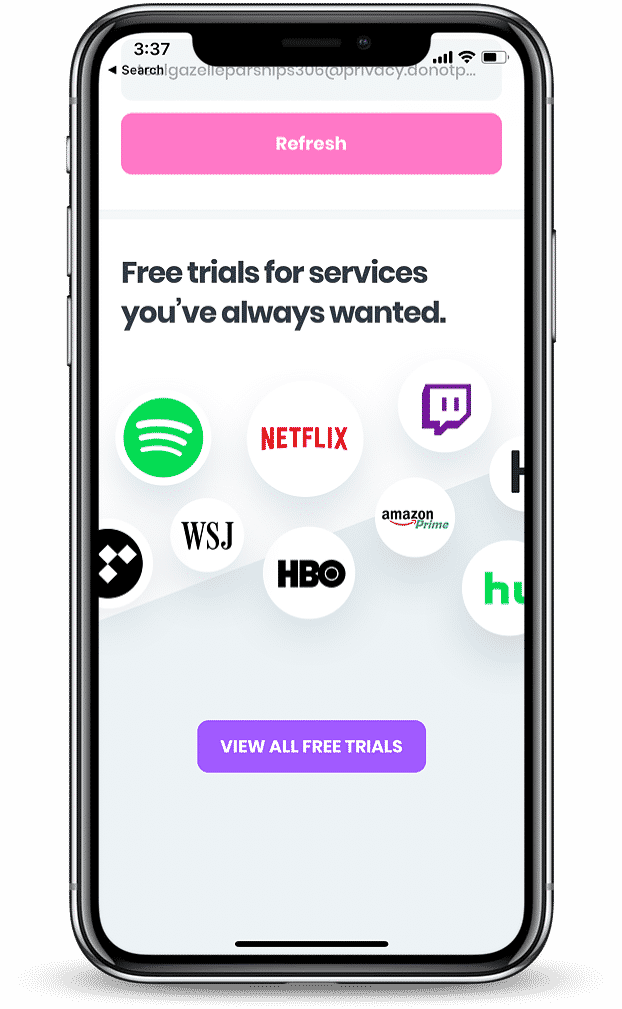 Do you want to give Eloquii's Unlimited free trial a try but are worried about automatic renewal? Longer free trial periods, such as Eloquii's 30-day trial, can be difficult to keep up with. As time goes on, it's easy to forget that you've signed up for a trial at all. This unexpected charge can be more of a hassle than it's worth. Luckily, DoNotPay makes it easy for you to avoid automatic renewal with a virtual credit card.
Virtual credit cards offer a lot of benefits to those who want to take advantage of free trials for products or services. A virtual credit card is flexible, convenient, and is a simple solution for those concerned with being charged for their free trials.
With DoNotPay's virtual credit card, you will receive a generated credit card number that you can use to subscribe to any service that offers a free trial. What's even better is that there is no reason to worry about automatic renewals, since the service can't be charged once the free trial ends because there's no money on the card. Once the trial ends, your subscription will cancel and you will have the freedom to decide whether you want to purchase the service or not on your own. If you would like to learn more about DoNotPay's amazing virtual credit card product, read here.
Do you want to try  at no risk? A virtual credit card is a perfect solution. DoNotPay is fast, easy, and successful! Take advantage of a virtual credit card with DoNotPay today.
What Else Can DoNotPay Do?

DoNotPay's virtual credit card product is certainly impressive. What's even better is that there are various other features offered by DoNotPay that can help you complete tasks quicker, easier, and more successfully. Some other things that DoNotPay helps you with include: