Get an Elephant Math Free Trial Securely with a Virtual Credit Card

As a caring parent, you always want to give your child access to the best learning resources available. Obtaining an excellent education is one of the primary ways a young child can be put on the path to lifelong success.
If you've been searching for math-related learning resources, you may have discovered the Elephant Learning Math Academy and would like to know whether they offer an . What can one of their free trials do for your child? Their free trial allows you, as well as your child, to evaluate their services to see if they would be a helpful tool for learning more about math.
Here at DoNotPay, we understand you may have questions about the Elephant Learning Academy. Fortunately, we've completed all the research into what they have to offer, in order to answer all your questions. In this guide, we'll talk about:
Free trial
Ways to avoid getting charged on your own
DoNotPay's virtual credit card
Does Elephant Learning Offer a Free Trial for Math Courses?
They certainly do! The  offers parents a 3 day trial period to try their service before committing their child to a math program. During the 3 day trial period, most students are able to complete their placement exam, then continue in the program to determine if the learning environment is a good fit for them. At the end of the 3 day trial, most parents and students are able to determine if the program is helpful and challenging enough in order for the student to receive a high degree of value from the program.
How Can I Get an Elephant Learning Free Trial?
If you'd like more information about how to receive a free trial, you can contact the Elephant Learning Math Academy.
Phone number - 1-888-736-5876
Website - visit their website here
E-mail - Support
Does an Elephant Learning Free Trial Automatically Renew Into a Paid Subscription?
As with most free trials offered by companies, the Elephant Learning Academy does require credit card information in order to sign up for the initial trial. If a parent doesn't cancel the service before the trial period ends, the academy will continue to charge the credit card. Of course, Elephant Learning clients can cancel their service at any time, although if they cancel after the trial period, they do request their client pay for the month in which they cancel.
How Can I Get Free Trial and Avoid Getting Charged on My Own? 
It is easier to forget to cancel your free trial and end up paying for a subscription service you don't enjoy. Here are a few ways you can cancel a free trial and avoid getting charged:
Cancel payment once you sign up for the free trial.
If you cancel a free trial after signing up, you will still use it for the entire trial period without getting charged. It is one of the best and easiest ways to ensure you don't get billed.

However, remember that not all free trials operate in the same manner. Some services will stop your trial immediately you unsubscribe, e.g., Hulu and Apple Music.

Set a reminder a few days before your trial period ends.
Don't wait until your free trial ends to cancel your subscription. That's because you may take forever to find instructions on how to unsubscribe, and this could push you past your deadline.

Another reason why you shouldn't wait till the last minute is that most services will still charge you if you cancel less than 24 hrs before your free trial period ends.

Go virtual.
If you signed up with a free virtual credit card and forgot to cancel your subscription before your trial period ended, you can never get charged.

DoNotPay's Virtual Credit Card works by generating temporary credit cards that expire when you please. Some advantages of virtual credit cards include:

Reducing costs
Increasing security
Managing cash flow better
More convenient than physical credit cards
Protecting you from fraudulent activities
Helping you manage subscriptions

Speak with Customer Support.
Do not disregard how powerful personal appeal can be. If you thought you canceled your subscription before your free trial ended or your request was unsuccessful, you can contact Customer Support to help you out. Just ensure you remain humble and courteous in your request.
How to Avoid Automatic Renewal With a DoNotPay Virtual Credit Card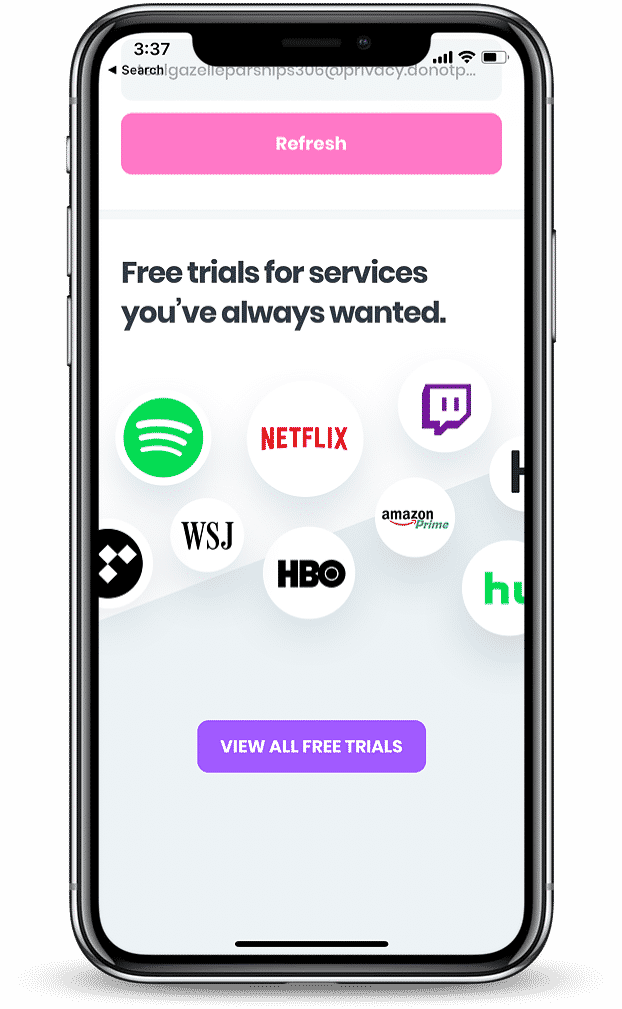 It's at this point that some people will decide not to explore a service or program any further. After all, why should they give their private credit card information to a company before they're certain they want to purchase what a company has to offer? And what happens if a person has an emergency and they forget/miss the deadline to cancel a service until after the trial period is over? If only there was a way to take advantage of a trial period without all the potential hassle.
Fortunately, DoNotPay understands the potential pitfalls associated with free trial periods, and has designed a very useful solution. This solution allows you to take advantage of online free trial periods, so you can decide if a service or program is right for you before committing your own personal credit card information.
Here at DoNotPay, we offer our viewers access to free virtual credit cards which can then be used to sign up for free trial periods online. Our DoNotPay virtual credit cards allow you to sign up for trial periods, so you can explore potentially useful services or programs, without using any of your real credit card information.
How Does One of Our Free Virtual Credit Cards Actually Work? 
We don't mail our clients an actual plastic credit card. Instead, we provide them with a randomly-generated series of numbers that look and act like a credit card number one can use online, but which are actually attached to your bank account or one of your real (plastic) credit cards. Since the randomly-generated credit card number is generated only once, it can only be used for one shopping (trial) experience. In other words, if you use your DoNotPay virtual credit card number to sign up for one of Elephant Learning Academy's free trial periods, the "credit card" number you use will only be applied to the single transaction of one free trial period. If you decide not to make a commitment to one of their learning programs and/or if you forget to cancel with them, they can't create another transaction and charge your virtual credit card to continue their service.
If you want to know more about how one of our virtual credit cards can work for you, please click here for a more detailed explanation.
What Else Can DoNotPay Do for Me?

We hope you enjoyed learning more about Elephant Learning Math Academy, as well as the convenience and value you will receive by using one of DoNotPay's virtual credit cards to sign up for free trials. Be sure to review all the other ways DoNotPay can help, including: