How to Start Doodly Free Trial The Risk-Free Way

In recent years, whiteboard animation films have become more popular because they are engaging, beautiful, and pleasant to watch. These films are known as doodle videos, and they're often used to convey concepts, much like how you can demonstrate something by sketching on a sheet of paper. If you'd like to create these whiteboard animation films, a  might be a great option for you.
Doodly is a whiteboard animation software that allows anyone to create professional, realistic whiteboard videos in minutes, regardless of technical or design skills. You can use it to make whiteboard animation videos, chalkboard animation videos, and glass board animation videos without the need for complicated software tools. Unlike many other tools available on the internet, Doodly is a simple drag-and-drop animation video maker.
Does Doodly Offer a Free Trial?
No. Doodly doesn't offer a  for their software. However, the company offers a no-risk use of the application through a 30-day money-back guarantee. You can try Doodly for up to 30 days and if, for any reason at all, you're not satisfied with the software, you can contact support for a full refund. This way, you can test the software first before committing to a monthly subscription.
To get started with Doodly:
Go to Doodly's pricing page, select the package you want (Standard or Enterprise), and join.
Next, enter your name, last name, and email address, then enter your payment method.
Agree to the terms, privacy policy, and user agreement and click the BUY NOW button.
Their payment processor will verify your payment card, and you'll get an email with details of your account and a download link.
Click the link to install the Doodly software on your computer.
Within 30 days of purchasing, be sure to contact Doodly support for your 30-day money-back guarantee.
Avoid Automatic Renewal With DoNotPay Virtual Credit Card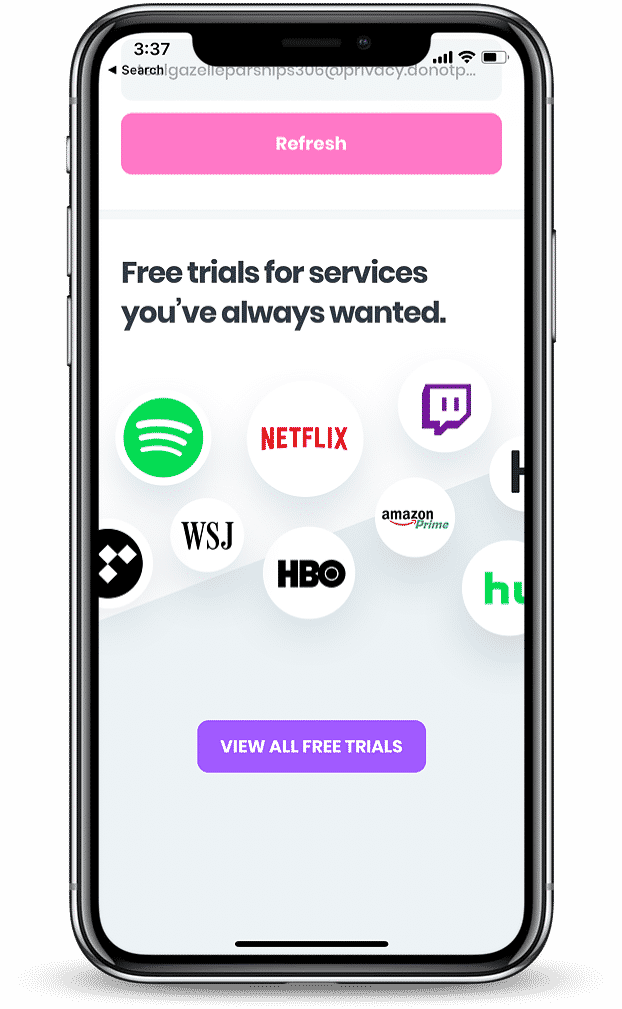 We have all made the mistake of signing up for a free trial and then totally forgetting to cancel it before it rolls over for another month, ending up with charges on your credit card in the process. Actually, that's what most companies count on when they offer you a free trial of their service. If you took advantage of Doodly's 30-day money-back guarantee and don't want Doodly to auto-renew your subscription, DoNotPay's Virtual Credit Card is the perfect solution for you. 
DoNotPay's Virtual Credit Card generates a random number and credit card information that you can use to subscribe to any service, including Doodly.
The card isn't linked to your physical credit card and comes with many features, such as fixed charge limits, single-retailer purchases, and flexible expiration dates.
If you use DNP's Virtual Credit Card when purchasing a Doodly plan, you can set a fixed charge limit or a 30-day expiration day to ensure you aren't charged if you forget to cancel your subscription after the 30 days are over.
How Much Does Doodly Cost?
Doodly membership is available with a choice of an ongoing monthly subscription or a single annual payment that is heavily discounted. Doodly has two packages – Standard and Enterprise.
         Packages
               Costs
                        Benefits
 

 

Standard

$39 Per Month (billed monthly) or $20 Per Month (billed annually)

1,164 Character images
1,620 Prop images
150 Royalty-Free Music Tracks
20 Video Templates
35 Fonts
84 Scene Templates
Create Unlimited Videos
Use On Multiple Computers
Standard Support
Invitation to Doodly Design Facebook Group

 

 

Enterprise

$69 Per Month (billed monthly) or $40 Per Month (billed annually)

3,959 character images
3,341 prop images
250 royalty-free Music Tracks
40 Video Templates
70 Fonts and 84 scene templates
Create unlimited videos
Use on multiple computers
Premium support
Invitation to Doodly Design Facebook Group
What Are the Most Popular Alternatives to Doodly?
Here are some of the most popular Doodly alternatives and their pricing:  
       Alternatives
               Cost
                        Benefits
 
Essential $299/year, Premium $649/year, Professional $999/year

Team collaboration
Video sharing features
720p & 1080P resolution
Animated GIF Export
Color Changeable Props
Contemporary, business-friendly, and whiteboard visual styles
Priority Phone Support

 
$39/month billed monthly, $14/month billed annually, $995 one-off plan

Unlimited video exports
Free library of over 8,000 images
Unlimited online support
Free product upgrades
Over 190 royalty-free music tracks

      Animaker
Basic $10/month, Starter $19/month, Pro $49/month

30 Premium Downloads
2K quality videos
Build 30 Custom characters
45 Premium Asset credits

 
One-time price of $49

160+ Life-Like Text-To-Speech Voices
Automatic Whiteboard, Blackboard & GlassBoard Switcher
Unlimited Photo Background Removal
300+ Customizable Niche Templates
Up To 15 Minutes Video Length
Commercial License

1-Click Language Translation Engine
Video Translation Into 60+ Languages
What Else Can DoNotPay Do?

DoNotPay can help you with almost anything, including:
With , you can create videos featuring realistic doodles that look like they were hand-sketched, even if you don't have the skills of a graphic designer. Although there is no free trial available, you will be given a 30-day money-back guarantee. DoNotPay can help ensure that you aren't charged after the 30 days are over.