How to Get DJ Pool Free Trials Without a Credit Card

DJ pool is a centralized and regionalized digital streaming system that permits DJs to get promo music to play at:
bars and clubs
banquets
concerts
on the media
 is not completely free.
Free trials are an attractive feature that companies and services use to get new users onto their sites. Although it might appear appealing to get online services for free, this is not always the case.
Service providers rely on the fact that these trials last just as long, and if you forget to cancel your subscription on time, these services will automatically deduct subscription fees from your credit card. But if you intend to continue with a service, you don't need to cancel the subscription.
Getting unnecessary charges can be frustrating. However, DoNotPay offers you a free virtual credit card that you can use to register with an online service to avoid getting chargebacks on your credit card after a trial period ends.
How to Get DJ Pool's Trial on Your Own
If you are a DJ with a thirst for everyday new music to serenade your fans' souls, then DJ Pool is an excellent fit for you. You can access their trial plan by just going to their website and signing up. You will either join their  or a full subscription if you want.
How Much Does DJ Pool Subscription Cost After a Trial Period?
DJ Pool trial starts at $1 on the first day. After the trial, the cost of this service will culminate to a $20 a month subscription. It adds up to a high annual charge if you forget to cancel a trial subscription.
Compare Digital DJ Pool vs DJ City
Here are some info that'll help you decide which DJ Pool is best for you. Below, you'll find information to help you compare Digital DJ Pool and DJ City, including:
features
customer experiences
pricing
thoughts from current Digital DJ Pool customers who are already in
| | | |
| --- | --- | --- |
| | Digital DJ Pool | DJ City |
| Trial | $1 | none |
| Price | $20/month | $90/3 months |
| DJ Network | Yes | No |
| Mobile App, | Yes | Yes |
| Daily Charts | Yes | No |
| Updates | Daily | Daily |
| Song Quality | 320 kbps | 320 kbps |
What You Need to Know About Free Trials
Free trials are excellent because they allow you to see if you enjoy or need an app or resource before investing any money. Regardless of whether you're signing up for a free trial or not, you must never enroll for a service without first understanding what you're consenting to.
After your trial period expires, some platforms may automatically begin charging you, while others will gather your personal information in return for their services. But don't worry: with a bit of caution, you can take advantage of free trials without getting stung for money or jeopardizing your internet security.
When you see a "free trial" option and click on it without doing your due diligence, you're providing cybercriminals with the ideal opportunity to distribute viruses or collect your personal information. Not all applications and services provide trials with nefarious intentions in mind, but it's not impossible.
Before you sign up, do some research to find any potential warning signs. Begin by learning about the company you're about to join, as well as the digital services they're in charge of. Be skeptical of services you've never heard of or that don't appear to have a history.
There are ways to protect yourself from getting charged after a free trial period ends, including:
Setting a Reminder
You can sometimes start a free trial without handing over your payment information, but this isn't always the case. You'll often be prompted to enter payment information right away so that the service can charge you once the trial period has ended. It's a deceptive tactic, but businesses are within their rights to do it.
This is why setting an alert on your phone a day before the free trial expires is a good idea. You'll be able to terminate the trial before being charged. The more specific information you can provide in the notification, such as how the cancellation procedure functions, the better. That way, you won't forget important details when it's time to say goodbye.
It's still worth putting up an alert even if you haven't handed over any payment information. You'll be able to close the account if you don't intend to use it or submit your payment information if you intend to continue.
Don't Sign Up Just Because It Says "Free"
You don't always have to wait until the expiration of your free trial to realize you don't need to continue. Perhaps you don't want to divulge too much private info, or the corporation behind it appears to be too shady. However, there are other reasons why you might want to leave.
The first step is to reduce your vulnerability to security flaws and data leaks. The logic is simple: the fewer accounts you have, the fewer opportunities malevolent individuals have to find you. For the same rationale, DoNotPay urges you to delete or remove any accounts that you aren't regularly utilizing, whether they are free or not.
You should also consider if you have the necessary funds or time to use whatever services you're signing up for. You should not join up for a service just because it is free.
Avoid Automatic Renewal With DoNotPay Virtual Credit Card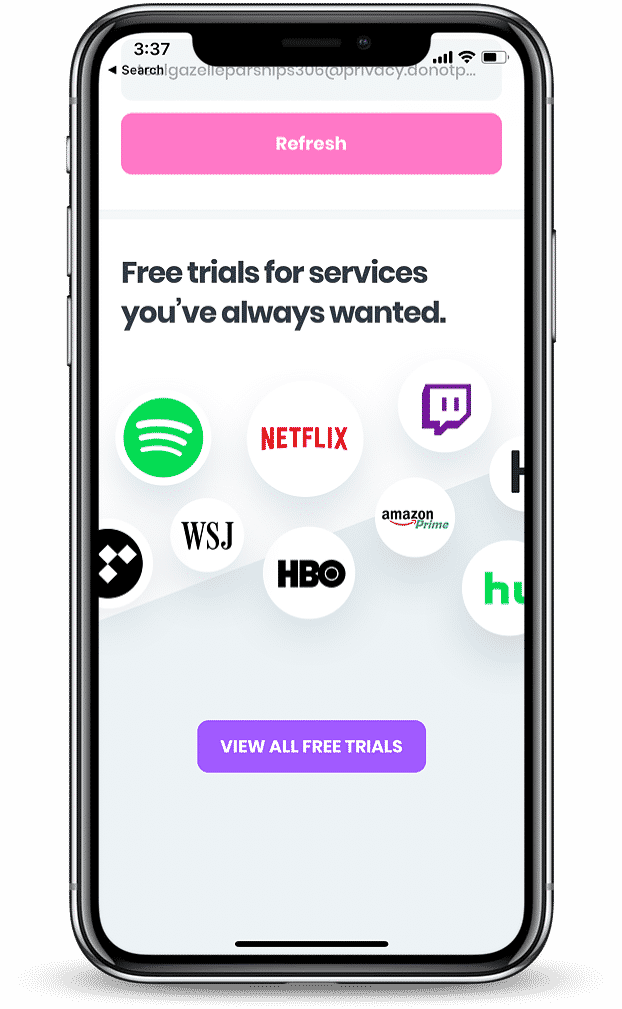 DoNotPay offers a virtual credit card that will help you avoid getting charged after a trial period ends.
What Else Can DoNotPay Do?

DoNotPay offers you a host of other services including:
Fighting speeding tickets
Disputing traffic tickets
Reach out to us at DoNotPay today and experience our virtual credit service today!