Enjoy Your Disney+ Free Trial with a Virtual Card

Streaming services are all the rage. These services are a wonderful way to watch movies and catch up on your favorite television shows. If you have children, these services have programming for them. Some of these services even offer parental controls so you know your kids can't stumble across a show that they should be watching.
You might be looking for a new streaming service to try, or maybe, you recently heard about Disney Plus, and you're considering trying it out. Disney Plus offers all of your favorite Disney and Marvel movies along with a wide selection of cartoons and television shows.
You might be considering signing up for the but you worry about charges to your credit card if you forget to cancel in time. It happens without any intention on your part. You decide you don't like a service but forget to cancel it on time. You end up paying for a service that you aren't using for months.
You don't want this to happen again. Luckily, DoNotPay has a way to help you enjoy your free trial and not get charged if you don't want the service.
Does Disney Plus Offer a Free Trial?
Sometimes, but not all the time, . When the streaming service is offering a free trial, it's usually seven days of free viewing. In some cases, it might be as long as 30 days, but it's rare that this happens. You'll need to provide some information in order to get the free trial when it's offered, such as:
Your email
Your name
Your credit card information
How Can I Get a Disney Plus Free Trial?
During periods when Disney Plus is offering a free trial, there are some things that you'll need to do to enjoy this free period. Here's a look at the steps you need to take:
Go to the Disney Plus webpage
If the streaming service is currently offering a free trial, you'll see the offer on the home page.
Simply click on the Free Trial button
You'll need to provide your basic information, such as your name and email address
You'll also need to provide a password to create your Disney Plus account
Choose the plan you want:
Disney Plus alone
Disney Plus, ESPN, and Hulu with commercials
Disney Plus, ESPN, and Hulu without commercials
Provide your credit card information
Does the Disney Plus Free Trial Automatically Renew Into a Paid Subscription?
Yes, when Disney Plus offers a free trial, it does automatically renew into a paid subscription. You must cancel your free trial within a week if you don't want to see future charges. However, you can cancel the free trial early and still enjoy the trial period until the seventh day.
Whatever happens, you must remember to cancel before the trial period ends, if you don't want to continue the service. Otherwise, you'll pay the subscription fees.
Avoid Automatic Renewal With DoNotPay Virtual Credit Card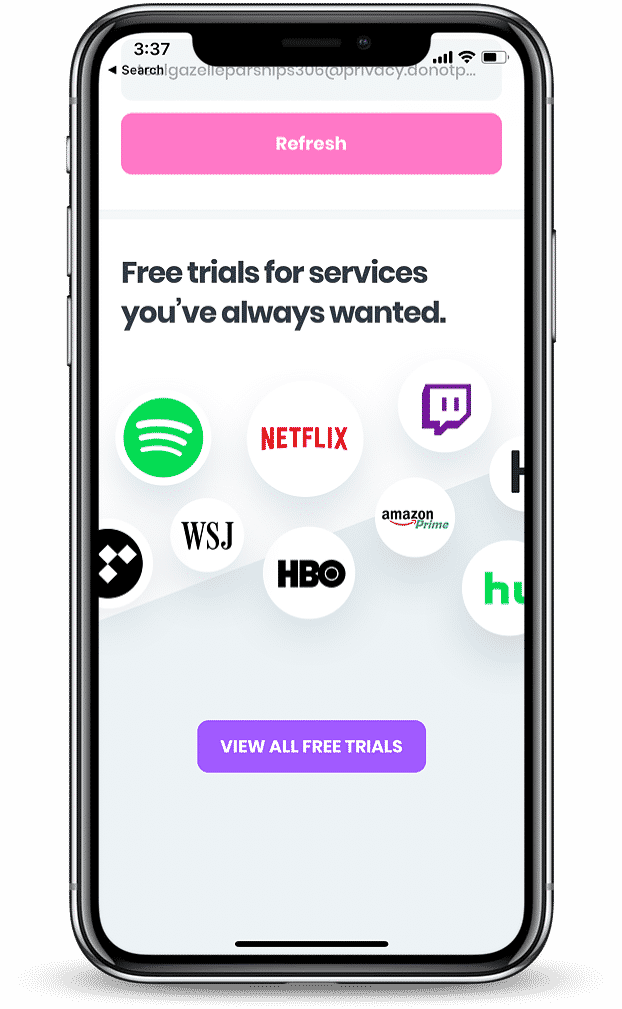 The great news is that you can use a virtual credit card to sign up for the Disney Plus free trial, and then if you forget to cancel, you won't find charges on your actual credit card. A virtual credit card is a wonderful solution to your dilemma when it comes to signing up for free trials. Here are three reasons to choose a virtual credit card:
The vendor never sees your real credit card information, adding an extra layer of protection against future charges
You can assign the virtual credit card to only one merchant
If you want the virtual credit card to make payments, you can choose how much can be charged to it
How Much Do Disney+ and Disney+ Bundles Cost?
The monthly cost of your Disney Plus membership after the trial period depends on the plan you select. While there's only a single plan when you only want Disney Plus, there are two available bundles that include Disney Plus. Here's a look at the prices for each per month:
| | |
| --- | --- |
| Subscription | Fee |
| Disney+ (ad-supported version starting December 8, 2022) | $7.99 per month |
| Disney+ | $11.99 per month |
| Disney+ Bundle (Disney+, ESPN Plus, Hulu with ads) | $13.99 per month |
| Disney+ Bundle (Disney+, ESPN Plus, Hulu without ads) | $19.99 per month |
| Disney+ | $119.99 per year |
What Does Disney+ Subscription Include?
| | |
| --- | --- |
| Supported devices | Up to 4 simultaneous streams |
| Downloads | Unlimited |
| Content | 500+ films, 15,000+ episodes, and 80+ Disney+ Originals |
How Much Does Disney+ Cost Throughout the World?
| | |
| --- | --- |
| United Kingdom | £7.99/month or £79.90/year |
| Canada | $11.99/month or $119.99/year |
| Europe | €8.99/month or €89.90/year |
| Australia | $11.99/month or $119.99/year |
| New Zealand | $12.99/month or $129.99/year |
Does Disney+ Offer Any Discounts in 2022?
Yes, Disney+ is currently offering an exclusive 25% military discount on its annual subscription for US service members, veterans, and their family members. To sign up, simply
Visit The Exchange website and click on "Shop Now"
Sign in to your Exchange account
Go to "Authenticate Now", which will bring you to the Disney+ website
Enter your email address, password, payment information
That's it! You will receive a 25% discount on your annual subscription and you can start streaming!
What Will Disney Plus's Charges Look Like on My Statement?
When you see your credit card statement, the charge for the streaming service says Disney Plus. You should be able to easily recognize it.
What Are the Most Popular Alternatives to Disney Plus?
There are many streaming services available that offer movies, television shows, and kids' programming. Here's a look at a few of the popular alternatives to Disney Plus:
Netflix
Hulu
Amazon Prime
Paramount Plus
Peacock
What Else Can DoNotPay Do?

DoNotPay can help you with almost anything, including:
Use the DoNotPay app to generate a virtual credit card to sign up for the and never worry about future charges!