How to Get a DISH Free Trial Without Giving Your Credit Card Information

We're all aware of the tempting free trials that offer a free trial period to entice customers into committing. Normally,  require you to input your credit card information for a free trial. You're then required to sign up for the subscription if you're satisfied with the services or cancel the subscription offer once the trial period ends.
However, DISH free trials can be tricky sometimes, and in most cases, they charge you if you don't cancel on time. In addition, you can also bump into dishonest businesses that make it hard to cancel the subscription. In this case, you can be charged even if you're not satisfied with their product anymore or when you're not aware you're being charged.
In order to protect yourself from the unwanted charges on your credit card, don't provide your credit card information. You can now get trials without getting charged by using the DoNotPay virtual credit card. DoNotPay allows you to take advantage of DISH free trials without disclosing your personal credit card information.
Does DISH offer a free trial?
Yes
Dish offers a three-month free trial for all the qualifying subscribers on any qualifying package. The free trial is meant for new subscribers, and right now, it includes Showtime and a Dish movie pack. However, if you want to enjoy more features, you have to upgrade your subscription. The features in the premium channels include:

sporting events
series
first-run movies
mini-series

Does the DISH Free Trial automatically upgrade into paid subscription?
Yes
Once you sign up for a Dish account, your account will automatically renew when the trial period ends. So, whether you selected a premium, monthly, or annual plan, the account will renew, and you'll be charged according to your specific subscription plan fee. For you to avoid being upgraded, you're required to cancel your subscription before your trial period comes to an end. You're given a day (24 hours) before the trial period ends to cancel the service if you don't want to be charged.
How Can I Get a Dish Free Trial?
You're required to register for an account to access the . Here's a step-by-step procedure for setting up your dish account:
Go to the sign-in page at the bottom of the MyDISH App and select "Create Username."
Enter your email address, which will verify that your email is not in their system.
Enter your contact information and click the "create" button. Bear in mind that you'll need to fill in your credit card information.
Once you enter your details, the next screen display will allow you to register.
Avoid Automatic Renewal With DoNotPay Virtual Credit Card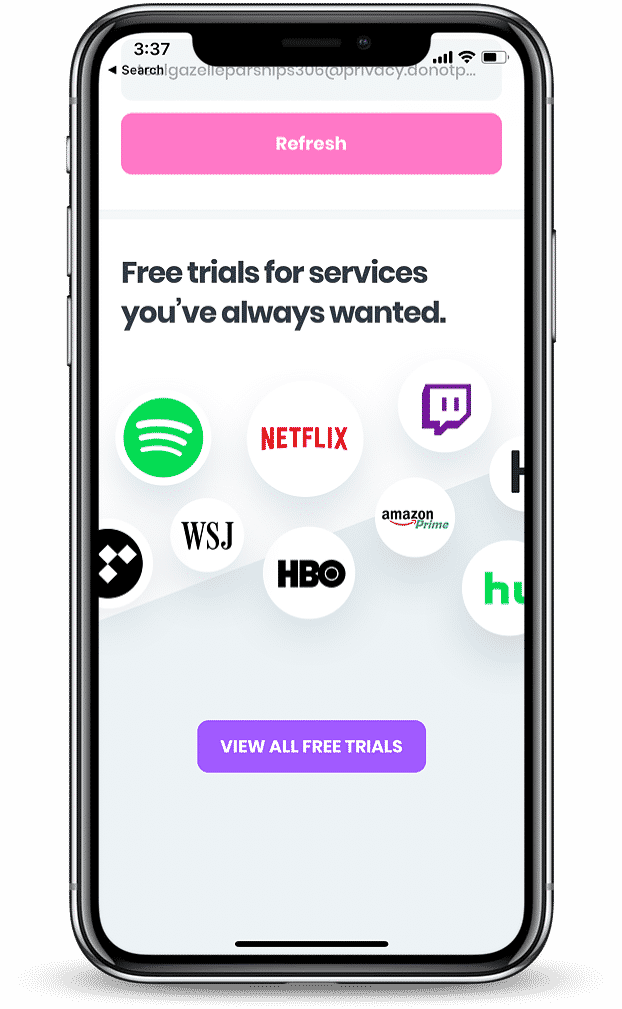 How many times have you signed up for a free trial, provided your credit card information, and then you forgot about it? The results are not always good. You might end up forgetting that you ever applied for any service and can be charged for services you've never used. This is a common ordeal for most people, and you can avoid such problems by using a virtual credit card.
If you want to take advantage of the  but still want to be safe from getting charged from your credit card, DoNotPay's virtual credit cards will help. Virtual credit cards are great if you want to avoid unwanted charges that come after DISH free trials. Virtual credit cards work the same way as standard chip credit cards. They use random card generators to make a temporary account number, which helps avoid unauthorized purchases.
You can, therefore, use DoNotPay virtual credit to sign up for Dish free trials because they bypass the authentication without processing any charges. Therefore, you're assured of not incurring any unwanted charges while still protecting your credit card information. So, why are the DoNotPay virtual credit cards so awesome?
DNP generates credit card information with a random number that you can use to subscribe to any free trial service.
Once your free trial expires, you'll not be charged any money since the card doesn't contain any money, and so you're automatically unsubscribed from the service.
Read this article for more information.
What Else Can DoNotPlay Do?

DoNotPlay can help you with almost anything, including:
Fighting speeding tickets
Disputing traffic tickets
Looking forward to signing up for a free trial? With DoNotPlay's credit cards, you will not get charged even if you forget to cancel your Dish free trial. All you're required to do is sign up for the trial you wish to, and enjoy. DoNotPay's credit cards do not allow any payments to go through, so you don't have to stress about having to cancel the free trial before it ends.