Resolve Your Diamond Parking Ticket With Ease
When faced with an unfair parking ticket from a private parking company like Diamond Parking, most people believe they have just two choices — pay the fine without asking questions or ignore the ticket. Appealing a parking infraction is usually an unrealistic option for many, due to the belief that the process may be time-consuming at best, and financially counter-productive at worst.
Luckily, can help you appeal and win any parking citation, making it an easier, quicker, and better option.
If you've been recently served a Diamond parking ticket, see how you can comfortably appeal your ticket below.
Tips for Appealing a Diamond Parking Ticket
Appealing a Diamond parking permit or any private parking ticket is easy. Some useful tips to note are:
Always plan to appeal your ticket in time to avoid a late penalty.

Compile evidence to support your appeal.

Look out for washed-off marking, a broken sign, incorrect meter, illegible readings, or other things around the scene that weaken the accusation.

Inspect the ticket for possible errors.

Read up the state or local code backing the citation.
Appealing Diamond Parking Tickets With DoNotPay
Here are the steps to successfully contest your parking ticket:
Sign-in to

and find the Parking Ticket product.
Upload a photo of your ticket and provide the citation number.
Select the reason that best describes what is wrong with the ticket. We offer multiple options to choose from.
After you upload further evidence and make your case, DoNotPay will generate a letter containing the most relevant state traffic law. You can also have DoNotPay mail the letter for you or you can choose to send it yourself. Our ticket appeals can take anywhere from 2 weeks to process, so make sure you take action right upon receiving your ticket.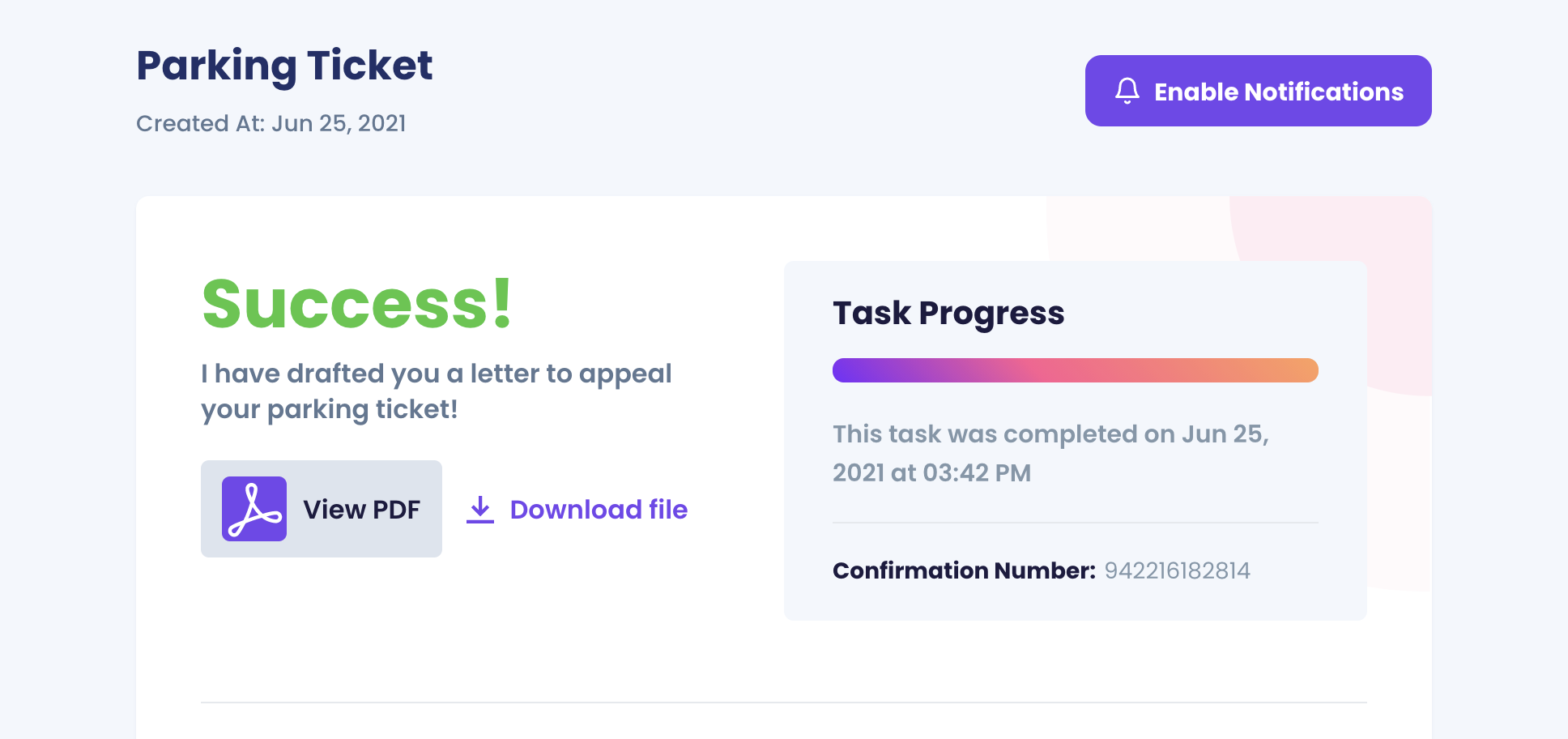 About Diamond Parking Services
Diamond Parking Services is the world's oldest, and one of the biggest parking services in the US. With major operations in Seattle, Ohio, California, Florida, Montana, Utah, Washington, Oregon, and minor operations in several other states and countries like Canada, Diamond has over 99 years of experience to its credit.
With such a strong reputation, Diamond invests heavily in ensuring customers get the best experience out of parking. As such, if disputes with lots arise or complaints of suspected unfair parking citations are established, Diamond has an elaborate dispute process for you.
How to Get a Diamond Parking Permit
Diamond parking has three options for purchasing a permit:
Paying online

https://www.diamondparking.com/pay-now/

Paying by phone

888-767-9037

866-234-7275

Paying at the booth

Visit the closest Diamond parking lot
If the lot around your workplace or shopping mall is managed by Diamond, you'll benefit from buying a monthly parking permit. This costs about $150. Otherwise, you can equally purchase any other these timely rates below:
| | |
| --- | --- |
| Duration | Price |
| 60 minutes | $3 |
| 120 minutes | $6 |
| 180 minutes | $9 |
| 240 minutes | $12 |
| 600 minutes | $15 |
| Early bird weekday (9:30 am - 6:00 pm) | $10 |
| Evening weekday (5:00pm - 4:00am) | $12 |
| Overnight (3:00pm - 4:00 am) | $15 |
Common Diamond Parking Infractions
Here are some of the most common infractions people often violate when it comes to parking:
Parking beyond stipulated hours

Parking with expired or illegal ticket

Improper display of parking permit

Parking in a handicapped zone

Parking in front of a broken meter

Rendering the next parking space unusable with inappropriate parking
What Should I Do After Getting a Diamond Parking Ticket?
If you've just been issued a parking ticket, there is no need to fret or become livid. DoNotPay can help you contest it and here are a few solid grounds for a contest. Dispute your ticket:
If you believe you have been handed your citation in error.

E.g. A parking lot that closes by 10 PM and issues you a ticket at 9:45 PM for late parking.

If you can spot blatant errors in the ticket.

E.g. Wrongly quoted license plates or vehicle identification numbers (VIN).

If you can build up a reasonable solid appeal defense.
If you find the charges too prohibitive and exorbitant.
Do I Need a Lawyer?
You do not need a citation lawyer to file an appeal for your parking infraction. Most people in the US associate lawyers with unnecessary legal expenses and tend to think there are no cost-benefit advantages to paying so much in legal fees for a $50 infraction.
DoNotPay takes away the need for a physical lawyer and helps you brilliantly contest your infraction for incredibly less.
What Else Can DoNotPay Do?
DoNotPay offers solutions to hundreds of thousands of people with their parking tickets and also assists you apply for university scholarships, sue people and companies, seek compensation for delayed flights, get a virtual credit card to avoid unnecessary charges, and contact customer service and get connected once they reach a real human being. You can also get in touch with various embassies in the US and across the world or reach out to your government representatives with DoNotPay.