How to Get a Depositphotos Free Trial Without Using a Credit Card

Depositphotos is a leading royalty-free content marketplace with its headquarters in New York, US. Its library has over 200 million files, including editorial files, royalty-free stock photos, music, video clips, and vector images, all coming at affordable prices.
The platform offers free trial but requires the user's credit card info upon sign up. If you are interested in taking advantage of a, but are a bit hesitant in using your own credit card on their website, DoNotPay has just the solution for you.
Read up and learn more about DoNotPay's free virtual card.
Does Depositphotos Have a Free Trial?
Yes, Depositphotos offers a free trial period, allowing you to experience top-quality images first-hand to test them out without charges.
The  runs for seven days and can be deactivated at any time. However, your functionality is limited to Depositphotos and does not include video files.
As it is, you can only download five images per day for those seven days. Your first day is when you activate the free trial, and the subscription resets every 24 hours. Fortunately, you can still use the images you downloaded at the end of the free trial.
How Can I Get a Depositphotos Free Trial?
To activate a , ensure you have a SegPay account. Have you decided to start the Depositphotos free trial? Here is how to go about it.
Go to the Depositphotos website.
At the top right hand side of the webpage, click on "Pricing".
This will take you to a page filled with subscription details. Find the 'Free 7 day trial" button and click on it.
On the final page of the sign-up, it will ask you for your credit card information. Put in the required information and click on the "Start Free Trial).
Once you register a Depositphotos account, you will be offered a 7-day free trial. This is an opportunity to know how the site works before committing to the regular payment. However, if you have already registered an account, head over to the 'Buy a Subscription/Buyer Menu' page.
You can also go to the page directly dedicated to the free trial. Depositphotos accept different payment methods, including major credit cards. There is also an option for PayPal and checks for Canadians and Americans.
Does the Depositphotos Free Trial Automatically Renew Into a Paid Subscription?
Yes, it does.
All Depositphotos subscriptions are renewed automatically, including the free trial. Once you start a free trial, a standard premium subscription is also set to start when the Depositphotos free trial ends.
Therefore, you need to cancel the free trial subscription at least 24 hours before the end of the seven days. However, once you cancel, you won't be able to download images anymore. In addition, you can try requesting a refund in case you forgot to cancel your free trial on time.
Unfortunately, getting a refund is not always guaranteed and can be a hectic process. It may require exhausting attempts to contact their customer support.  Luckily, DoNotPay comes to your aid with its effective refund feature.
With DoNotPay, you can get a Depositphotos refund if you don't want to switch to a premium subscription and forget to cancel the  on time.
Avoid Automatic Renewal With the DoNotPay Virtual Credit Card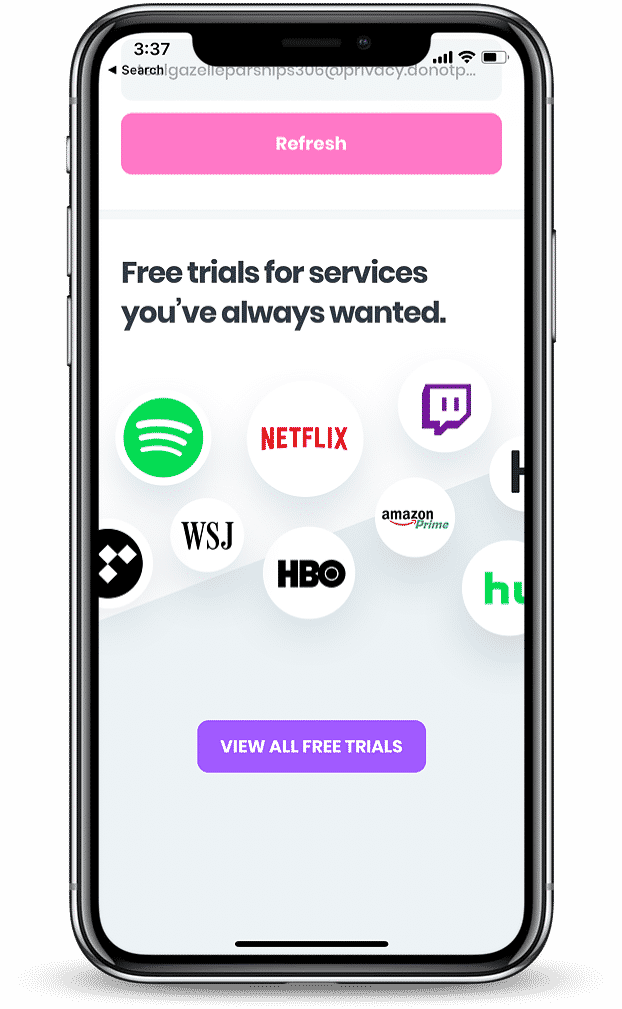 It is not uncommon for most account users to forget to cancel their free trial before the expiry. Failure to cancel on time then leads to being charged for services they no longer need.
Even when companies allow refunds, obtaining one can be such a pain. Fortunately, DoNotPay's free virtual credit card can help you enjoy the seven days hassle-free and cancel on time without getting any charges.
DoNotPay generates a random number and credit card information that you can use when signing up for the Depositphotos free trial. Once the 7-day free trial expires, Depositphotos won't be able to charge you, since DNP's virtual credit cards don't have any money.
Such instances automatically lead to being unsubscribed from the service. DoNotPay makes it convenient to cancel your free trial. No more worrying about missing the end of your free trial and dealing with unwanted subscription charges.
How Much Does Depositphotos Cost After the Free Trial?
Depositphotos has multiple pricing plans depending on the type of product you want and the quantity. Below are some of the most common plans and equivalent costs:
| | |
| --- | --- |
| Cost | Benefits |
| $9.99 monthly | 10 images per month |
| $69.00 monthly | 75 images per month |
| $149.00 monthly | 350 images per month |
| $169.00 monthly | 750 images per month |
Depositphotos offers three payment options:
Monthly without a contract
Annual, billed monthly
Annual, billed upfront
Common Depositphotos Alternatives
If you want to try out alternatives to Depositphotos, here are a few:
Shutterstock
Adobe Stock
G2 Deals
123RF
Dreamstime
iStock
PixaBay
Unsplash
How Else Can DoNotPay Help?

Besides helping you sign up for the Depositphotos free trial, DoNotPay can also help you with:
Sign up with DoNotPay to enjoy a risk-free .