Sign Up for DataCamp Free Trial Without a Credit Card

DataCamp is an online coding platform for data science students and professionals. It offers a wide range of coding content that helps aspiring and experienced data scientists hone their data management skills. DataCamp has a limited  of its programs as well as paid packages.
Some customers subscribe to the paid programs and forget to cancel their subscriptions after stopping using the platform. DoNotPay has a Virtual Credit Card that you can use to test the paid plans and avoid unnecessary charges.
Does DataCamp Offer a Free Trial?
Yes. DataCamp allows users to open a free account to try different modules and decide if they will sign up for the paid plans. Users have access to the first chapter of all courses as well as practice challenges, a workspace, and skills assessment.
The free account is valid for two months, but users who register through their Microsoft Visual Studio subscription get a 3-month . However, owners of free accounts only have access to introductory content, which enables them to familiarize themselves with the platform.
How Can I Get a DataCamp Free Trial?
You can register for the  directly or use your social media account by following these steps: 
Visit the DataCamp website and click on the Get Started tab.
Enter your email address (if there is a similar email address in the DataCamp database, you will need to use a different email).
Create a password.
Click start learning for free.
Using your Google, Facebook, or LinkedIn account:
Visit the DataCamp website and click on Get Started.
Under the create your free account tab, select the social media account you want to use. You will be redirected to the third-party website.
Follow the steps required by the third-party website to register your free DataCamp account.
The free account does not require users to provide their credit card info.
Does DataCamp Free Trial Automatically Renew Into a Paid Subscription?
No. The free trial account does automatically become a paid subscription. Users do not need to cancel the service as the free accounts automatically close after two months. Users who subscribe to paid accounts are charged on a recurring monthly or annual plan. You can cancel your subscription by clicking Stop Automatic Billing on the Account Settings tab. You still have access to the account for the remaining subscription period but cannot get a refund for the months paid.
Avoid Automatic Renewal with DoNotPay Virtual Credit Card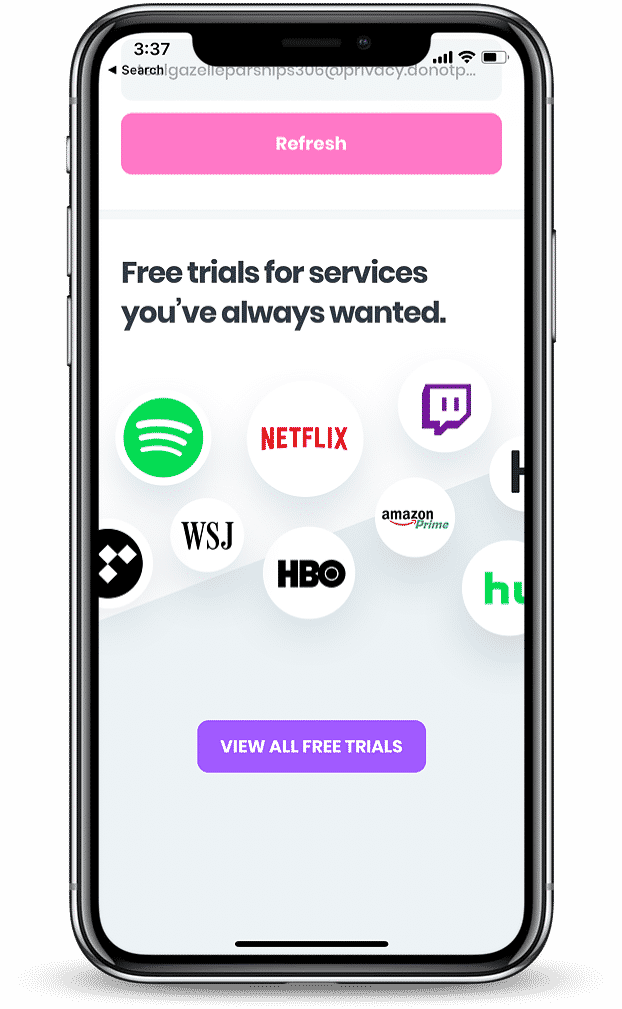 Research indicates that 35% of Americans sign up for automatic payment plans without realizing it. Most of them forget to cancel the subscription when the free trial is over or no longer need the service.
DNP offers a virtual credit card that generates a random number and other credit card info that you can use to subscribe to DataCamp. They can't charge you for the service because there is no money on the card. You will also get unsubscribed automatically.
How Much Does DataCamp Cost After the Trial?
DataCamp offers four payment packages to its users. All payment plans are billed annually.
Plan
Price
Benefits 
Standard
$25/month
Everything in the Free Course plus:

•    over 350 courses

•    career tracks and skill tracks

•    unlimited practice challenges

•    live code along

•    mobile app courses practice

•    community chats

Premium
$33/month
Everything in Standard plus:

•    over 80 projects and tableaus Power BI

•    oracle content

•    priority support

Professional (small teams)
$25/month per user
Everything in Premium plus:

•    administrative roles and permissions

•    assignments

•    admin dashboard

•    live chats for admins

Enterprise

(advanced integrations and reporting for large organizations)

Charged per user or unlimited usage
Everything in Professional plus:

•    a dedicated professional assistant

•    single sign-on

•    LMS integrations

•    advanced reporting, data export

•    custom learning tracks and tableau

•    power BI and Oracle content priority support
What Will DataCamp Charges Look Like on My Statement
| | | |
| --- | --- | --- |
| 0683 DataCamp NEW YORK NY |  DIRECT DEBIT DataCamp FEES | DataCamp FEES PPD |
| 0846 DataCamp METAIRIE LA | Debit: Preauthorized Payment to DataCamp for FEES | DataCamp FEES |
| 0774 DataCamp BROOKLYN NY | CH Transaction - DataCamp FEES | DataCamp FEES/091817/PPD |
| 0841 DataCamp NEW YORK NY | ACH WITHDRAWAL - DataCamp | Preauthorized Debit DataCamp FEES |
| 0842 DataCamp NEW YORK NY | ACH Withdrawal DataCamp | RETURNED ITEM FEE FOR AN UNPAID $10.00 ITEM - DETAILS: DataCamp FIT CLUB FEES PPD ID: 1710602737 |
| 0692 DataCamp CHICAGO CHICAGO IL | FEES DataCamp | DataCamp TYPE: CLUB FEES ID: 1710602737 CO: DataCamp |
| 0183 DataCamp DALY CITY CA | AUTOMATIC WITHDRAWAL, DataCamp FEES PPD | DataCamp TYPE: CLUB FEES CO: DataCamp |
| 0672 DataCamp TEM TEMPE AZ | Electronic Withdrawal DataCamp | RETURNED ITEM FEE FOR AN UNPAID $10.45 ITEM - DETAILS: PLANET FIT CLUB FEES PPD ID: 1710602737 |
| 0439 DataCamp NEW YORK NY | FEES DataCamp PPD |  DataCamp 888-2379005 TX |
| 0282 DataCamp | DIRECT WITHDRAWAL, DataCamp FEES | DataCamp MemberDues |
What Are the Most Popular Alternatives to DataCamp?
Codecademy - It costs $39.99/month. Free beginner courses include coding modules in 12 programming languages, technical skill development, coding challenges, gamification, interactive content,  Teamstack, and a full-time team of professional instructors
Udemy - It costs $14.99-1000/month. It has a wide range of coding and data science courses.
Coursera - It costs $39-80/month. A seven-day free trial is available. Has university-recognized coding and data science courses, instructors from renowned universities (most instructors are university professors), and accredited certificates.
Udacity - It has $399/month. Services include comprehensive coding programs leading to certificate awards, professional and highly experienced instructors from major tech companies, practical content based on real-world problems, graded and capstone projects for practical exposure, and one-on-one mentorship.
What Else Can Donotpay Do for You?
Free trials are just one of the many services you can get on our platform. DoNotPay is a hub for all types of services, whether you want to sue a business partner for breach of contract or renew your car registration. Some of the other things you can do on our site include: