How to Get Course Hero Free Trial Without a Credit Card

Founded by Andrew Grauer in 2006, Course Hero is a fast-growing and popular online platform that avails course-specific materials to students. Students use the platform to access educational materials that enable them to learn, complete coursework, and adequately prepare for exams.
Since Course Hero is a subscription-based service, many might be wondering whether there is a . Worry no more! This article by DoNotPay has all the answers you need. So, let's get started.
Why Course Hero?
With already more than 20 million uploaded documents, it's not hard to find resources on Course Hero about a course you're already taking. With an account, you can access
Class Notes: Both students and tutors on Course Hero share resources, including notes, lab reports, essays, and papers that users on the platform can access.
Guides: Helpful guides created by experts make understanding books easier through videos, infographics, and chapter summaries.
Questions: You can access course-specific quizzes that can help you evaluate yourself and prepare for exams.
Tutors: Ask Course Hero tutors questions and get answers as soon as within minutes.
College Life: You can access materials to help you develop and improve your college life in general, such as making friends and more.
Does Course Hero Offer a Free Trial?
No. Currently, the online platform doesn't offer users a way to try all the features for free. However, you can sign up for a  account and enjoy some benefits by redeeming unlocks (or credits) you get.
Unlocking Course Hero Documents and Questions for Free
If you don't have funds for a Course Hero subscription, the platform gives you a chance to access limited materials for free. This is possible through credits that you get when you post or engage with materials posted by others. You can use these credits to unlock Course Hero documents, answers, or solutions. However, the unlocked resources can only be viewed for 30 days.
So, how can I unlock resources on Course Hero for free?
1. Upload your original documents
You can share your original work (or work from other people with their permission) in return for unlocks. Some of the materials you can upload include your lecture notes, labs, essays, or course test questions. For every 10 uploads, Course Hero will award you with 5 unlocks. It can take 1-3 hours or up to 3 days before the credits reflect on your account.
Furthermore, to make your documents a source of extra credits, make sure they're appropriately titled and formatted and are of high quality. This way, other Course Hero users can easily find your document and unlock it and/or give it like. Every time your uploaded documents receive either 5 unlocks or 5 likes, you'll get 1 free unblur credit that you can use to unlock any document of your choice.
2. Rate or review materials from others
You can rate and review documents or questions you have already unlocked for extra credits. For every 5 ratings or reviews, you obtain 1 unblur credit.
3. Create questions
If you're new to Course Hero, you can redeem a one-time offer of 3 unlock credits by asking a question. To do this, go to your unlocked documents and choose 'Quiz Yourself'. Follow the step-by-step prompts to create your first question.
4. Spread the word to friends
Another hustle-free method to access resources on Course Hero is to spread the word to your friends by referring them to the platform. Course Hero will award you with 8 tutor questions for every new user who joins using your referral link, and you can even qualify for up to a 20% discount when you decide to subscribe to a paid plan.
How to Avoid Getting Charged for Using Free Trials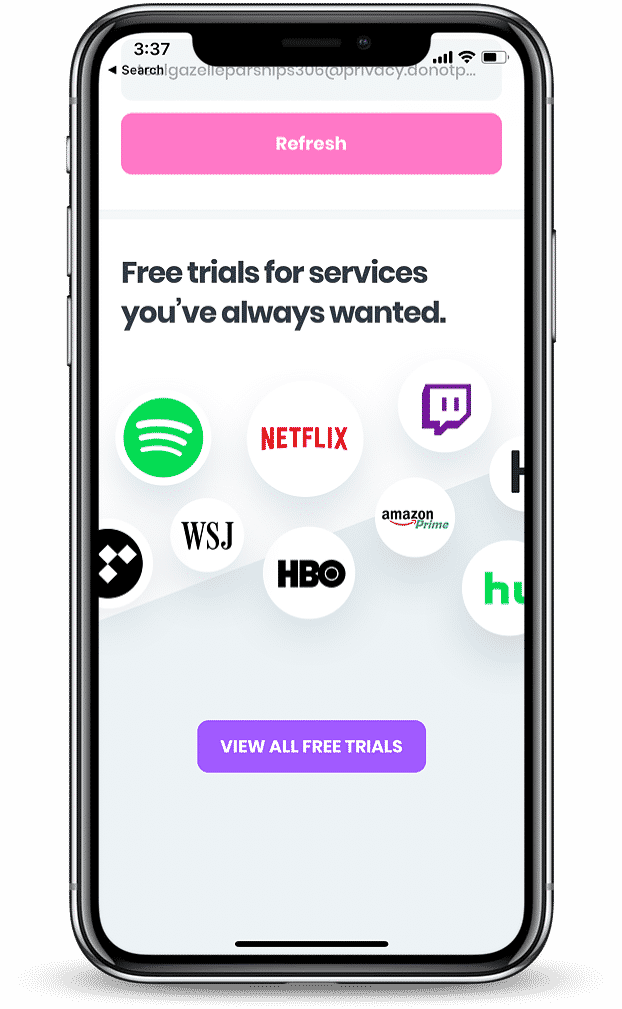 Free trials are a trap many companies use to get funds from unsuspecting subscribers. A significant number of free trials will require you to provide your credit card before starting the trial. However, this is a risky deal as you can pretty easily forget to unsubscribe before the free trial period ends. If this unforeseeable thing happens, you run the risk of automatically getting subscribed to a paid plan and paying for it. But there is a way out. Use a virtual credit card to join free trials. If you're looking for where to get one, we can give you a free virtual credit card that you can use to sign up for free trials. This is how the card works:
We generate valid virtual credit card info.
When a free trial asks for a credit card, you give the virtual card details instead of your actual card connected to a bank.
The service validates your free trial, and you start enjoying the benefits risk-free.
When the trial period expires, the service cannot charge you as there is no cash on the virtual card, and therefore, they cancel your plan.
How Much Does Premium Course Hero Cost?
If you want to access an extended range of materials on Course Hero, you'll need to pay for it.
| | | |
| --- | --- | --- |
| Plan |  Pricing | Features |
| Monthly | $39.95 | Ask up to 10 questions |
| Quarterly | $59.85 | Ask up to 20 questions |
| Annually | $119.40 | Ask up to 40 questions |
Are you currently on any of the above plans but would like to cancel? DoNotPay can help cancel any subscription quickly and successfully. Our Find Discounts product can help you get a promo code for Course Hero. We can also go ahead and ask the company for a refund on your behalf if you qualify for one.
What Else Can DoNotPay Do?

DoNotPay is a hub of services where thousands of people trickle in daily to get what they need swiftly and effectively resolved. Explore some of our popular services that can be of help to you, including: