How to Sign Up for the CorelDraw Free Trial Without a Credit Card

CorelDraw is a popular graphics design program that's still used by thousands of design professionals across the world. If you're interested in trying CorelDraw but don't want to commit to a subscription or purchase, you may be wondering whether there's a free trial. If so, will it renew automatically?
Here's what you need to know about the
Does CorelDraw Have a Free Trial? 
Yes, CorelDraw does have a free trial. New users can try the program for free for 15 days.
The trial provides access to CorelDraw's Evaluation Version. Collaboration features are only available to paid subscribers. Getting a  is made easier with DoNotPay.
In this guide, we'll talk about:
CorelDraw free trial
Ways to avoid getting charged on your own
DoNotPay's virtual credit card
How Can I Get CorelDraw's Free Trial? 
CorelDraw's free trial is truly free, so no credit card information is required.  
To take advantage of the free trial:
Visit link.
Click the "Download Now" button.
Run the launcher and wait for the download to complete.
Agree to the terms of their End User License Agreement.
Next, create an account by entering your email address and a password.
Once your account is created, your free trial will be activated.
After 15 days, your access will be restricted until you choose a subscription or a one-time purchase. When you launch the program during your free trial period, the program will tell you how much time you have left in the trial.
Does Corel Draw's Free Trial Renew into a Subscription? 
No. The  does not automatically renew into a subscription. If you want to continue using the program after the evaluation period, you'll need to sign up for a paid subscription or purchase the software.
The Evaluation Version of the program has a quick link on the launch dashboard to purchase a subscription or to make a one-time purchase.
You don't have to worry about canceling the trial to avoid being charged. You just won't have access to CorelDraw once your free trial has ended.
Avoid Automatic Paid Subscriptions With DoNotPay Virtual Credit Card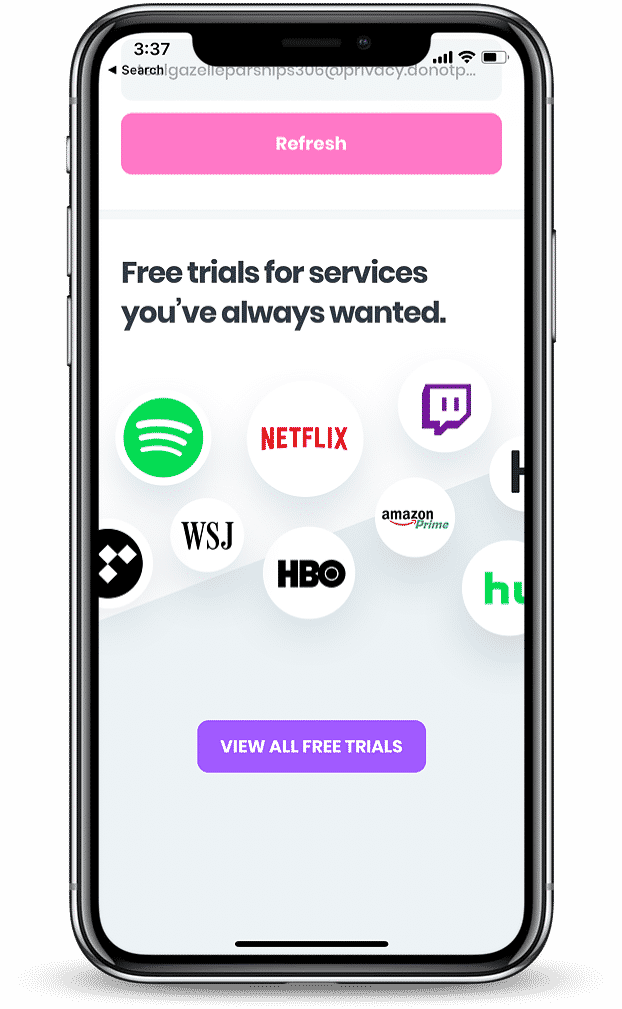 CorelDraw's free trial may not automatically renew into a paid subscription, but many other free trials do. And if you're like most people, you probably have a habit of forgetting to cancel trials before they renew.
Next thing you know, you're charged for a service or product you don't want or need. If it's a small charge, you may not even realize you're paying for a subscription until months later.
What if there was a way to sign up for free trials, but never have to worry about being charged for a subscription? That's precisely what DoNotPay's virtual credit cards – also known as Free Trial Cards – can do for you.
Virtual credit cards work similarly to the chip cards you use every day. The only difference is that the company won't be able to charge you for services after your free trial has expired.
Here's how it works:
First, connect a virtual credit card to one of your real credit cards.
When you sign up for a free trial, you can use DoNotPay's virtual credit card. Using the DoNotPay app or browser application, the Free Trial Card service will randomly generate a credit card number, CVV, and expiration date that you can use to sign up for a free trial.
DoNotPay's Free Trial card will approve free trials automatically, but it will not approve subscriptions or other charges.
Because there's no money on your virtual credit card, you won't be charged for the service or product after the free trial has expired.
DoNotPay's free virtual credit card takes the pain and hassles out of free trials by ensuring that you never get charged for unwanted products or services again.
How Much Does CorelDraw Cost After the Free Trial? 
So, you've finished your  and you want to continue using the program. How much will it cost you?
You have two options when buying CorelDraw Graphics Suite 2021:
One-time purchase: $399
Monthly subscription: $34.95/month or $249/year
The subscription option gives you access to collaboration and asset management workflows as well as additional templates and fonts.
How Can I Get Free Trial and Avoid Getting Charged on My Own? 
It is easier to forget to cancel your free trial and end up paying for a subscription service you don't enjoy. Here are a few ways you can cancel a free trial and avoid getting charged:
Cancel payment once you sign up for the free trial.
If you cancel a free trial after signing up, you will still use it for the entire trial period without getting charged. It is one of the best and easiest ways to ensure you don't get billed.

However, remember that not all free trials operate in the same manner. Some services will stop your trial immediately you unsubscribe, e.g., Hulu and Apple Music.

Set a reminder a few days before your trial period ends.
Don't wait until your free trial ends to cancel your subscription. That's because you may take forever to find instructions on how to unsubscribe, and this could push you past your deadline.

Another reason why you shouldn't wait till the last minute is that most services will still charge you if you cancel less than 24 hrs before your free trial period ends.

Go virtual.
If you signed up with a free virtual credit card and forgot to cancel your subscription before your trial period ended, you can never get charged.

DoNotPay's Virtual Credit Card works by generating temporary credit cards that expire when you please. Some advantages of virtual credit cards include:

Reducing costs
Increasing security
Managing cash flow better
More convenient than physical credit cards
Protecting you from fraudulent activities
Helping you manage subscriptions

Speak with Customer Support.
Do not disregard how powerful personal appeal can be. If you thought you canceled your subscription before your free trial ended or your request was unsuccessful, you can contact Customer Support to help you out. Just ensure you remain humble and courteous in your request.
What Will CorelDraw's Charges Look Like on My Statement? 
If you purchase CorelDraw either as a subscription or one-time payment, you will find these charges on your credit card statement under the name(s): 
The charge will be $399 if you choose a one-time purchase, $249 if you choose to pay for the subscription for the year, or $34.95 if you choose the recurring monthly subscription option.
What Are the Best Coreldraw Alternatives?
CorelDraw is just one of many options for digital drawing, vector drawing, graphic design, and digital art.  
The top alternatives to CorelDraw include:
| | |
| --- | --- |
| Name | Price |
| Adobe Illustrator |  $20.99/month or as part of the Creative Cloud All Apps subscription at $52.99/month. |
|  GIMP | Free. |
| Sketch | $9/month per user, or $99/year per user. |
| Inkscape | Free |
| Affinity Designer | $54.99 |
| Adobe Lightroom | $9.99/month alone, $19.99/month as part of the Creative Cloud Photography Plan, or as part of the Creative Cloud All Apps subscription at $52.99/month. |
|  Canva | Pro plan is $9.99/month for up to 5 people. |
What Else Can DoNotPay Do?

DoNotPay can help you take advantage of free trials without paying a dime for them, but the platform can also help you with just about anything. 
You can use DoNotPay to:
DoNotPay makes your life easier and saves you time by tackling the things you don't want to – like canceling that gym membership you've been paying for years.