How to Contact Governor Ducey the Easy Way
Governor Ducey is Arizona's 23rd elected Governor, sworn into power in 2015 and currently serving a second tenure. A former Coldstone Creamery CEO, Ducey is famous for making Arizona the first US state to require all US high school students to sit for the same test for citizenship as with all immigrants to the US.
See from the table below, all the ways to contact Governor Ducey and learn to do so effectively for other senators in Arizona.
About Doug Ducey
Born Douglas Anthony Ducey in 1964, Governor Ducey is the son of Madeline Scott and her divorced husband Douglas Roscoe Sr. The 23rd Governor of Arizona grew up in Toledo, Ohio with his mother, and was eventually adopted by a new step-father. Ducey attended St. John's Jesuit High School and afterwards secured a degree in Finance from Arizona State University.
Before becoming governor, Doug Ducey had worked at Henley & Co, Procter and Gamble, and Cold Stone Creamery, which he co-founded. From 2010 to 2015, Ducey was Arizona's State Treasurer.
Contact Governor Ducey
There are nine specific departments under the office of the governor of Arizona. See each department's contact details below:
Office
Address
Phone 
Fax
Email
1
Arizona-Mexico Commission
100 N 7th Ave Suite 400 Phoenix, AZ 85007
602 5421370
602 542 1411
info@azmc.org
2
Arizona Department of Homeland Security
1700 West Washington Street, Suite 210, Phoenix, AZ 85007
602 5427013
602 542-1729
_
3
Boards & Commissions
1700 West Washington Street, Suite 250, Phoenix, AZ, 85007
602 542 2449
_
bc@az.org
4
Constituent Services
1700 West Washington Street

Phoenix, Arizona 85007

602 542 4331

520 628 6580

_
_
5
Education
1700 West Washington Street, Suite 503, Phoenix, AZ, 85007
_
_
_
6
Equal Opportunity
100 North Fifteenth Avenue, Suite 401 Phoenix, Arizona, 85007
602 542 3411
602 542 3712
equalopportunity@az.gov
7
Office of Youth, Faith & Family
1700 West Washington Street, Suite 230, Phoenix, AZ, 85007
602 542 4043
_
_
8
Office on Tribal Relations
1700 West Washington Street, Suite 235, Phoenix, AZ, 85007
602 542 4426
602 542 4428
gotrinfo@az.gov
9
Strategic Planning & Budgeting
1700 West Washington Street, 6th Floor,

Phoenix, Arizona 85007

602 542 5381
602 542 0868
_
Other notable elected government officials you can contact are:
What Does Governor Ducey's Office Offer?
As a border town to Mexico, Arizona has one of the most active state departments of homeland security. Governor Ducey prioritizes education, security, and employment within the state and works to serve the residents of Arizona. Here are some other issues you can get solved when you contact the office. You can:
Report an immigration crisis
Request fishing and hunting licenses
Request ombudsman services
Submit nominees for the state judiciary
Schedule a meeting with the governor or first lady
Apply for the governor internship program
Apply for a tour of the government building
Apply for and renew a driver's license and register vehicles
Register as a voter
Need Help Contacting Doug Ducey?
When contacting a public official, it is always advised to be formal to increase your chances of a response. If you want to get in touch with the governor as a group or an individual, you should do your best to prepare your complaint, proposal, or report beforehand to avoid sounding unprofessional.
Most US residents are discouraged from getting in contact with public officials because they have little to no idea where to find active lines or how to draft a rich formal application. DoNotPay offers such a contact service. See the details below.
Let DoNotPay Reach Governor Doug Ducey for You
DoNotPay offers a fast and reliable way to get across to public officers in the US. You'll have a safe and professional contact service delivered in minutes when you:
1. Search "contact representative" on DoNotPay and choose the Contact Your Government Representative product.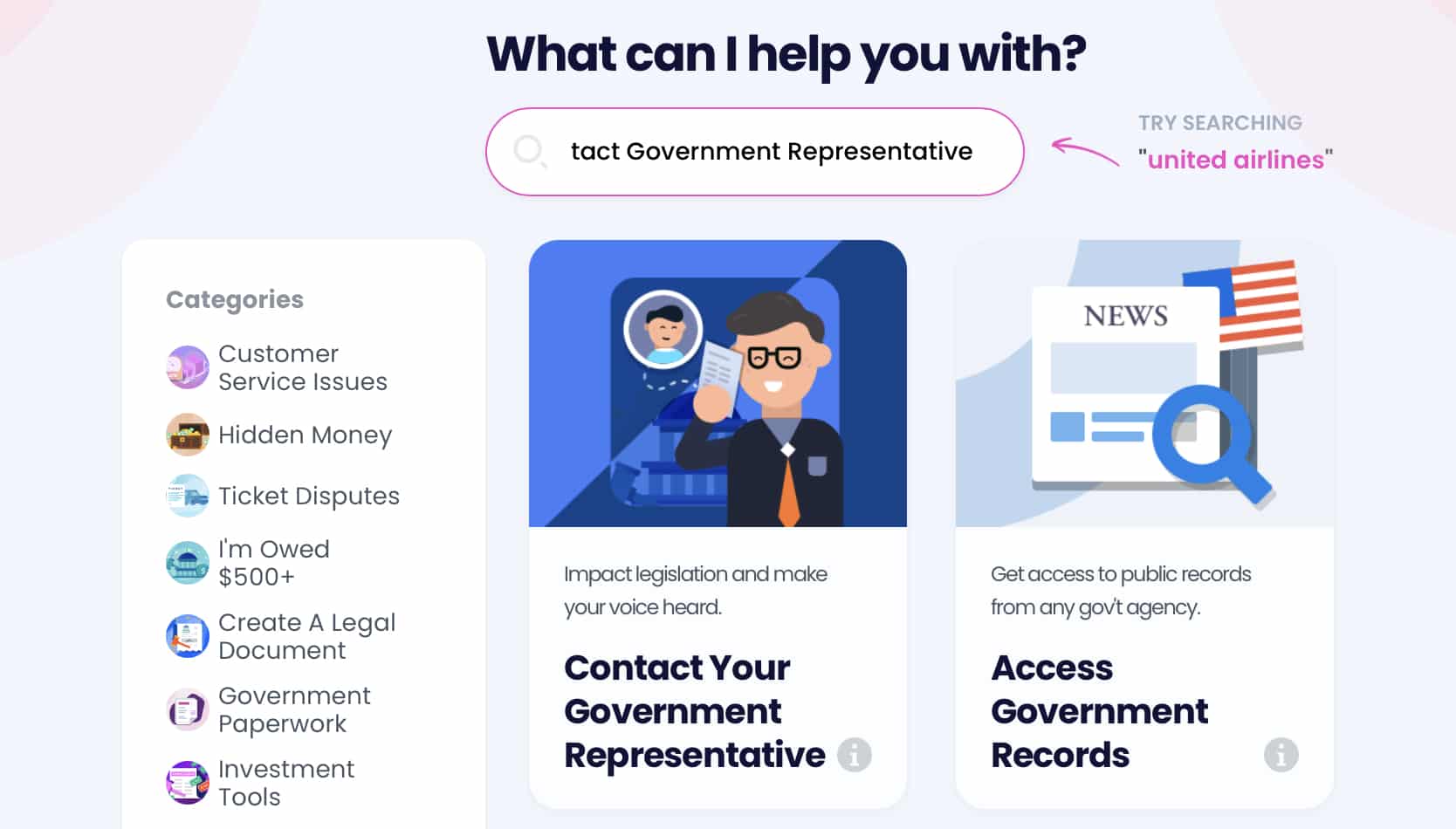 2. Choose whether you want to contact your Senator, state representative, Governor, President, or Mayor.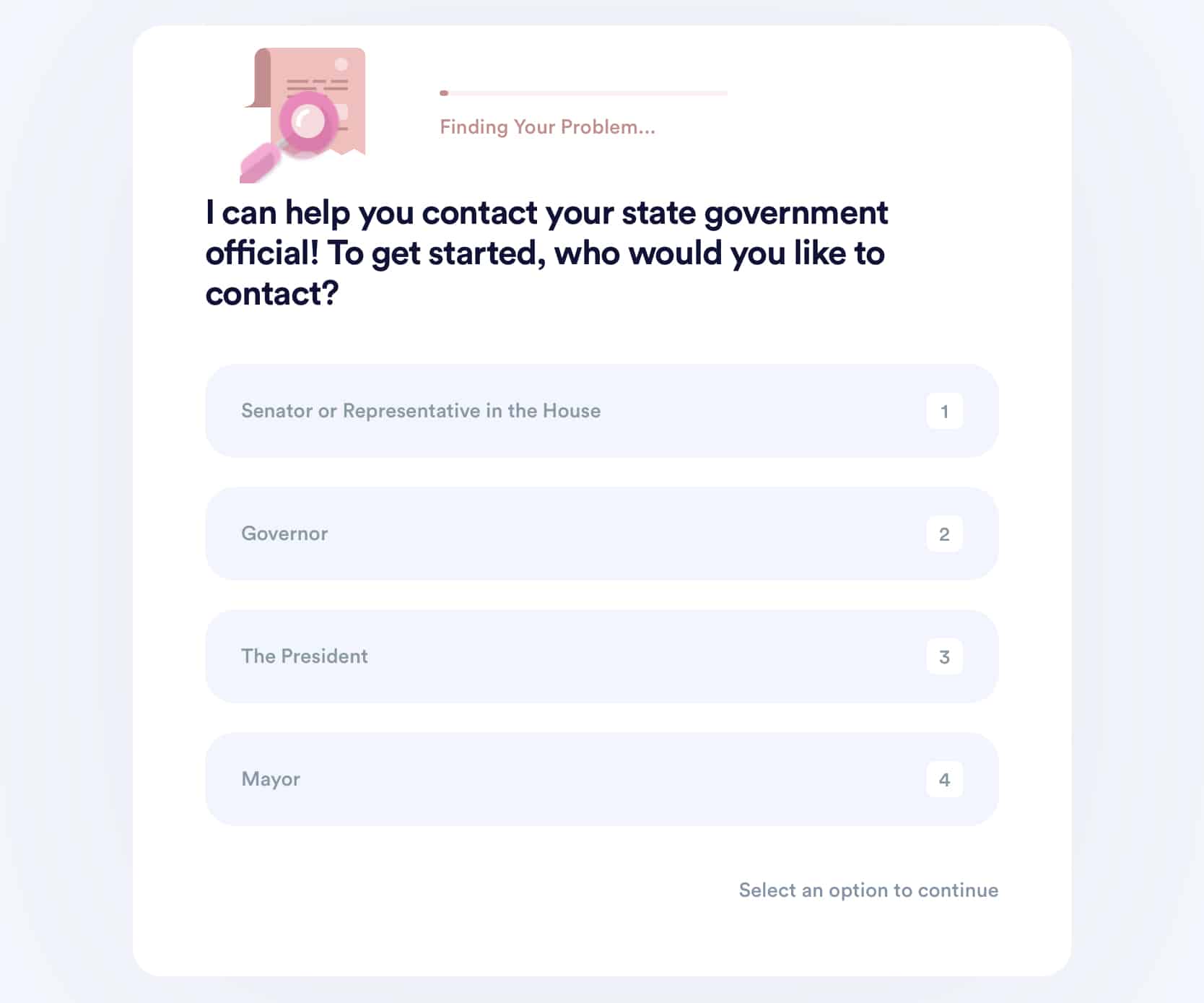 3. Tell us why you are contacting your representative and state which bill or issue you're concerned about and what you're urging the representative to do.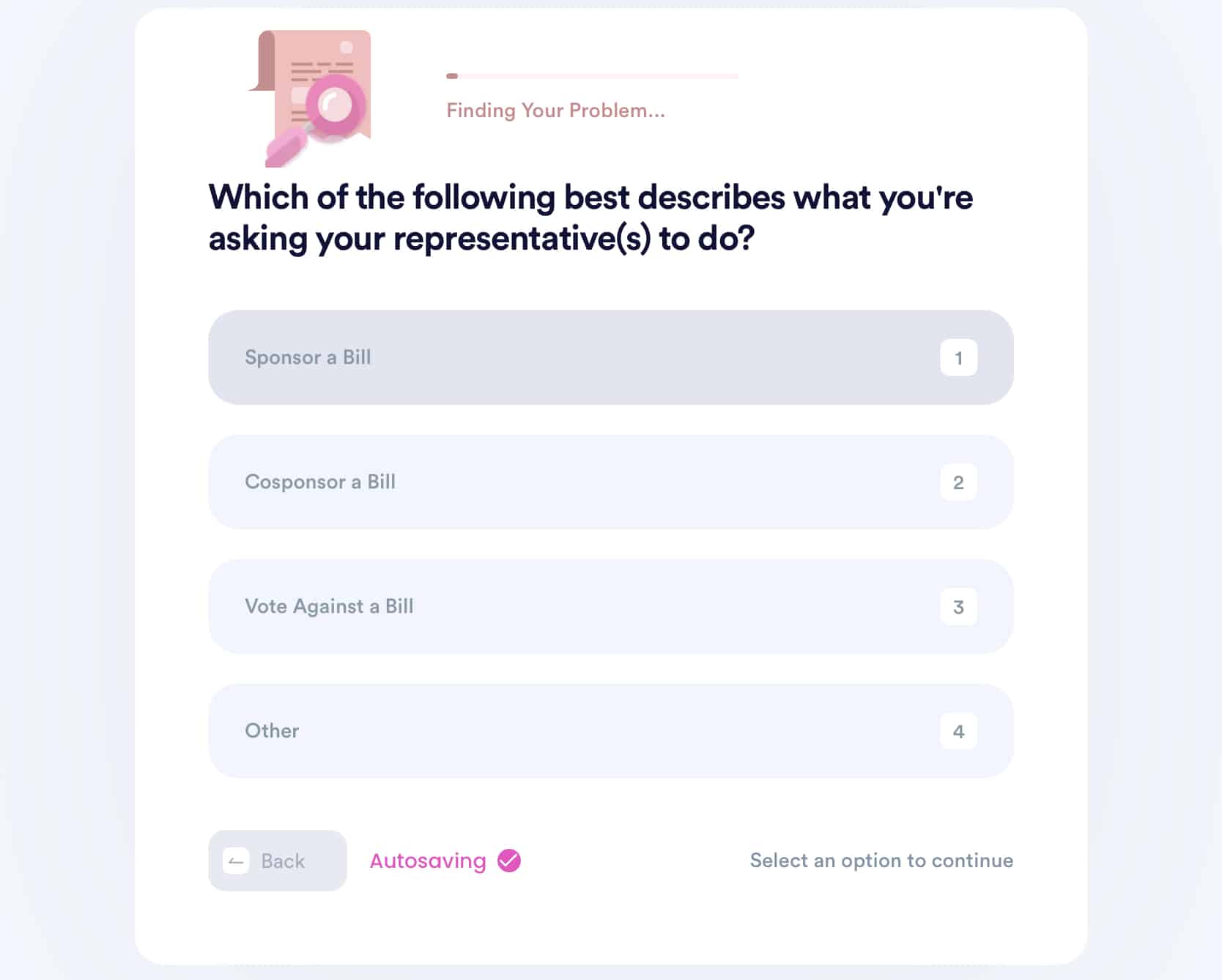 Sit back and relax! DoNotPay will deliver your message and handle the rest for you. Our bots will fill the contact forms on your legislator's website on your behalf.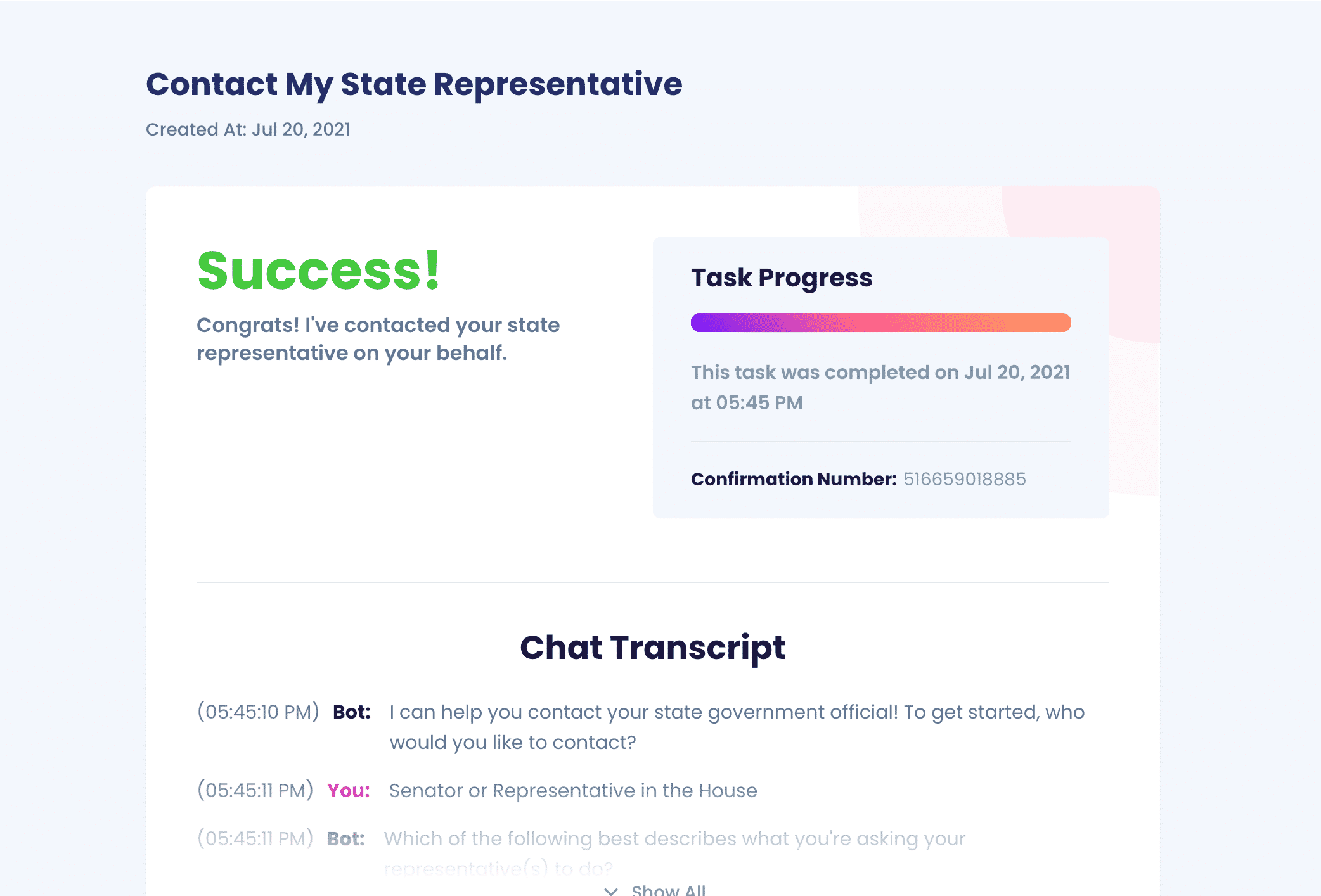 DoNotPay Does More!
Need a hand with a refund or simply need assistance drafting a parking ticket appeal letter? DoNotPay has got your back! Check out some of the services DoNotPay offers!