How to Get Cogniboost Free Trial Without Giving Your Credit Card Info

Most people would like the ability to easily increase their brainpower and cognition to improve clarity and memory while reducing the brain fog we all suffer from time to time. The creator of CogniBoost supplements claims that, along with mindfulness, less sugar, and other healthy habits, his supplements can do just that. However, because supplements work differently for everyone, it is important to have the opportunity to try one before spending a lot of money on it. While  and other supplement manufacturers often offer free trials to consumers, if you forget to cancel the subscription before the free trial expires, you could be charged for more of the product, whether you want to continue taking it or not. Fortunately, DoNotPay makes it easy to cancel most free trials with its Get Free Trials product.
Are CogniBoost Free Trials Free?
The idea behind  is that the consumer can try the product out without paying. CogniBoost claims that it offers a free one-month supply of the product. However, the consumer must enter their credit card details to pay $6.92 for shipping and handling for the product to be sent to them. The credit card information is later used to bill the customer for a monthly subscription to the product if they fail to cancel within 17 days of their initial order.
How Do I Get a CogniBoost Trial Supply?
To obtain your trial supply of CogniBoost for the price of shipping and handling, go to the company's website and fill out the form. You can also contact customer service in two ways:
By calling customer service at 877-705-0278 during the hours of 9 AM - 6 PM
By emailing customer service
How Do I Cancel My CogniBoost Order Before the Trial Expires
Unless you cancel your order within 17 days, you will be automatically billed for a recurring subscription to the supplement. To cancel, you must call the customer service number listed above. You can only cancel your order by telephone.
How Much Does CogniBoost Cost After the Trial Expires?
If you fail to cancel your membership during the 17-day trial period, you will be billed for a monthly supply of the product, which costs $89.95 with no additional cost for shipping and handling.
What Will The Company's Charges Look Like on My Credit Card Statement?
When you are charged for a CogniBoost membership, the charge entry will appear as getcogniboost.com and the type of product ordered, such as Platinum Membership.
Four Nootropic Supplements to Try Instead of CogniBoost
Nootropic supplements are natural substances that have a beneficial effect on the brains of healthy people. Some alternatives to CogniBoost include:
Fish oils, which are readily available in grocery and drug stores.
Resveratrol is an antioxidant found in the skin of purple or red fruits and is readily available in stores and online.
Creatine is a natural supplement found in animal products such as meat, fish, and eggs. Creatine supplements are available in grocery and drug stores.
Caffeine, which is regularly available in a wide variety of products, including coffee, tea, and chocolate and is known to stimulate the brain, making you feel more alert.
How Can I Get Free Trial and Avoid Getting Charged on My Own? 
It is easier to forget to cancel your free trial and end up paying for a subscription service you don't enjoy. Here are a few ways you can cancel a free trial and avoid getting charged:
Cancel payment once you sign up for the free trial.
If you cancel a free trial after signing up, you will still use it for the entire trial period without getting charged. It is one of the best and easiest ways to ensure you don't get billed.

However, remember that not all free trials operate in the same manner. Some services will stop your trial immediately you unsubscribe, e.g., Hulu and Apple Music.

Set a reminder a few days before your trial period ends.
Don't wait until your free trial ends to cancel your subscription. That's because you may take forever to find instructions on how to unsubscribe, and this could push you past your deadline.

Another reason why you shouldn't wait till the last minute is that most services will still charge you if you cancel less than 24 hrs before your free trial period ends.

Go virtual.
If you signed up with a free virtual credit card and forgot to cancel your subscription before your trial period ended, you can never get charged.

DoNotPay's Virtual Credit Card works by generating temporary credit cards that expire when you please. Some advantages of virtual credit cards include:

Reducing costs
Increasing security
Managing cash flow better
More convenient than physical credit cards
Protecting you from fraudulent activities
Helping you manage subscriptions

Speak with Customer Support.
Do not disregard how powerful personal appeal can be. If you thought you canceled your subscription before your free trial ended or your request was unsuccessful, you can contact Customer Support to help you out. Just ensure you remain humble and courteous in your request.
Don't Give Away Your Credit Card Info, Get Real Free Trials Through DoNotPay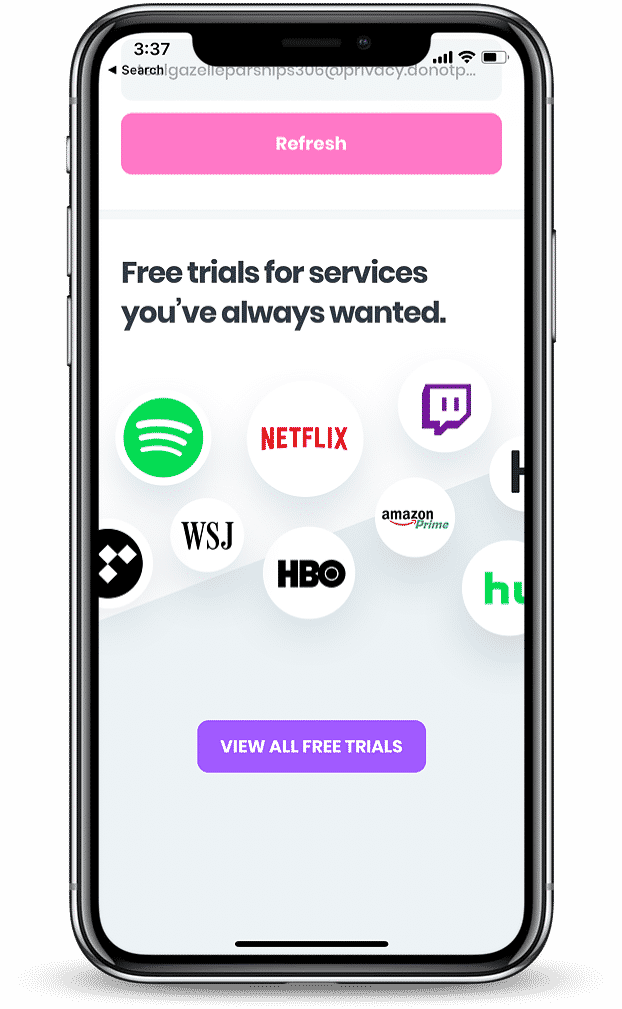 While there doesn't appear to be a way to get a free trial of CogniBoost that doesn't involve your credit card being charged at least for the shipping and handling fees, hundreds of other companies offer free trials that don't involve shipping and handling or other charges during the free trial period. While you still have to enter a credit card to take advantage of the free trial offer, you can use a virtual card through DoNotPay and avoid unexpected fees due to failure to cancel the subscription before the end of the trial period.
About DoNotPay's Virtual Cards
DoNotPay's Get Free Trials product enables you to obtain a random credit card number that you can use when requesting free trials. The number can only be used once, and there is no ability with the card to process charges, so you never have to worry about being on the hook for a subscription you intended to cancel but didn't. A virtual card allows you to:
Bypass the authentication process when you place your order for a free trial.
Because no payments can be charged to the card, your membership will automatically cancel as soon as the free trial ends, assuring that you won't be charged or receive additional items that you do not want.
What Else Can DoNotPay Do?

Solving your free trial issues is one of the many things DoNotPay can help you do. DoNotPay can help you solve several problems you're facing including: 
Fighting speeding tickets
Disputing traffic tickets
See more tasks that we can help you accomplish in a matter of clicks by signing in today.