FOIA and PA—All You Need To Know

Reasons for requesting government records are various—from journalistic work to personal investigations. Not all procedures are the same, nor do they refer to the same laws.
You can request most public records under the Freedom of Information Act (FOIA), a federal law introduced in 1966, but in some cases, you may need to refer to other laws too.
The Privacy Act of 1974 is a law that needs to be invoked at times along with the FOIA to make certain procedures more effective. The main goal of this article is to introduce you to your rights under these acts and help you file a FOIA/PA request using DoNotPay's special service.
Apart from providing a rundown of the Privacy Act, our platform can assist you in:
What Is the Difference Between the FOIA and the PA?
While the FOIA enables any citizen to access government records on any person, the Privacy Act only allows individuals to access their own records. Based on this Act, individuals can:
Demand disclosure restriction for their personal information from any record base

Protect their records from becoming public

Amend inaccurate details in their records
Does the Privacy Act Include State and Local Governments?
Like the FOIA, the Privacy Act governs only federal institutions—it doesn't apply to any state or local government body.
When Does the PA Apply?
Whenever you demand to see public records on yourself from any federal body under the FOIA, the agency will process the request under both acts. The combination of the Freedom of Information Act and the Privacy Act helps the institution process your request more quickly and efficiently.
While deciding whether they should approve or deny your request, agencies check if any of the exemptions from the Privacy Act apply to your case. If not, they are free to release your records. If they find that any exemption under either of the acts applies to your request, they won't be able to provide you with the information you asked for.
What Are the Exemptions Under the Privacy Act?
The Privacy Act has nine exemptions. They are similar to the ones stipulated in the FOIA, but there are still some significant differences.
The list of the records protected from disclosure includes:
CIA records

Statistical records

Properly classified information

Civil action proceeding information

Law enforcement investigative materials

Relevant information about the protection of the president

Investigative material related to federal civilian employment, federal contacts, and military service

General testing and evaluation

Armed service testing and evaluation materials that may reveal the identity of the confidential source
DoNotPay Is the Best and Quickest FOIA/PA Request Method
Regular FOIA request procedures usually require some time, especially if you want to make sure all relevant details are included. At times, it isn't simple to determine which agency holds the records you want to access, and sending a request letter to the wrong department can only cause more confusion.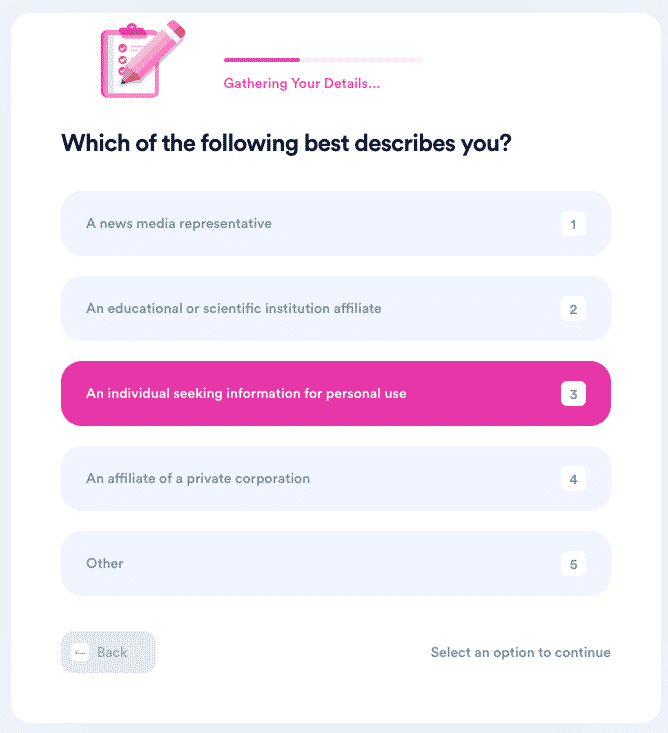 The best bet is to entrust your request submission to DoNotPay's AI-enabled service and tackle the issue within minutes.
Here's how you can use DoNotPay to submit your FOIA/PA Request:
Open DoNotPay using your preferred

Pinpoint the

FOIA

feature

Indicate whether you want to file a request with a state or federal agency

Provide the institution's name and document titles, authors, or descriptions

Opt for a fee waiver or

expedited processing

if you want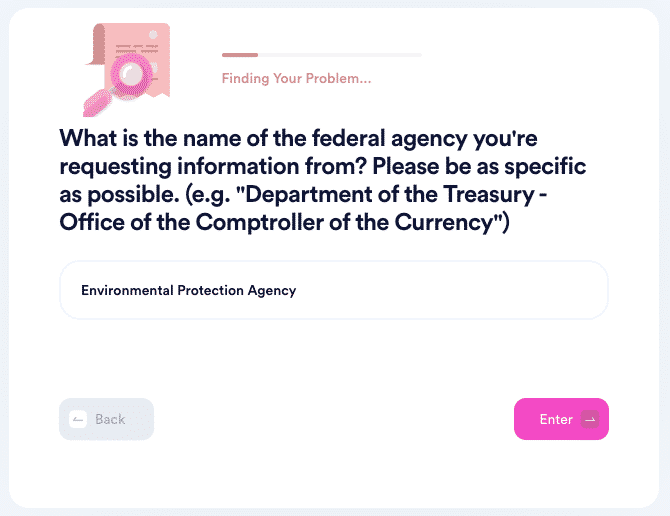 Once you submit the required details, our system collects your information and generates a request letter for the agency in question. The feature is even more useful when you need to request information from multiple institutions. With us, you don't have to write all those letters on your own—you can create them with a few clicks!
Our knowledge base with numerous guides will help you get familiar with the meaning of the FOIA and find out more about the FOIA fees, handbooks, denial reasons, and search methods.
Can DoNotPay Handle Only Federal Agencies' Requests?
goes beyond federal agencies—our database includes numerous state-specific acts and laws. The following table contains our articles on useful state- and agency-specific FOIA information:
Federal Agencies
State Laws

U.S. Department of Defense (DOD)

Environmental Protection Agency (EPA)

District of Columbia Freedom of Information Act
Our Robot Lawyer Gets Rid of All Admin Tasks
What makes DoNotPay so unique is that it helps you get back what is rightfully yours in many different ways. You can appeal parking tickets, find unclaimed money, demand a refund for canceled or delayed flights, get help with bills you cannot pay, or get your college application fees waived with the help of our platform.
If you're sick and tired of annoying robocalls, spam emails, copyright violations, text message spam, or stalkers and harassers, DoNotPay can assist you in getting rid of them once and for all.
DoNotPay Can Help You Save Money
Have you ever subscribed to a service's free trial you forgot about after a few days? Many Americans have, which is why DoNotPay has a free trial feature that will help you avoid getting charged once the trial is over.
If you want us to scan all your active memberships and help you not pay for the ones you don't use, connect your email address or credit card to DoNotPay. Our cancel feature will ensure that you don't waste your money on subscriptions you don't even remember exist.
If a merchant charges you once the free trial is over, though, you can use our robot lawyer to request a refund and skip the phone queue when doing so.
In case a company refuses to grant you a refund, you can also use our app to sue them in small claims court.