How to Get ClickUp Free Trial Without Using Credit Card

ClickUp is a cloud-based project management tool that helps businesses of all sizes in areas of communication and collaboration. They offer several plans, at different price points, which increase in price as the features included in the plan also increase. You can sign up for a Forever Free plan, that does not require a credit card to sign up. However, you are limited as to accessible features. You can also contact customer service to get access to a on one of the paid plans, though you may have to give up credit card information at the time.
Many companies use free trials to get customers to sign up for a subscription service or product, knowing that it is likely that the customer will forget to cancel before the trial is over. With your credit card information on file, they can begin charging you for a service or product that you may not want, costing you money that you don't want to pay. DoNotPay has a solution for that! DoNotPay has a virtual credit card product that assures you that you can never be charged when your free trial has expired.
In this guide, we'll talk about:
ClickUp free trial
Ways to avoid getting charged
DoNotPay's virtual credit card
What Plans Does Clickup Offer
ClickUp . As the features and storage increase, so does the price. However, for the small difference in price, you may not want to limit yourself to a cheaper plan. They offer customer service representatives that can work with you to decide which plan is best for you.
PLAN
BENEFITS
Free Forever Plan

No cost, no credit card required
The major difference in the free plan is that it limits storage to 100MB
100 automations per month
Best for personal use

Unlimited Plan

Cost is $5 per member per month
Unlimited storage
1000 automations per month
Great for small teams

Business Plan

Cost is $9 per member per month
Google SSO
10000 automations per month
Best for medium-sized teams

Business Plus Plan

Cost is $19 per member per month
Includes priority support and additional features important to team building
Can be customized for your particular business. Contact customer support for details.
Best for multiple teams

Enterprise Plan

The price of the plan is determined by the customization and size
Dedicated support is available for this level
100,000 automations per month
Best for multiple large teams.
How Can I Get a ClickUp Free Trial
There are a couple of ways to get ClickUp for free. One way is to sign up for their Free Forever plan. This is a great plan if you are using it for personal use only, but there are limitations that may be too restrictive if you need this for a team. There is no catch to this. You simply sign up with your personal information. No credit card is required. You will need to give up your email address, so expect some follow-up emails.
If you want to get aon one of the paid plans, you can contact customer service. You can make inquiries and depending on your needs, they will suggest a plan that best suits you. If they do not offer a free trial, ask for one. You may have to give your personal and credit card information that you will agree to have charged after the free trial is over.
How Can I Be Sure That I Won't Get Charged
DoNotPay offers a virtual credit card to use when signing up for free trials. It will bypass the authentication process and your trial can begin. However, since there is no money on the card, you cannot be charged, and your free trial will automatically be ended.
How Does DoNotPay's Virtual Credit Card Work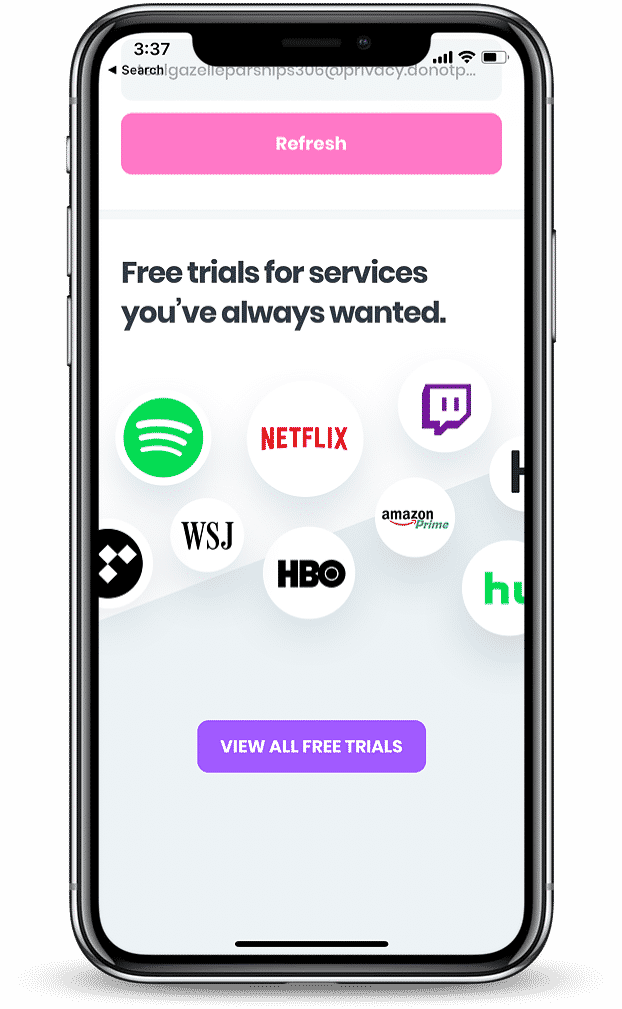 DoNotpay makes it easy to avoid automatic renewals after a free trial. This is all you need to do:
Go to DoNotPay and search for Free Trial Card and enter the name of the company you are wanting to start a free trial with.
DoNotPay generates credit card information and numbers that you can copy down from your screen.
Use the virtual credit card number to sign up for your free trial and then kick back and relax! Don't worry about cancellations or charges. DoNotPay has taken care of that for you!
A Couple of Things to Remember
Using DoNotPay's virtual credit card is easy and quick, but there are a couple of things to keep in mind:
The virtual credit card is for one use only. It will be deactivated after the initial use.
There is no money available on the card, so you will not be able to make purchases or any charges.
If you want to get additional free trials without fear of being charged, you can use DoNotPay to get additional virtual credit cards.
What Else Can DoNotPay Do

DoNotPay can help you with just about any of the problems that you have! We offer easy and quick solutions and get the best outcome possible for you. Here are a few of the things that we can help with:
Disputing traffic tickets
Fighting speeding tickets
And so much more!
What can we help you with?