Get a Clear Free Trial Without Giving Your Credit Card Information

Clear is a company with Airport Lanes at certain airports that enables an easy and touch-free way to get past airport security as quickly as possible. It speeds up the process of identity verification, so you don't have to worry about missing your flight due to long lines at the check-in.
Wondering if there is a ? Read on to learn more.
Does Clear Offer a Free Trial?
Yes. Clear offers a  when you sign up for their services. They only offer one package when it comes to airport security lanes, but they do have a separate service for uploading proof of vaccination to your employer. However, that is not included in the Clear free trial since it's not part of the same service.
How Can I Get a Clear Free Trial?
Getting a free trial from Clear isn't a hard task. It's automatically included whenever you sign up for the service. There aren't any weird hoops you have to jump through with Clear.
To get a :
When you're on the homepage of Clear's website, click the button in the upper right-hand corner that says "get clear".
You'll be brought to a page that prompts you to enter your full name, email address, zip code, and date of birth.
Click "continue" after you've entered all the required information.
Add any family members you want included on your plan.
Enter your credit card information.
Review and accept the terms and conditions for Clear.
Click "get clear" and you're all ready to go! You'll have the service completely free for two months.
Does the Clear Free Trial Renew Into a Paid Subscription?
Yes, the free trial for Clear does renew into a paid subscription, and the website doesn't mention anything about refunds if you forget to cancel.
So, if you don't cancel on time, you will be billed for a new month and won't be able to receive a refund for it. This can be extremely frustrating, especially if you don't travel by plane very often. 
Avoid a Renewed Subscription with DoNotPay's Virtual Credit Card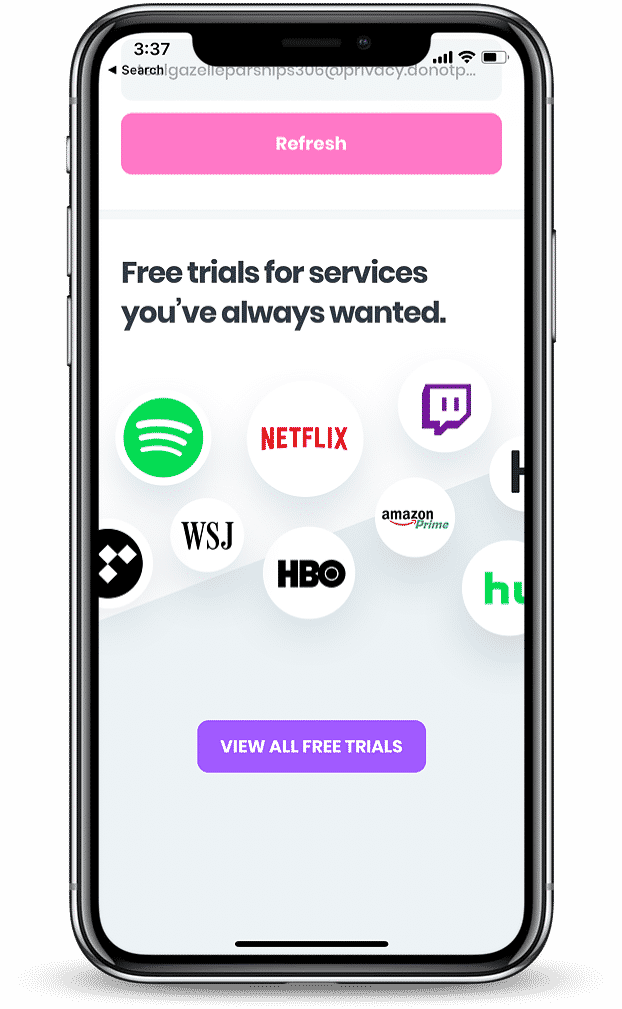 Even if you're not a forgetful person, it can still be easy to forget about canceling a free trial, especially if the company doesn't notify you before the trial is up. It's even easier with free trials that last longer than a couple of weeks, because you may not be using the service often enough to remember it exists. Sometimes those things will just lay dormant in the back of a person's mind, and it seems unfair that many services don't allow you to get a refund if you forget to cancel the trial on time.
However, there is a way to avoid those renewal fees with DoNotPay's virtual credit card. You can sign up for a Clear free trial without having to worry about getting charged for an extra unwanted month of service.
Get a virtual credit card with DoNotPay in three simple steps:
Search Free Trial Card on DoNotPay and enter the company you want a free trial for.
We'll automatically generate a virtual credit card that you can use for that merchant. Copy the card details shown on your screen.
Use the card to sign up for your free trial and sit back to relax and enjoy!
It really is that easy to avoid extra charges using DoNotPay's free virtual credit card. You can get those free trials without any worry.
How Much Does Clear Cost After the Trial?
After the free trial, Clear isn't too expensive. It mostly depends on how many family members you have on your plan, and whether or not you've added the health pass to it.
While it isn't very expensive, you still need to be mindful of canceling the free trial if you don't travel by plane very often. You will not be reimbursed for any month you don't use the service.
Here are the prices:
One Adult - $15/month
Two Adults - $30/month
Three Adults - $45/month
Four Adults - $60/month
The website does not specify a price for the health pass, so it's unclear what the cost would be to add the health pass to your Clear subscription. You can only add up to three more adults to your plan, and children under 18 can use Clear for free under your plan. This service is also only available at 30 airports currently.
What Are Some Alternatives to Clear?
Clear does have two alternatives to their service, and they're actually cheaper than the Clear service, though they don't provide the same touch-free experience. 
| | | |
| --- | --- | --- |
| TSA PreCheck | $85/every five years | Available at over 200 airports |
| Global Entry | $100/every five years | Available at over 200 airports |
What Else Can DoNotPay Do?

If obtaining a free virtual credit card for free trials isn't enough to pique your interest, then maybe their almost endless amount of other useful services will draw you in for good. Getting you a Clear free trial without the risk of being charged is only one of the many services they offer, and you're sure to be satisfied by every single one of them.
DoNotPay can help you:
With so many amazing services to try out, don't wait to try using  for all of your pesky problems.