How to Get CleanMyMac Free Trial Without Using a Credit Card

CleanMyMac X is a premium program requiring a permit or a subscription to use all its functions. You may, however, sample CleanMyMac X for free before purchasing it. Although the software has a trial option with several restrictions, the free capabilities are still useful.
However, submitting to the CleanMyMac trial plan requires you to fill in your payment details. CleanMyMac asks for your payment information so that they can begin charging you immediately after the trial period ends. Most of us always forget to cancel . This might cause significant unnecessary charges on your credit card if you didn't plan to use the service long after the trial period.
Luckily for you, DoNotPay will give you a free virtual credit card so that CleanMyMac will not have a way to charge you.
How to Register for a Free CleanMyMac Trial on your Own
The first thing to do is look into how operates. Most applications will let you terminate your membership while still allowing you to use the free trial. It's challenging to find the right Mac optimization tool because a bit of tinkering with the device's settings might render it completely worthless.
This is why it is almost required to try out your program in some form before purchasing it. CleanMyMac can be tried for free in two ways:
downloading the free version, which allows for 500MB of trash data cleaning
buying the complete application and demanding a full rebate within 30 days if you are not pleased with it
It's simple to register for a CleanMyMac free trial account:
Go to the CleanMyMac free trial website.
Fill out the relevant information, such as your email address and name.
Set your password and authenticate your email address.
This will grant you access to the free trial subscription that will last for 30 days.
How Much Does CleanMyMac Subscription Cost After The Trial Period
CleanMyMac's subscription plan is broken down into two parts.
| | | | |
| --- | --- | --- | --- |
| Plan | Once Mac | Two Mac | Five Macs |
| Annual subscription | $39.95 | $59.95 | $89.95 |
| Full-time purchase | $89.95 | $134.9 | $199.95 |
How to Delete CleanMyMac Trial Subscription on Your Own
If you signed up for a CleanMyMac free trial plan and wish to cancel it, go to the website's Subscription Manager and sign in with the credentials you used to sign up. You can then go to the Cancel Subscription page, find the free trial subscription option, and cancel it.
Avoid Automatic Renewal With DoNotPay Virtual Credit Card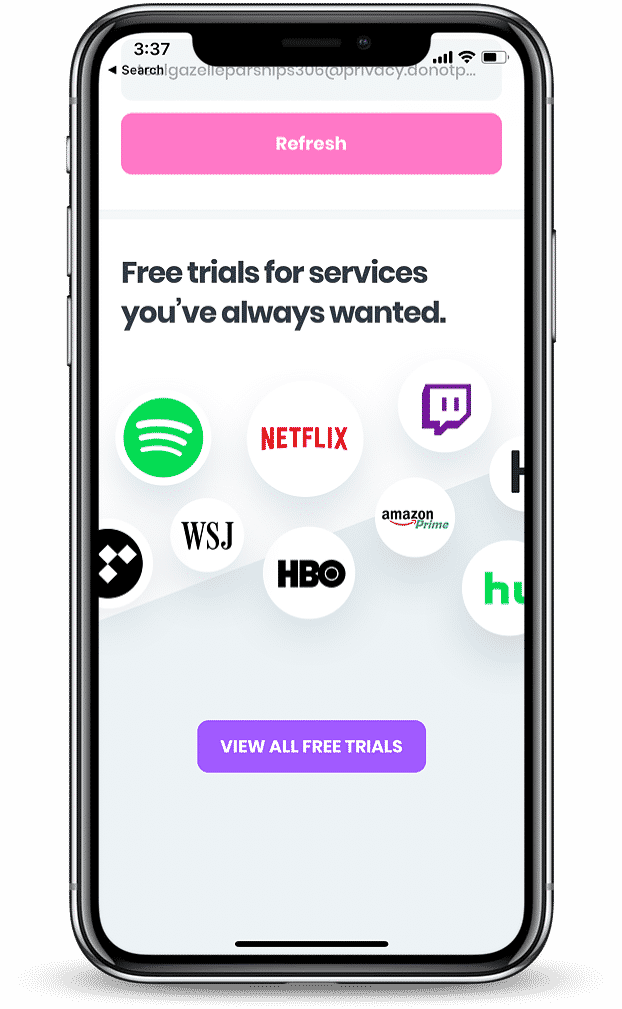 The benefit of virtual credit cards is that you can make one whenever you need it with only a few clicks. Some credit cards allow you to create a virtual card using their digital app, while others may require you to utilize a browser plugin to make online purchases or payments.
For example, with a DoNotPay virtual credit card, you can generate a new card for one-time usage or a membership card for regular purchases. Open DoNotPay's virtual credit card page, select the amount you'd like to use, and then create the card by specifying the expiration date and spending limits. You can log in at any moment to examine real-time spending and make changes to the virtual card's settings.
What CleanMyMacs Features Can You Access During the Free Trial?
Some of CleanMyMac's features you can access during the free trial include:
Intelligent scan: With this feature, you can use the run button to conduct as many screenings as you like, automatically eliminate up to 500 MB of trash, and start your computer speed enhancements up to two times.
Protection modules: You can screen for viruses as often as possible and erase as many privacy elements as you like with this function, but only once. There isn't a way to delete cookies.
Clean modules: with the clean button, you can instantly delete up to 500 MB of unwanted stuff from all modules. Manually examine and delete files with no restrictions. Photo trash and iTunes trash aren't available with this feature.
Applications modules: You can fully uninstall one application or restore it to its original condition, and you can upgrade up to two applications simultaneously. With this feature, all extension functions are completely free.
File modules: You can erase up to 1 GB of data and search without restrictions. However, you can only erase 500 MB of data at a time. You can also use a shredder to securely or regularly delete large quantities of files.
What Else Can DoNotPay Do?

Other services we offer include:
Feel free to reach out to us at DoNotPay today for these and other services!