How to Get Cinema 4D Free Trial Without Using a Credit Card

Whether it is for personal or professional use, as a solo artist or as part of a team, animators and digital artists need great tools to bring their ideas to life. Cinema 4D is professional software that allows for 3D modeling, animation and simulation. It works for design, motion graphics, VR, game development and much more. If you are wondering if it is possible to score a  without the risk of being charged, DoNotPay has answers for you! 
Is There a Cinema 4D Free Trial? 
Yes, there is a way to try Cinema 4D for free. Even better news, is that you can actually try out several programs for free at the same time, because the  is part of the new Maxon One trial. If you are eligible for a free trial, you will find that a free Maxon One trial allows you to have unlimited access to all Maxon Products:
Cinema 4D
Magic Bullet
Universe
Trapcode
VFX
PluralEyes
Redshift
The Maxon One trial that includes Cinema 4D is a 14-day free trial. If you are interested in extending your trial, or even starting another Maxon One trial, you can actually contact the sales team to discuss this option.
How Do You Get a C4D Free Trial With Maxon One?
The installation, licensing, upgrades and updating of all Maxon products are managed through the Maxon App, so you must have it to try Cinema 4D. The products are compatible with Windows or macOS.
Go to the Maxon website.
Click "Try" at the top of the website.
You can click to download the Maxon App. You should also read the FAQ about the app at the bottom of the page.
Follow all instructions carefully.
Open the app.
If you are eligible for a free trial (meaning you have not previously tried Maxon One), you will see a notification banner at the top of your Maxon App.
Click "Try Now" to begin activating your free 14-day trial.
Will You Be Charged for a License When the Free Trial Ends?
No, you will not automatically be charged. When your free 14-day trial ends, you will, however, only have limited access to Maxon products. You will need to manually start a subscription to the products you wish to use in order to regain full access.
Avoid Automatic Charges for Your Trials With DoNotPay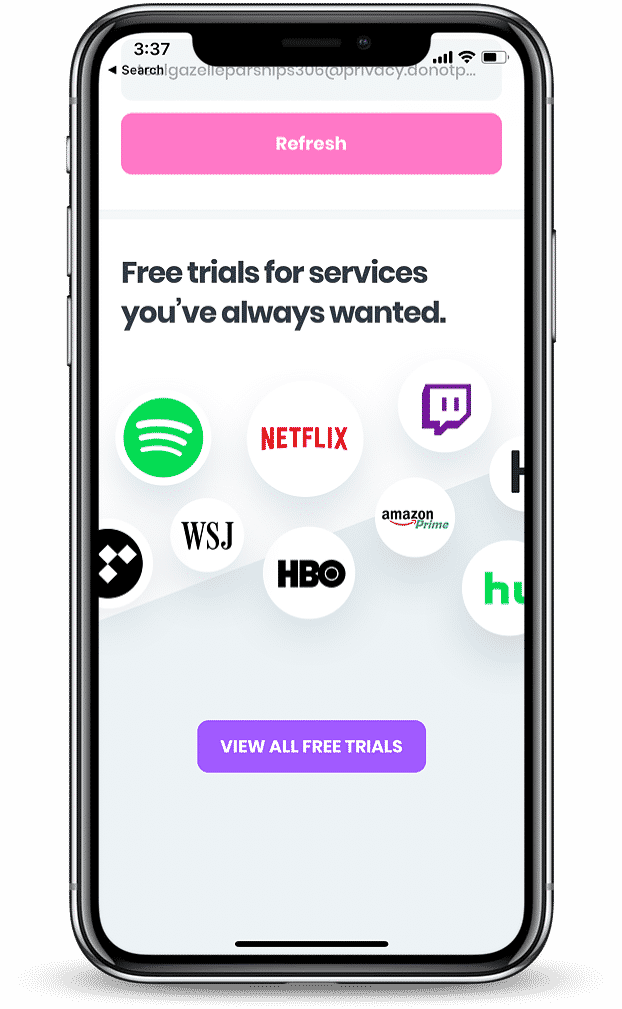 Are you looking at Cinema 4D and other professional software to determine which one would be the best fit for your needs? If you want to trial other software without accidentally getting charged, DoNotPay can help. We know that many companies will require credit card information up front in order to automatically charge you when the trial ends. If you tend to forget about trials and never cancel them on time, DoNotPay can issue you a virtual credit card to avoid this problem!
Find animation or digital design software to trial
Request DoNotPay's virtual credit card
Use the temporary credit card to sign up for a free trial
Trial the product risk-free!
When you request a virtual credit card from DoNotPay, we generate a random credit card number and credit card information so that you can use it to sign up for trials risk-free. The card doesn't have any funds or spending power, and when the trial ends, the company cannot actually charge the actual card. You just got a legitimate free trial without worrying about canceling!
How Much is a Subscription for Cinema 4D?
There are actually a couple of options you can choose from if you like the  and want to continue using it. You can license just Cinema 4D, you can license the entire Maxon One bundle, or you can mix and match programs for a customized option. 
Subscription:
Price:
Maxon One - All Products in One Bundle
$1,119.00 annual

$149.00/month

Cinema 4D - 3D Animation Software
$719.00/annual

$94.00/month

Redshift - GPU-Accelerated, Biased Rendering
$264.00/annual

$45.00/month

Red Giant Complete - Everything from Red Giant
$599.00/annual

$79.00/month

Universe - Video Transition and Effects Plugins
$199.00/annual

$30.00/month

Forger - Professional Mobile 3D Sculpting
$14.99/annual

$1.99/month
An annual Team License (schools, universities, etc.) can also be purchased - pricing is per seat, and minimums are required.
A single-user perpetual license is also available, but you will be required to pay for upgrades for future versions.
How Else Can DoNotPay Save You Money Today?

In addition to helping you sign up for risk-free trials with a virtual credit card, DoNotPay can help you save money in many other ways!
We can also help you:
DoNotPay offers many services to help save you time, money and stress!