Get Cincinnati Chat Line Free Trials Without a Credit Card

Cincinnati singles can connect using Livelinks' chat line to have both flirty and meaningful conversations. Livelinks members can chat anonymously, meet new people and chat with the same person again if they find someone that interests them.
Wondering if there are ? Read on to learn more.
Does Livelinks Cincinnati Offer a Free Trial?
Yes, all new members can test out Livelinks for free. The chat line is always free for women, and men can start with a 60-minute .
How Can You Access Livelinks' Free Trial?
Getting started with Livelinks does not require you to enter any payment details or other personal information. All Livelinks callers need to be 18 or older. To , or free membership for women, follow these steps.
Call the local Cincinnati number at 513-766-6000. Using the number specific to your city will ensure that you're connected with other singles near you.
For women, press 1 to set up your free account.
Confirm that you are over 18.
Record a greeting message.
Listen to voice messages from other members.
Connect with someone whose message you like.
Start talking, and enjoy your conversation.
If you don't use all of your free trial minutes at once, you'll need to call back from the same phone to use the remaining minutes. If you decide to set up a paid account later, you'll be able to call the chat line from any number.
You'll navigate Livelinks using your phone's keypad. The numbers you need to press to take different actions are the following:
One: request a connection
Two: send a message
Three: move on to the next greeting
Four: add or remove someone from your "Hot List"
Five: start listening to local greetings
Six: play the previous greeting
Seven: block the caller
Nine: repeat a greeting
Does Livelinks Automatically Convert Your Free Trial Into a Paid Subscription?
Livelinks does not collect your payment information when you start your free trial, so you won't be signed up for a paid membership unless you decide you want one. You subscribe by adding chat minutes to your account, so Livelinks won't bill you for anything you don't expect.
Easily Avoid Unexpected Membership Charges With DoNotPay's Virtual Credit Card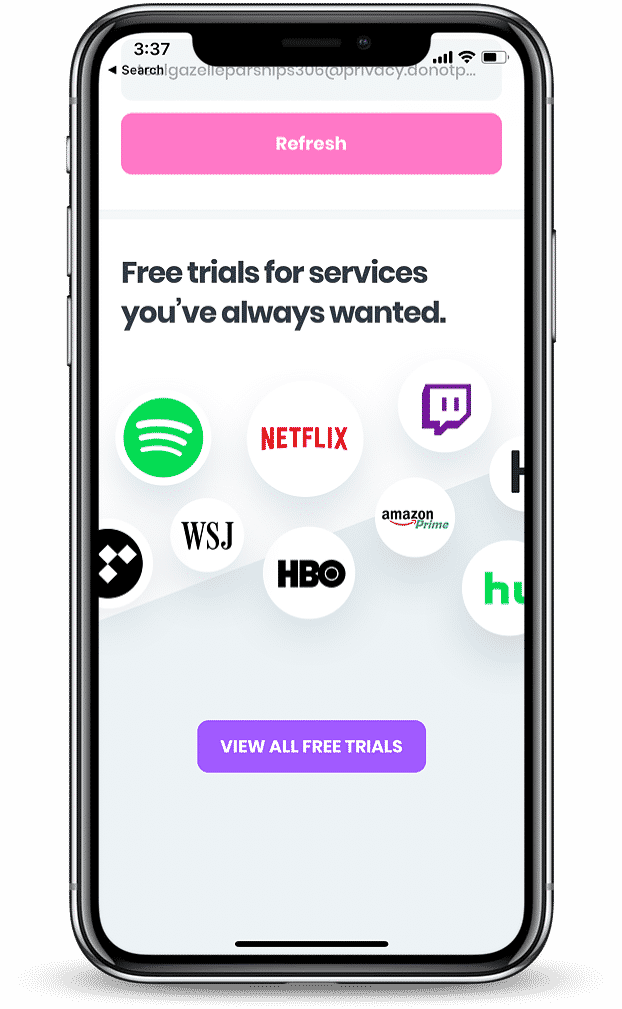 Livelinks in Cincinnati has a member-friendly free trial system that doesn't require you to give the company your credit card information unless you choose to purchase a paid membership. Unfortunately, this isn't the case for a lot of companies, and it's easy to waste money on subscriptions you forgot you even signed up for.
With its virtual credit card product, DoNotPay has a fast, easy and successful solution. Virtual credit cards work by putting together random card details that you can use as a placeholder to sign up for a free trial without giving the company your real payment information. Enjoy free trials risk-free for any service or subscription you'd like to try, and save yourself the stress of canceling before they end.
How Much Does Livelinks Charge to Chat?
For men, after you use up your free minutes, you'll need to create an online account to purchase more minutes. For women, you don't need to create an account, but there are some benefits to having one. These include
Ad-free chat experience
Ability to call from any phone number
Save your recorded greeting between calls.
Keep singles you're interested in on your "Hot List."
To create your account, follow these steps:
On livelinks.com, click "login" in the upper right corner of your screen.
Click "sign up."
Enter your email address and create a password.
Answer questions to confirm that you're human.
You'll receive a confirmation email with a verification link. Click the link, and then enter your email address and password to log in.
Having an account is free for women. For men, the pricing is listed below:
| | |
| --- | --- |
| Cost | Duration |
| $4.99 | 10 minutes |
| $9.99 | 60 minutes |
| $19.99 | 90 minutes |
| $29.00 | 120 minutes |
If you expect to use Livelinks for more than a short time, buying more minutes at once is much more cost-effective.
What Do Livelinks Charges Look Like on Your Credit Card Statement?
If you're considering using a chat service, you might be concerned about how the charges will appear on your phone bill or credit card statement. If you use one of the acceptable payment methods, your Livelinks calls will not show up on your phone bill. These payment methods include
Credit card
Debit card
PayPal
Pre-paid credit card
Western Union
By checking over the phone
When you use one of the approved payment methods that come with a billing statement, your Livelinks charges will appear under the discreet name TELIGENCE.
What Else Can DoNotPay Do?

DoNotPay can help save you time, stress, and effort in many different situations, including
If you'd like to test out new services and subscriptions without the risk of a surprise bill, contact DoNotPay now.