How to Use Your Celebration Passport Free Trial Without Giving Your Credit Card Information

Did you know that you can get up to 50% off on the ? 
We've all seen how appealing free trial offers can be. Most businesses understand that giving free trials is a surefire approach to attracting new consumers. However, there is a huge catch: you must always provide your credit card details.
Hop onto the following subtopics and learn how to manage your credit card when caught in such possibilities.
Does Celebration Passport Offer a Free Trial?
Yes. The 1800-Flowers Passport Program gives a 30-Days Great for Everyday  offer at $0.01. This trial involves no service or shipping cost on specific commodities. DoNotPay explains thoroughly how to get 1800-Flowers promo codes.
Terms and Conditions for the Celebration Passport Free Trial
The 1800-Flowers, like any other business, have a set of terms of service for all of their consumers. These include;
Participation in the Passport  requires you to purchase specific items or services.
To register for the Free Trial Membership, you should be no less than 18 years old.
You are required to have a valid qualifying payment system provided by a financial company that 1-800Flowers.com accepts on file.
1-800Flowers.com and its Affiliated Websites will keep your payment system information on record.
Although no expenses apply on your first trial, keeping your payment service on record will enable the site to elevate you to a premium subscription plan at the end of the trial duration.
All of the perks of premium members are unrestricted to free trial members.
How Can You Get an 1800-Flowers Passport Free Trial?
Visit the Celebrations Passport® Free Trial page.
Click on the "Buy at 1800flowerscom" dialogue box.
The arrow will direct you to the company's official website.
If you already have an account, just log in.
If not, please create one by filling in the required details.
Enter correct credit card information to receive free shipping, exclusive gifts, and other benefits on specified products.
Also, you can use the DoNotPay virtual credit card to enjoy the 1800-Flowers free offers. 
Is the 1800-Flowers Passport Free Trial Turned to a Paid Subscription Automatically?
Did you know that the DoNotPay virtual card will cancel your  to avoid further unwanted subscriptions?
However, the 18000-Flowers customer service will inform you (through the email address you provided at the time of registration of your free trial membership) about your Celebration Passport Membership Plan renewal. It will include information on;
Membership charges for the Program Term.
Membership start date of your Program Term.
A website where you can learn more about the Celebration Passport Program.
Will the Celebration Passport Free Trial Turn into a Subscription Service If You Don't Cancel it?
At the cessation of the free trial duration, the company will instinctively upgrade your plan to the corresponding Program Term membership (Premium).
The company utilizes the same form of payment you provided when you joined up for your trial version to upgrade your subscription. If they cannot bill this payment system, they will bill your account using another payment option on file with them. Unfair, right?
Additionally, if they cannot charge your subscription, they will alert you via the email address you gave when you signed up for your Celebration Passport Free Trial Membership.
If you do not wish to switch to a premium membership, you could cancel your free trial registration at any time by calling 1-800-FLOWERS (1-800-356-9377) or through email.
Remember to use the telephone number linked with your subscription; otherwise, the company will not bill your payment system on record. You will eventually receive a confirmation email afterward.
How Can You Cancel the Celebration Passport FreeTrial to Avoid Renewal?
The paid membership price is fully refundable at both annual membership renewal and the first 30 days of free-trial registration.
It's only possible if you have not used the membership benefits and cancel the membership before the 30 days.
Except otherwise is granted by authorized law, the company will not refund the annual membership fee after 30 days.
What is the Best Way to Hold Track of the Celebrations Passport Free Trial?
Regularly visiting an online store's site is the most excellent way to stay up to date on their latest promotions. In addition, you should check the websites advertising various deals. 
Also, CouponXoo.com has a massive database of coupon and voucher codes. The company regularly refreshes the most current discount, ensuring that you consistently have the most recent ones.
How Can I Get Free Trial and Avoid Getting Charged on My Own? 
It is easier to forget to cancel your free trial and end up paying for a subscription service you don't enjoy. Here are a few ways you can cancel a free trial and avoid getting charged:
Cancel payment once you sign up for the free trial.
If you cancel a free trial after signing up, you will still use it for the entire trial period without getting charged. It is one of the best and easiest ways to ensure you don't get billed.

However, remember that not all free trials operate in the same manner. Some services will stop your trial immediately you unsubscribe, e.g., Hulu and Apple Music.

Set a reminder a few days before your trial period ends.
Don't wait until your free trial ends to cancel your subscription. That's because you may take forever to find instructions on how to unsubscribe, and this could push you past your deadline.

Another reason why you shouldn't wait till the last minute is that most services will still charge you if you cancel less than 24 hrs before your free trial period ends.

Go virtual.
If you signed up with a free virtual credit card and forgot to cancel your subscription before your trial period ended, you can never get charged.

DoNotPay's Virtual Credit Card works by generating temporary credit cards that expire when you please. Some advantages of virtual credit cards include:

Reducing costs
Increasing security
Managing cash flow better
More convenient than physical credit cards
Protecting you from fraudulent activities
Helping you manage subscriptions

Speak with Customer Support.
Do not disregard how powerful personal appeal can be. If you thought you canceled your subscription before your free trial ended or your request was unsuccessful, you can contact Customer Support to help you out. Just ensure you remain humble and courteous in your request.
Evade Auto-Renewal With the DoNotPay Virtual Credit Card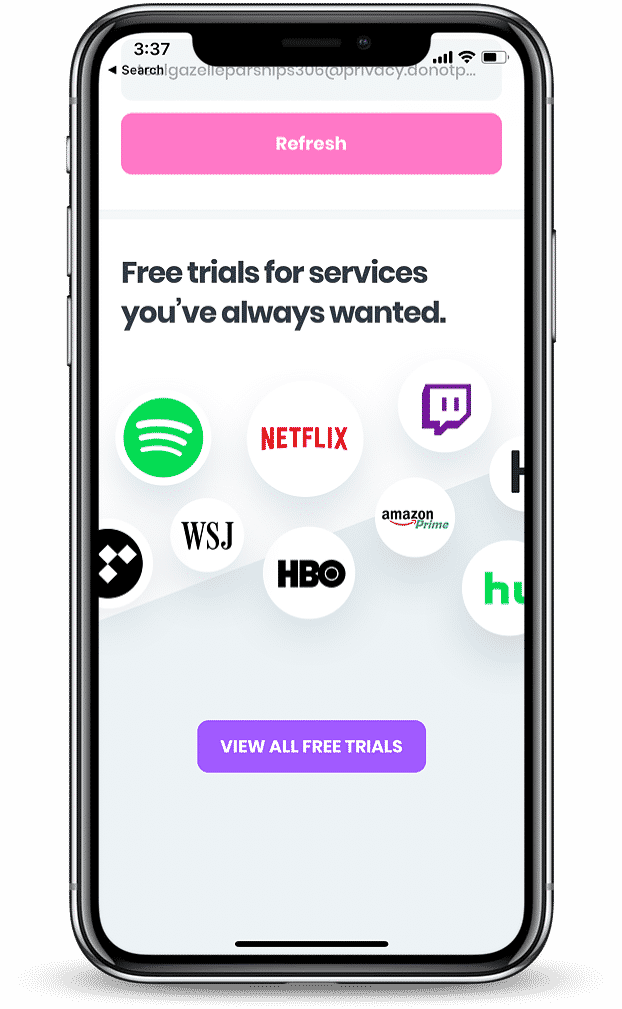 Service providers frequently give us a free trial period during which we can evaluate their services and decide whether or not we wish to pay and keep using them. 
What most of them conveniently forget to say is that after the probationary period expires, they will charge you automatically, irrespective of whether you choose to continue to use the service or not.
Fortunately, thanks to the development of DoNotPay virtual credit cards, you no more have to be concerned about the security of your information or the appearance of unanticipated expenditures on your credit card accounts.
DoNotPay offers a Free Trial virtual credit card to ensure that the trial is genuinely free by stopping the risk of being charged.
The card is going to;
Produce random card details for you.
Validate free billing and trials pages automatically.
Disable any auto-renewals or extra costs from occurring.
Withdraw memberships on your behalf.
Other Things DoNotPay Can Do

With DoNotPay, you can fully enjoy an utterly risk-free trial run without constantly worrying about unforeseen payments showing up on your credit card statement. However, it can also