How to Get a CBS Sports Free Trial Without a Credit Card

CBS Sports Network is a division of the CBS television station. The network showcases televised live events in a variety of sports, from college football to professional bull riding. It provides quality sports content and information regarding the latest sports news as well as achievements in sports history. With over 3,000 hours of live programming and 600 hours of live events per year, CBS Sports continues to be one of the main sources for many professional sporting events.  How much does a CBS Sports channel subscription cost and do they offer free trials? In this guide,  will show how you can get a CBS Sports Network free trial.
Does CBS Sports Offer A Free Trial?
No, CBS Sports doesn't offer a free trial on their website or by itself. However, there are two live TV streaming services that do offer free trials, as well as streams the CBS Sports Network channel. They are as follows:
Fubo TV
Fubo TV gives users a wide variety of channels and plans to choose from. Their free trial offer is on the following three plans:
| | |
| --- | --- |
| Plan | Cost |
| Starter Plan | After the free trial, it is $64.99 a month |
| Pro Plan | After the free trial, it is 69.99 a month |
| Elite Plan | After the free trial, it is $79.99 a month |
Each plan offers a selection of channels to choose from. All three free trials are for seven days.
YouTube TV
The second free trial option that offers CBS Sports Network is YouTube TV. YouTube TV's standard free trial length is seven days; but throughout the year, they usually offer longer free trials or special discounts for signing up for their service. The TV plan starts at $64.99 per month and offers over 85 channels to choose from.
How To Get A Free Trial For CBS Sports
To sign up for a Fubo TV or YouTube TV free trial, you will need to follow the steps below:
Fubo TV
Go to Fubo TV's website.
From there, click on the Start Free Trial tab at the top right corner.
From there, it will ask you to create an initial account.
Once you make an account, it will ask you for your credit card information. After entering the appropriate information, you can start watching CBS Sports Network on Fubo TV.
YouTube TV
Go to YouTube TV's website.
From there, you will see the Try It Free tab. Click on it to begin the sign-up process.
To sign up, it will take you to your Google account to sign in to your regular YouTube account. (If you don't have a YouTube account, it will ask you to create one.)
Once you sign in to your account, it will ask you to add a credit card. After entering your credit card and any other information it asks for, you will be able to start watching CBS Sports Network on YouTube TV.
Do The Free Trials Automatically Renew To Paid Subscriptions?
Yes, if you do not cancel the YouTube TV and/or the Fubo TV free trials before they expire, you will automatically be charged for the coming month (as they are prepaid subscriptions). To avoid being charged, you must cancel within seven days. If you forget to cancel before seven days, you will be charged for the coming month. The day you cancel during the free trial for both YouTube TV and Fubo TV, you will no longer have access to streaming their channels or the CBS Sports Network channel. (Paid subscriptions, however, will have access until the next billing date.)
Avoid Automatic Renewal With A DoNotPay Virtual Credit Card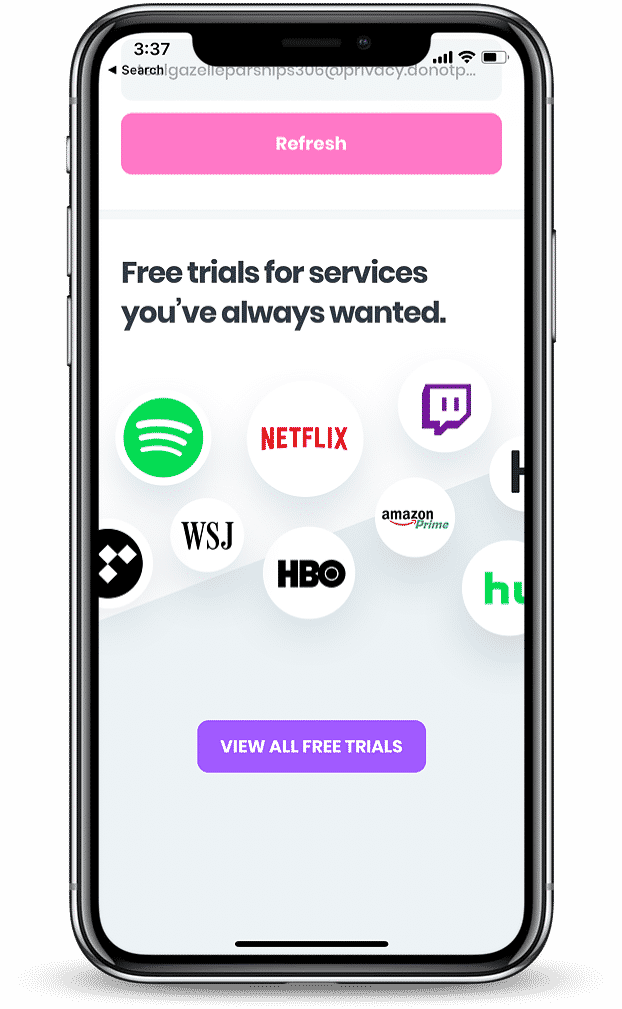 One of the best ways to avoid being charged after a free trial expires is using a DoNotPay virtual free trial card. DoNotPay's virtual free trial cards act like virtual credit cards. A DoNotPay virtual credit card is not connected to your bank or credit card information. It instead works by generating credit card information, such as a credit card number, CCV number, and expiration date. When you use the card to sign up for a free trial, DoNotPay will automatically cancel it at the appropriate time; and you can rest assured that your financial information won't be compromised.
You can easily sign up for a DoNotPay credit card by following the three simple steps below:
 Search and locate the Free Trial Card section and put in the company from which you would like a free trial from.
DoNotPay will automatically generate a virtual credit card. You must print or write the information that comes on the screen.
Use the virtual credit card at the company you chose for a free trial. You can rest assured that your free trial will end accordingly without charging you for the paid version.
It's good to use a virtual credit card when signing up for a free trial for the following reasons:
While the credit card number is real, it cannot be used to purchase anything and it can only be used once.
The card will be deactivated after it is used for your free trial subscription. This eliminates the need to provide your credit card information.
A virtual card also eliminates the need to remember to cancel free trials.
What Else Can DoNotPay Offer?

DoNotPay provides a fast, easy, and successful way in getting a free trial to watch the CBS Sports Network. It is also the perfect solution for assisting in other areas as well. To learn about the other features of DoNotPay, why not check out the list below. See the money you can save when signing up for DoNotPay.