Get a CARFAX Free Trial Without Using a Credit Card

Whether you've been offered a , or a free trial from any other company, DoNotPay can keep you protected. Free trial offers abound. Nearly every company has them, and most consumers are easily lured in. With free trials, you can try out services or products without having to pay anything upfront. Unfortunately, if you don't remember to cancel these trials before their limited run ends, you could wind up paying for month-long or even year-long subscriptions. That's because free trial offers always require people to put their credit card information on file.
So, how does DoNotPay help consumers avoid these unwanted charges? As the world's first robot lawyer and one of the most trusted sources of legal resources, services, and information, DoNotPay has the perfect solution. With a virtual credit card from DoNotPay, you can take advantage of  completely risk-free. If you forget to cancel your free trials before the first billing cycle, you won't lose any cash. More importantly, you won't have to deal with the frustration of calling customer support to get your money back.
What CARFAX Does
 compiles information on used cars from countless sources. It then creates reports based upon an auto's vehicle identification number (VIN). If you want to buy a used auto, you can order a CARFAX vehicle history report to find out:
How many owners has it had in the past
Whether or not it has a salvaged title
Whether it has been in any accidents
Its maintenance history and more
Does CARFAX Offer a Free Trial?
CARFAX does not have any free trials. However, for a limited time, CARFAX is offering its Life Program free for eligible dealers. The Life Program won't allow you to source vehicle history reports for free, but it will provide other benefits. For instance, you can:
Use professionally branded reminders and other CARFAX tools.
Enjoy the increased market engagement.
Have CARFAX solicit customer reviews on your behalf and more.
Although CARFAX doesn't offer free trials, there are still some worthwhile benefits to gain by using a virtual credit card when making CARFAX purchases. These include:
You'll have tighter controls over the purchase amount, date, and other factors.
There's less risk of fraud.
You'll get better payment and remittance data.
Enjoy a complete audit trail and get data analytics in real-time.
Avoid Automatic Renewals on Free Trial Offers With a Virtual Credit Card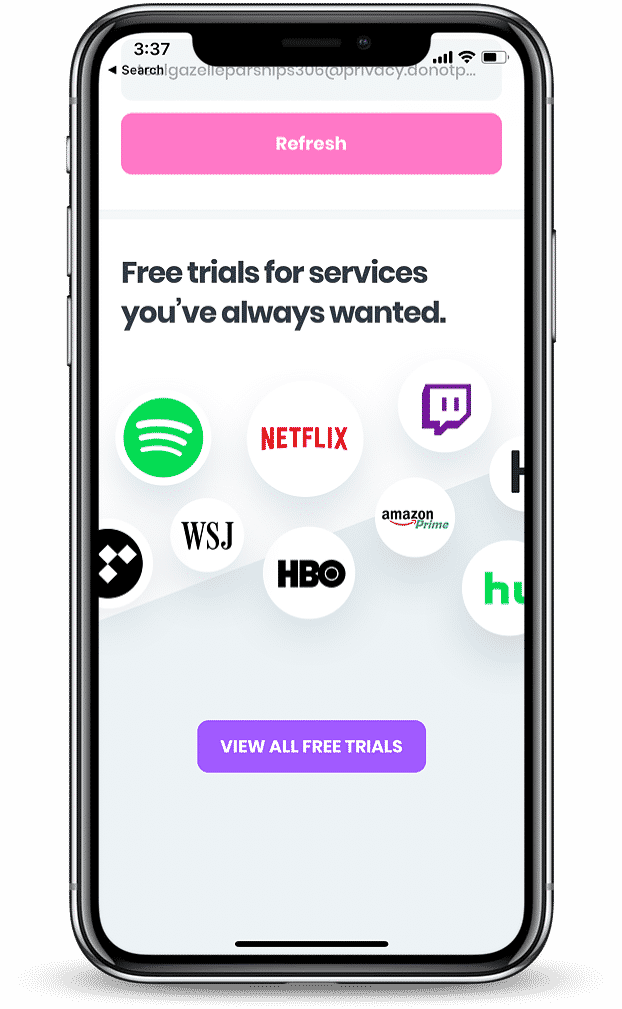 One of the greatest benefits of using a virtual credit card when taking advantage of any free trial is knowing that you'll have the option to cancel or continue your subscription at your leisure. Your first payment won't be automatically charged to your card on file. You can still take advantage of these high-value and highly informative offers to fully explore your options in prospective sellers and service providers. Your virtual credit card will work for the initial authorization charge that's necessary for activating a free trial. However, when a company like CARFAX attempts to charge your card again for the full subscription amount, the transaction won't go through.
How a Virtual Credit Card From DoNotPay Works
Using a virtual credit card from DoNotPay is a risk-free, hassle-free way to take advantage of free trials. DoNotPay will generate random credit card information on your behalf. Once your free trial offer is complete, the company won't be able to charge your virtual credit card again. There won't be sufficient funds on the card, and your subscription will be automatically canceled.
How Much Does CARFAX Cost?
It's not uncommon for consumers to purchase multiple CARFAX reports. After all, you probably won't wind up buying the very first used vehicle that piques your interest. Moreover, many dealers regularly use CARFAX to help prospective buyers make informed purchasing decisions. With this in mind, CARFAX prices are designed to reward frequent service users. The more CARFAX reports your order, the cheaper each report will ultimately be. CARFAX prices are as follows:
| | |
| --- | --- |
| CARFAX Reports | Cost |
| 1 | $39.99 |
| 2 | $59.99 |
| 3 | $99.99 |
With each report that you order from CARFAX, you'll get full maintenance records and buyback protection.
What Are the Most Popular Alternatives to CARFAX
While CARFAX is currently the biggest name in vehicle history report providers, there are lower-priced alternatives to this company. Among some of the most popular are:
What Other Problems Can DoNotPay Help You Avoid?

Beyond helping you avoid automatic renewal charges from a  or from any free trial offer that you sign up for, DoNotPay can help you avoid many other problems, resolve countless issues, and tackle nearly all of your most time-consuming and frustrating tasks. For instance, you can use DoNotPay to:
Sign up for DoNotPay to resolve your issues in no time!