How to Cancel MunchPak With No Effort
MunchPak is a delivery service that you can sign up for to have boxes of candy and snacks from all over the world brought to your doorstep. If you've tried MunchPak out and discovered it's not your cup of tea, we'll help you cancel your membership in only three steps.
Canceling MunchPak With DoNotPay Is Your Best Bet

If you've been wondering how you can cancel your MunchPak subscription pronto, look no further than DoNotPay. Our robot lawyer automates pesky everyday issues like these so that you can have more time for yourself, some overall piece of mind, and additional money in your bank account when the month ends.
To have us cancel MunchPak membership for you, you need only:
Log in to your DoNotPay account using any

Select Find Hidden Money

Type in MunchPak as the subscription you want to terminate
You'll be notified by an email the moment we cancel MunchPak for you—and that's the whole deal! You can go on with your day knowing you won't be charged by MunchPak ever again.
What is great about DoNotPay is that you can also have our robot lawyer track all your paid memberships. Connect DoNotPay to your email or bank account, and we'll terminate the subscriptions you're no longer using to stop services from taking money from you unnecessarily.
How to Cancel MunchPak Manually
You have two ways to cancel a MunchPak subscription on your own:
Email the company

Cancel your membership on the MunchPak website
Emailing MunchPak for a Cancelation
You can send MunchPak an email if you want the company to cancel your subscription. To do so:
Draft your cancelation request in a new email window

Send the message to

support@munchpak.zendesk.com

Wait for MunchPak to respond and confirm your request
Canceling Your Subscription on the MunchPak Website
The other way to unsubscribe from your MunchPak membership is by using the company's website. Follow these steps to do that:
Log in to your

MunchPak account

Click on your name displayed in the upper right corner

Choose My Account

Go to My Subscriptions

Select the View/Edit option

Click Cancel Subscription

List the reason why you're canceling

Confirm your cancelation
| | |
| --- | --- |
| Can You Cancel With | Yes/No |
| DoNotPay | Yes |
| Email | Yes |
| Phone | No |
| Letter | No |
| In-Person | No |
| Company Website | Yes |
Can You Pause Your MunchPak Subscription Instead of Canceling It?
You can pause a MunchPak subscription any time you like by taking a similar process to canceling. To stop using MunchPak temporarily until you decide to reactivate your account, take these steps:
Log in to your

MunchPak account

Click on your name

Go to My Account

Select My Subscriptions

Tap on the View/Edit option

Choose Pause Subscription
Will You Get Refunded if You Cancel MunchPak Before the Billing Month Ends?
MunhcPak decides if they'll refund you for a processing subscription renewal on a case-by-case basis. You can always contact the company and ask for a refund. You may be charged cancelation fees that will be deducted from your refund. Based on your subscription plan, these fees range from $9 to $36.
If you're struggling to get a refund from delivery services, DoNotPay can help you request one from GrubHub in no time.
Ready to Switch to a Different Food Delivery Service?
If you can't pick which food delivery service to stick to, here is a neat table to help you decide:
Delivery Service

Pricing

High Points

$9.99 per meal

Original recipes

Free shipping options

Graze

$13.99 per month

Ability to make your own snack combinations

Over 200 snack options

$59.99 per year

Grocery deliveries

Weekly plans

$30 per year

Healthier snack options

Vegan and gluten-free boxes
Automated Payments Aren't Tolerated at DoNotPay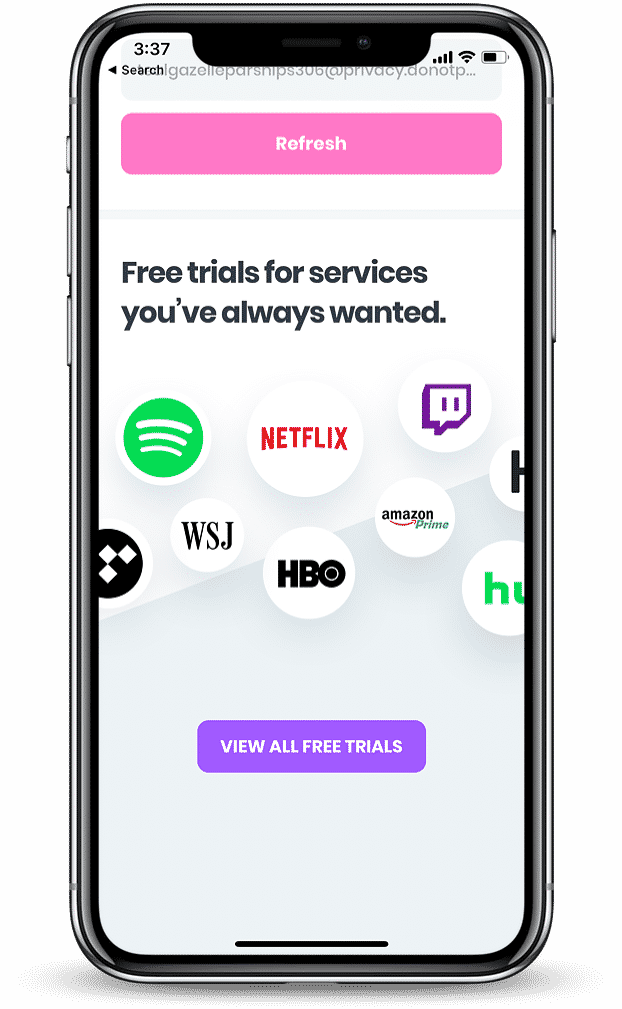 What if you could sign up for as many free trial subscriptions as you want without having to track when each of them ends? We're here to tell you you can do just that with the DoNotPay virtual credit card.
It works by generating a new card number or an email address that's completely random every time you wish to try out a service for free. This will then block subscription services from automatically charging you when the free trial period is over, and you can go on exploring which services are to your liking and which aren't as much as you wish.
How Do MunchPak Charges Look on Your Bank Account Statement?
This is how MunchPak fees may appear on your statement:
| | | |
| --- | --- | --- |
| MUNCHPAK.COMSNACKS 7604408334 | MUNCHPAK.COM GLENDALE AZ | MUNCHPAK.COMSNACKS MUNCHPAK.COM AZ |
| MUNCHPAK.COMSNACKS 5022 N 54TH AVE #10 760 5000217719579339 | Munchpak.comsnacmunchpak.comaz | MUNCHPAK.COMSNACKS MUNCHPAK.COM AZUS |
| MUNCHPAK.COMSNACKS / MUNCHPAK.COM AZUS | MUNCHPAK.COMSNAC 7604408334 AZ | Munchpak.com |
| MUNCHPAK.COM*SNACKS GLENDALE AZ | MUNCHPAK.COMSNACKS MUNCHPAK.COM | MUNCHPAK.COMSNACKS |
| MUNCHPAK.COMSNACKS 7604408334 AZ | Recur- MUNCHPAK.COMSNAC |MUNCHPAK.COMSNACKS MUNCHPAK.COM AZ US|CARD NBR: 3002 | 1013MUNCHPAK.COMSN MUNCHPAK.COM AZ************1281 |
See What Else DoNotPay Has for You

In the world of robot lawyers, DoNotPay has become a household name. Helping you clear out unwanted subscriptions and offering virtual credit cards to use instead of regular ones are only two ways in which DoNotPay saves you money and trouble when dealing with companies.
You can use the DoNotPay app the next time you need to:
Appeal a traffic ticket

Dispute a speeding ticket
You can access DoNotPay any time from your chosen .