How to Get BuildBox Free Trial Without Using a Credit Card

Have you always wanted to create and sell a digital game, but you don't know how to code, script, or program? Buildbox is a development platform that lets people do just that: create games and apps that can be sold on the iOS and Android platforms without knowing the code. The opportunity has people racing to see if they can obtain a  and thinking about how to avoid getting charged the price of the subscription if it's not what they're looking for. DoNotPay offers virtual credit cards to use when signing up for free trials, but will they work with BuildBox?
Does BuildBox Offer a Free Trial?
While the company offered free trials of their Plus and Pro services, they decided to end those trials and instead offer a free version of the no-code game development software. The free version offers some of the features of the paid version, such as game wizards. interactive tutorials, and hundreds of pre-loaded 3-D and 2-D "smart assets," which are pre-set animations that can be used to build out your game. Users of the free version also can monetize their game, with 100 percent of royalties for sales on Google Play and the Apple App stores, as well as 30 percent revenue from BuildBox's Redbox Monetization program. Getting a  is made easier with DoNotPay.
In this guide, we'll talk about:
BuildBox free trial
Ways to avoid getting charged on your own
DoNotPay's virtual credit card
How Much Do BuildBox's Paid Plans Cost?
For more robust features and greater monetization opportunities, BuildBox offers two paid plans:
BuildBox Plus, which costs $19.99, and can be billed monthly or annually
BuildBox Pro, which runs $499.99 per year and is only available through a pre-paid annual subscription.
Do BuildBox Subscriptions Auto-Renew?
If you find that BuildBox isn't the right game development software for you and you're subscribed to one of their paid plans, the company will send you a reminder that your subscription is coming due. If you fail to cancel the subscription before it renews, your billing method will be charged for another month or year of the service, following your plan. Once you cancel the plan, you will continue to have access to the software until your billing period expires.
If you would like to cancel your plan, you can do so by contacting customer support.
Can I Downgrade My Plan?
Yes, BuildBox users can use the customer support link to downgrade from the Pro version to the Plus or free versions or to downgrade from the Plus version to the free version. Likewise, customer support can be contacted to upgrade from the free or Plus versions to a higher subscription level.
How Can I Get Free Trial and Avoid Getting Charged on My Own? 
It is easier to forget to cancel your free trial and end up paying for a subscription service you don't enjoy. Here are a few ways you can cancel a free trial and avoid getting charged:
Cancel payment once you sign up for the free trial.
If you cancel a free trial after signing up, you will still use it for the entire trial period without getting charged. It is one of the best and easiest ways to ensure you don't get billed.

However, remember that not all free trials operate in the same manner. Some services will stop your trial immediately you unsubscribe, e.g., Hulu and Apple Music.

Set a reminder a few days before your trial period ends.
Don't wait until your free trial ends to cancel your subscription. That's because you may take forever to find instructions on how to unsubscribe, and this could push you past your deadline.

Another reason why you shouldn't wait till the last minute is that most services will still charge you if you cancel less than 24 hrs before your free trial period ends.

Go virtual.
If you signed up with a free virtual credit card and forgot to cancel your subscription before your trial period ended, you can never get charged.

DoNotPay's Virtual Credit Card works by generating temporary credit cards that expire when you please. Some advantages of virtual credit cards include:

Reducing costs
Increasing security
Managing cash flow better
More convenient than physical credit cards
Protecting you from fraudulent activities
Helping you manage subscriptions

Speak with Customer Support.
Do not disregard how powerful personal appeal can be. If you thought you canceled your subscription before your free trial ended or your request was unsuccessful, you can contact Customer Support to help you out. Just ensure you remain humble and courteous in your request.
How Can DoNotPay Help Me Get Free Trials?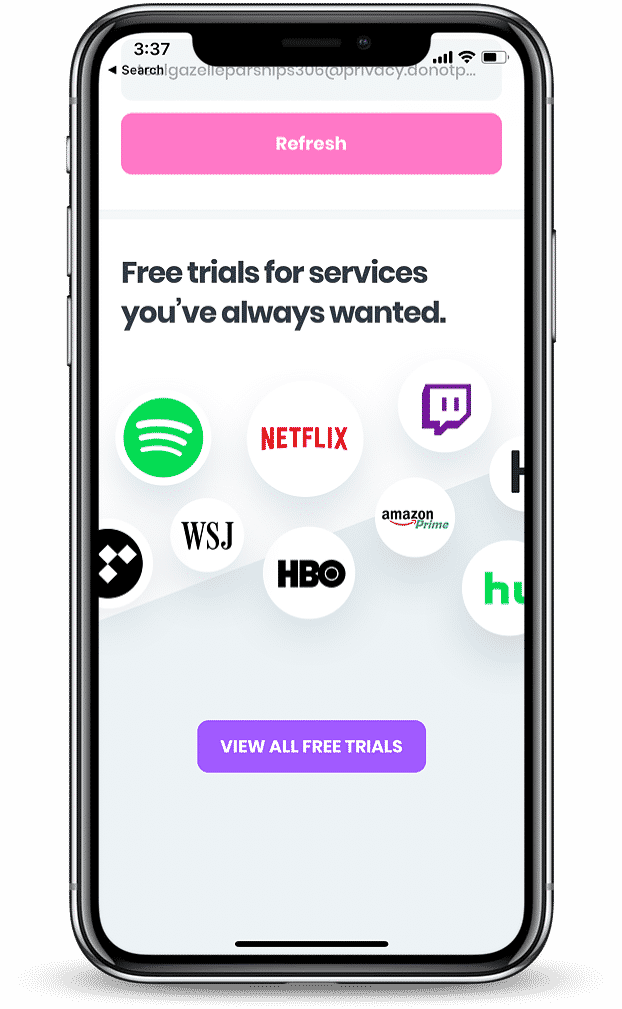 Free trials are a great way for businesses to get their product into the hands (and thoughts) of consumers while allowing consumers the opportunity to try out the product without paying upfront to do so. Unfortunately, many free trials require the consumer to enter their credit card information, increasing the potential of identity theft. Additionally, if the individual forgets to cancel the free trial before the trial period ends, they can be charged for the full price of the subscription.
While BuildBox doesn't offer free trials, hundreds of other companies do, and DoNotPay can help you keep your credit card information -- and your finances -- safe.
Get Free Trials in a Snap
DoNotPay provides virtual credit cards that can be used to sign up for free trials. These cards will allow you to bypass the authentication process but are not able to process charges. The card has a unique number and will be deactivated after it is used one time. What happens when you use the virtual card for the trial is that when the trial period ends and the company attempts to charge you for the subscription, the card will not process the payment and you will not be responsible for paying for a subscription for a product you don't want.
Get your free virtual card in three easy steps:
Search free trial card on DoNotPay and enter the company you want a free trial for.
We'll automatically generate a virtual credit card that you can use for that merchant. Copy the card details shown on your screen.
Use the card to sign up for your free trial and sit back to relax and enjoy!
What Else Can DoNotPay Do?

In addition to providing virtual credit cards that you can use to obtain free trials for several services, DoNotPay provides several ways to make the routine tasks of your life a bit easier to accomplish. Some of the other tasks we can help you with include:
For more information about what DoNotPay can do for you, sign in today!