How to Get a BroadwayHD Free Trial With a Virtual Credit Card

BroadwayHD is one of many niche streaming channels that allows you to handpick the selection of movies and shows you watch through your smart entertainment system.  Accessible through Smart TVs and multi-platform viewing, BroadwayHD brings the beauty and majesty of Broadway performances to life in your living room.
You can subscribe to BroadwayHD for $12 per month, or you can just catch your favorites with a quick 7-day . If you don't want to pay at the end of that free trial, DoNotPay can help you do just that.
Does BroadwayHD Offer a Free Trial?
Yes, Broadway HD offers a 7-day free trial to every member who signs up for the service. On your first visit, you will be prompted to choose a subscription model and access your 7 days of free broadway. If you cancel fast enough, you can enjoy most of that time without actually purchasing your Broadway subscription. 
This is a great way to spend a weekend, a short vacation, or perhaps a week that you're homesick. If you like Broadway musicals but don't need monthly access, managing your BroadwayHD free trial with the help of DoNotPay could be exactly what you need.
How Can I Get a BroadwayHD Free Trial?
Starting your  is easy. Simply navigate to the BroadwayHD homepage and sign up. The free trial comes with every subscription and requires you to select a subscription package, make an account, and enter your payment method to begin the trial.
Once the trial has begun, you have seven days to cancel or be charged for the subscription package you selected. Here's how to do it yourself:
Navigate to BroadwayHD.com
Select Monthly or Annual
monthly is the safer choice if you do not plan to renew or pay
Create your account
Enter your payment information
Submit the order
Enjoy 7 days of Broadway in HD
Cancel on time
Does the BroadwayHD Free Trial Automatically Renew Into a Paid Subscription?
Yes, the BroadwayHD free trial system will automatically charge you at the end of 7 days. Depending on the subscription model you chose, it will either charge you $12 for a single month or $130 for 12 months all at once. Be wary of this, with only seven days to cancel your trial the cost can sneak up on you.
Avoid Automatic Renewal With DoNotPay Virtual Credit Card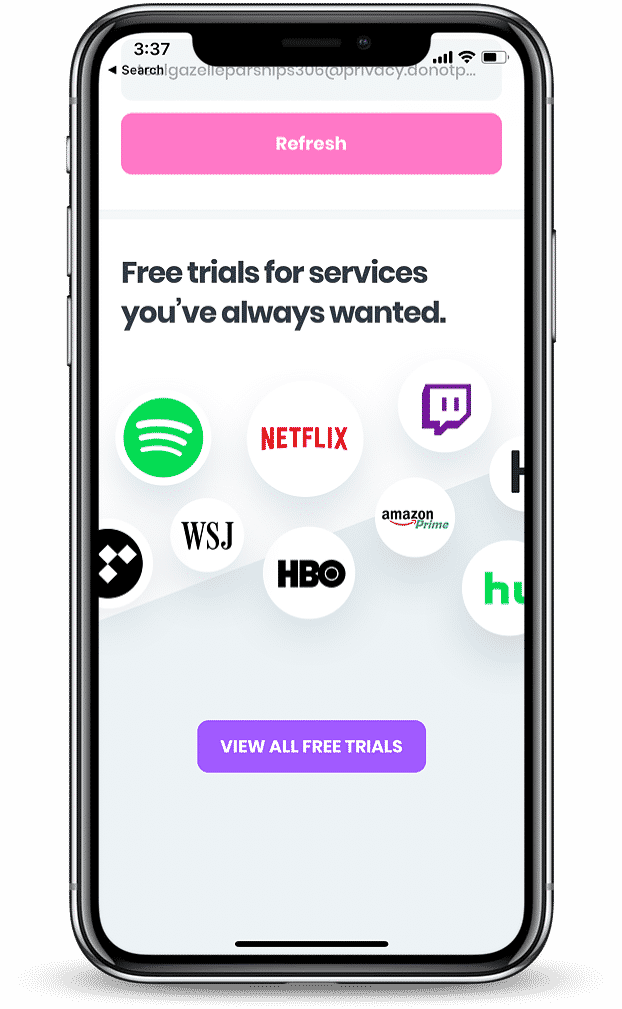 The BroadwayHD free trial system is the type designed to only offer a taste and then roll directly into the subscription plan. The free trial might give you some no-cost movies to watch on a vacation or over the weekend, but it's all too easy to let that fast-approaching cancel date slip your mind and see a charge on your bank account.
Free trials are rarely free, but DoNotPay can make sure BroadwayHD can't charge you at the end of your free trial. No matter how much they expect to.
Cancel Any Account
Free Virtual Credit Cards
Customer Service Support
Cancel in Time, Every Time
Your first option is to cancel your BroadawyHD free trial before it has a chance to roll over into a paid subscription charge. DoNotPay can help you cancel any account swiftly. This makes sure that the cancellation is complete (no strategic delays) before the official end of your free trial.
Virtual Credit Card Trick
The virtual credit card trick is the natural answer to the free trial maneuver. Companies like BroadwayHD use a short free trial period to slip that first subscription charge to your bank account before you have a chance to cancel. A virtual credit card gives them nowhere for that charge to go. Essentially, a virtual credit card is a card number that takes the place of your credit card on file when you make the free trial account. When BroadwayHD goes to charge you for that first month of service, the payment will bounce and your free trial will end gracefully instead of with a cost.
You can get the free virtual credit card numbers you need through DoNotPay at any time.
How Much Does BroadwayHD Cost After the Trial?
The BroadwayHD free trial ends in one of two payment results, depending on what you selected when you activated the trial. If you choose the Monthly option, then you will see a bill of $11.99 appear on your statement if you did not already cancel the account. If you selected Annual, then your bill will be $129.99 on your bank or card statement when the free trial expires.
Subscription Plan
Cost
Monthly Subscription
$11.99 per month
Annual Subscription
$129.99 per year

Comes out to $10.83 per month
Why Use DoNotPay to Get Free Trials and Don't Get Charged 
DoNotPay is fast. Applying for free trials independently is time-consuming. Therefore, enjoy your SPSS experience with DoNotPay.
DoNotPay is easy. It helps you avoid filling out many long forms. Wait for the feedback as DoNotPay ensures that your interests are well taken care of.
DoNotPay is successful. We have been tried, tested, and verified.
What Else Can DoNotPay Do?

Can DoNotPay do anything for you beyond securing a no-cost free trial of BroadwayHD? Absolutely! We have a vast selection of tools, services, and products that are designed to simplify those big and little challenges in life. We can help save you money or reclaim money that is already yours. We're here for those little legal tasks that never quite get done. We can help you manage your online accounts, get better deals on travel, and avoid surprise costs that are jumped on you at the last minute. What else can DoNotPay do to help? Explore our services to find out.
Fighting speeding tickets
Disputing traffic tickets
Try DoNotPay today!