How to Try Broadcastify Premium the Secure Way

Many professions require colleagues to have open communication across large distances. To do so, they use radio broadcasting. Broadcastify is the leader in radio broadcasting for first responders, aircraft, and marine professionals. Although Broadcastify's standard version is free, you might want to know if a is available.
Premium subscriptions include a lot of desirable features, and free trials are a fantastic way to decide if the cost is worth it for you. Unfortunately, it is easy to forget to cancel free trials before they expire, which can lead to many unwanted charges on your credit cards and bank account.
Luckily, DoNotPay has a solution. You can try a free trial risk-free with a virtual credit card.
Does Broadcastify Offer a Free Trial?
It is reasonable to want to try out a service before you purchase it. Unfortunately, there is no available. If you want to try Broadcastify, you can access the free version through their website or mobile device. The Broadcastify app is available on Apple App Store and Google Play.
Broadcastify Premium Features
If you want to upgrade to a premium Broadcastify subscription, it comes with several upgrade features and incentives.
No advertisements.
Ability to post advertisements in the RadioReferences Classifieds.
You can access all broadcasts in a rolling 365 day period.
Unlimited and continuous listening. There is no cap to how long you can listen.
A My Broadcastify Favorites Page (MyBCFY).
You can download content.
A custom dashboard.
How Much Is Broadcastify Premium?
If you decide you would like to upgrade your Broadcastify, you will want to know how much it will cost. Broadcastify has several price point options depending on the amount of time you commit to.
| | |
| --- | --- |
| Number of Days | Price |
| 180 Days | $15.00 |
| 360 Days | $30.00 |
| 720 Days | $60.00 |
What Is a Virtual Credit Card?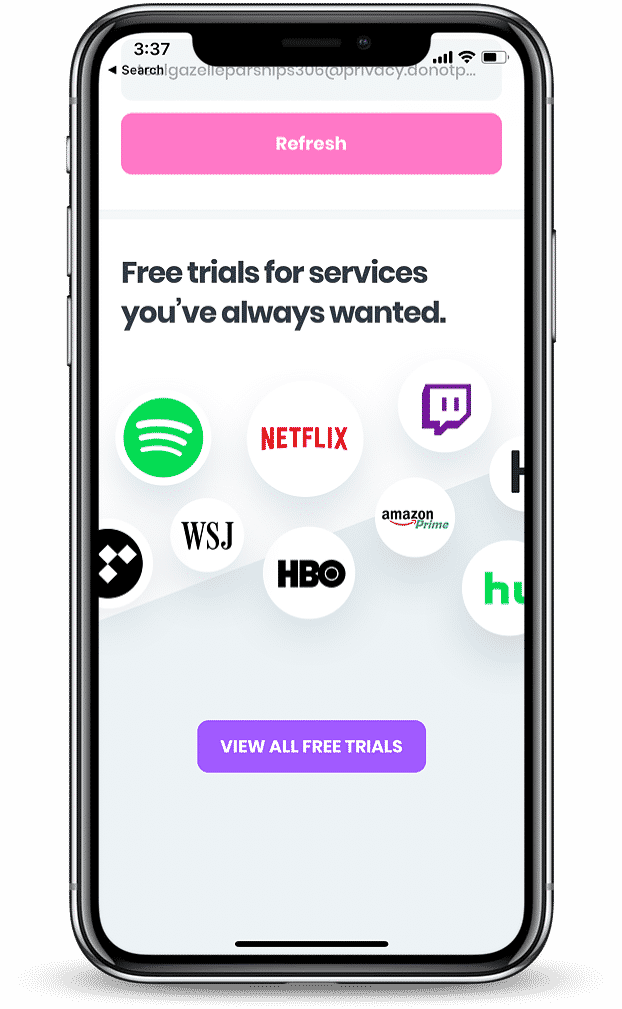 Although Broadcastify Premium doesn't offer a free trial, a lot of other memberships and subscriptions do. These free trials most often require a credit card to access. After the trial period ends, the credit card is charged if the subscription or membership hasn't been canceled.
DoNotPay saw the headache of remembering to cancel free trials and the time it takes to do so. To simplify the process, the virtual credit card feature was created.
Virtual credit cards are randomly generated card numbers that merchants accept for free trials. They are connected to your personal information but have no monetary value. If a merchant tries to charge the virtual credit card, they are declined. This keeps your cards safe from unwanted charges. Best of all, using a virtual credit card is simple.
Go to DoNotPay's free trial credit card page.
Click on the button in the middle of the page titled "Solve This Problem For Me."
Fill out your personal information into the form.
Specify which merchant the virtual credit card will be used for.
DoNotPay will generate a virtual card number, expiration date, and CVV code.
Copy the virtual card number, expiration date, and CVV code.
Paste the virtual credit card information onto your desired merchant's free trial form.
Enjoy your free trial. You will not have to worry about unwanted charges or canceling the subscription or membership.
Why Use a Virtual Credit Card for Your Free Trials?
Using virtual credit cards comes with a lot of advantages. They save you time, money, and peace of mind. It is more challenging to think of reasons not to use one.
Here are just a few reasons you should use DoNotPay's virtual credit cards for your next free trial:
Save Time: Using virtual credit cards saves you time. You won't have to worry about remembering to cancel your free trials. Canceling subscriptions and memberships is always a nuisance, and some companies make it painstakingly tricky.
Avoid Headache: Not only will DoNotPay generate a virtual credit card number, but you can also have a virtual email address generated. You will still receive all important emails, but avoid aggravating spam.
Ensure Security: Websites and vendors are prone to hacking, and you can never ensure your data is safe. Virtual credit cards keep your bank accounts and credit cards secure.
Save Money: Although a $4.99 charge here and a $9.99 charge there might not seem like much, the charges add up. Companies count on consumers forgetting to cancel free trials so they can profit. Using a virtual credit card ensures you will only pay for memberships and subscriptions you actively use after the free trial period ends.
What Else Can DoNotPay Help Me With?

DoNotPay is here to help you with just about anything. Your time is precious, and DoNotPay wants to help you keep as much of it as possible for the important things in life. From simple tasks like DMV appointments to staving off harassment, DoNotPay has your back. Here are just a few services DoNotPay has that will help make your life easier:
DoNotPay helps you get your time back. Visit DoNotPay today to learn about all of the tasks they can help you accomplish!