How to Get a Bluebeam Free Trial Without Using Your Credit Card

Bluebeam is a premier software solutions company that helps construction teams get jobs done faster. A trusted source in the industry, the digital collaboration tools provide unsurpassed attention to detail, allowing contractors to work smarter, not harder.
The workflow solution is available in three different editions, ranging between $349 and $599 per seat for a perpetual license. There are many more options and upgrades to choose from, making it a costly venture for small businesses and individuals.
While , it can come with strings attached that will cost you more money in the long run. DoNotPay provides the perfect alternative, allowing you to try out Bluebeam's products without risk or obligation.
It's easy to get started with a  with the help of DoNotPay. We can provide you with a virtual credit card that eliminates your financial exposure and allows you to check out the software on your own terms.
How Does the Bluebeam Free Trial Work?
Contractors, engineers, and architects are familiar with Bluebeam since it is an industry-standard for PDF markups used throughout the entirety of a construction project.
As an individual, you may be wondering if the program is right for you. The  allows you to play with the software and see if it will work for your personal or professional needs.
Bluebeam offers a free 30-day trial offer for new users, granting you access to all of their products, including the industry-acclaimed Revu software.
How Can I Access a Bluebeam Free Trial?
To sign up for a Bluebeam Revu free trial, go to the company website and follow the instructions below:
Click on the "Download a Trial" button.
Create an account by filling out all required fields (name, email, etc.).
Select a unique display name that will be visible by other platform users.
Enter valid credit card information.
You will be asked for a serial number and product key to download the software to your computer. Enter "Use as Trial" to activate the free 30-day trial offer.
When the trial offer expires, you will be automatically switched over to View Mode, where you will only be able to view documents, join studio sessions, and access measurement tools.
Avoid Automatic Renewal With DoNotPay Virtual Credit Card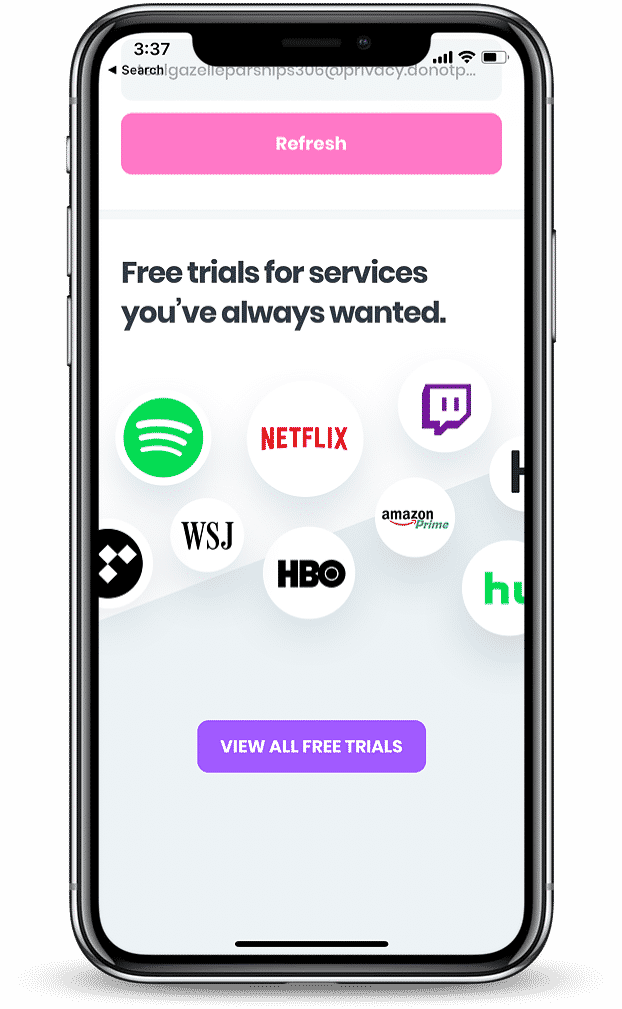 Many people sign up for free trial offers, check them out for a few days, and then forget about them. Companies count on customers forgetting so they can charge the credit card on file as soon as the offer expires. Countless individuals across the country end up paying exorbitant fees for subscription services or memberships that they never really wanted.
DoNotPay has created a way to eliminate the risk of trying new products using a virtual credit card.                           
Here's how it works:
Search Free Trial Card on DoNotPay and enter the company you want a free trial for.
We'll automatically generate a virtual credit card that you can use for that merchant. Copy the card details shown on your screen.
Use the card to sign up for your free trial and sit back to relax and enjoy.
The virtual credit card works the same way as your credit card but does not contain any personal banking information. You can use the virtual credit card to subscribe to any service and not be obligated to continue paying once it expires, even if you forget. If the company tries to charge the virtual credit card, it will be unsuccessful. When they don't get paid, they will unsubscribe you from their service immediately.
It's really beating them at their own game and getting to try out the service for FREE, without risk or obligation, which was their intention in the first place.
Using a DoNotPay virtual credit card lets you decide if you want to continue the membership or subscription service without being tricked into it.
You don't have to link your credit card information to this card; you can add any name and set your expiration date.
Once your free trial expires, you won't have to worry about being charged, since there isn't any money linked to the free trial card and online vendors don't have access to your real credit card information.
How Much Does Bluebeam Revu Subscription Cost After the Free Trial Expires?
You will need to purchase the Bluebeam Revu software along with a Perpetual License or Open License to operate it on your computer. Each device will also need a paid seat attached to it. Many companies will purchase the license and then add as many seats as they need for their employees.
| | | | |
| --- | --- | --- | --- |
| Product | Bluebeam Revu Software | Perpetual License - Maintenance Subscription | Enterprise License Package |
| Revu Standard | $349 per seat | $99 | $349 |
| Revu CAD | $449 per seat | $119 | $449 |
| Revu eXtreme | $599 per seat | $149 | $599 |
Bluebeam Revu Software
All editions are only compatible with Windows and are no longer available for MAC-based systems. Go to the web store to purchase the Bluebeam software. Returns are only accepted within the first 30 days of use. To request a refund, contact sales support or call 866-496-2140.
Perpetual License
A perpetual license is yours forever, and there are no annual subscription fees attached to it. You will pick an edition at the above-listed price and then pay an optional Maintenance Subscription
Enterprise License Package
This is the best option for IT administrators who need to manage multiple devices. It requires an Enterprise License and annual subscription.
The Maintenance Subscription is the same price as listed for the Perpetual License. There is also an additional $10 subscription fee.
Open License
This option allows companies to install the Revu software on as many computers as they like. The annual subscription rate is $1,299 and renews automatically every year. The Maintenance Subscription is included in the price.
DoNotPay Can Help You Solve Many Other Issues

You work hard for your money and don't want to be held responsible for unused services or subscriptions. It's easy to forget about a free trial offer and suddenly incur unexpected charges. DoNotPay can help protect your wallet, along with solving many other common issues, such as:
Whether you need help starting a Bluebeam free trial or want to learn more about getting a free virtual credit card,  can offer valuable resources. Together, we can tackle common problems, leaving you more time to focus on your personal life and career.