How to Obtain a Blinkist Free Trial Without Using Your Credit Card

If you love reading or listening to books, Blinkist may be for you. A monthly subscription grants you unlimited access to 5,000 nonfiction bestsellers and podcasts. You can also listen to 15-minute Blinks and Shortcasts for a quick takeaway that offers a new perspective on learning.
There are currently 21 million subscribers utilizing the popular platform, which costs around $15.99 per month to join.
If you would like to check out the service but aren't sure if you want to commit to a monthly subscription plan, DoNotPay can help. Our product can assist you in signing up for a , and best of all, you don't need to share your credit card information.
Does Blinkist Offer a Free Trial?
Yes. Blinkist does offer a free trial on their website, but you need to enter your credit card information to get access. The  is only valid for seven days. After that, you need to upgrade to a monthly or annual subscription plan to continue accessing the service.
If you do not cancel the free trial within the first seven days, the credit card you have on file will be automatically charged. As a trial member, you have access to the entire Blinkist library, allowing you to check out the platform and all that it offers.
How Can I Get a Blinkist Free Trial?
Here are the steps to get started with a Blinkist free trial.
Take the Interest and Goals Quiz
Go to the home page of the Blinkist website. Answer the questions about your personal interests and goals for reading recommendations that you may enjoy.
You will be asked about your motivation for joining, your age, current reading habits, and topics you would like to explore.
Blinkist will then provide you with a few suggested titles based on your responses. You can give each selection a thumbs up or down based on your level of interest.
You are then provided with a personalized reading list of books available in print or audio.
Start Blinkist Free Trial
If you find the reading list of interest, you can give the Blinkist free trial a try:
Click on the "Start Free Trial" button to get started
Enter your email address
Create a unique password
You can also set up an account on the app with social integration if you do not want to provide your email address.
Choose a Plan
Next, you will select a plan you would like to enroll in after the free trial period ends. You can choose the monthly or annual payment option.
Enter Credit Card Information
Blinkist requires all members to enter valid credit card information to access the platform.
Trial period subscriptions are not exempt.
Anyone that accesses the site must have a credit card on file.
Does the Blinkist Free Trial Automatically Renew Into a Paid Subscription?
Yes, the Blinkist free trial automatically renews after the initial 7-day trial offer expires.
If you like the platform and want to continue using the service, your credit card will be automatically charged for the plan you selected when enrolling.
If you do not want to become a member, be sure to cancel within seven days to avoid being charged for unwanted services. If you forget to cancel your trial subscription, your account is automatically converted to a paid subscription, and you are liable for the entire amount of the plan.
Blinkist offers a 14-day money-back guarantee for all first-time purchases. Contact support to request a refund. It does not apply to renewals, so if you forget to cancel your free trial, you will not be able to get a refund.
To cancel a Blinkist free trial offer, you must notify support within 24 hours of the expiration date to avoid incurring charges. You can also go to settings on the Blinkist app and click on "Cancel Free Trial" to end your subscription. You will still be able to use the platform with one preselected book for the entire seven days, even if you cancel.
Avoid Automatic Renewal With DoNotPay Virtual Credit Card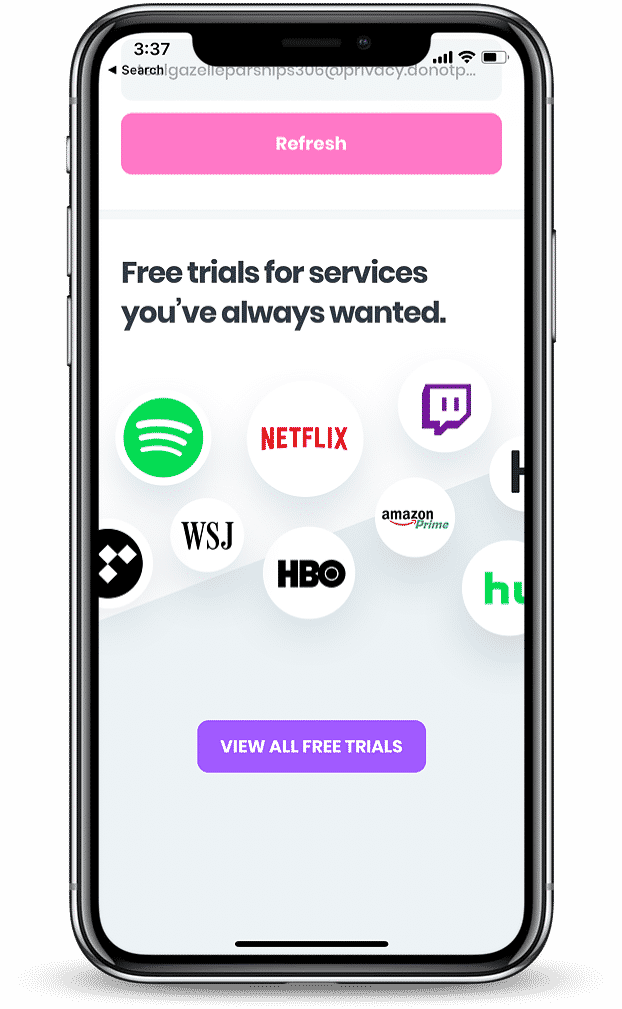 Fortunately, there is an alternative. Using the DoNotPay free virtual credit card can alleviate the stress of paying for a trial offer. 
With a virtual credit card, you do not need to disclose your financial information. You will receive a virtual credit card number that can be assigned to a specific vendor with a maximum spending limit. Blinkist cannot use it to renew a subscription, and you will be free to check out the platform without risk or obligation.
Many people enroll in subscription services and forget about them. Over a year, those costs can add up, with the average consumer spending upwards of $300 annually on unused services and subscriptions.
Using a DoNotPay virtual credit card protects you from unexpected and unwanted charges further down the road, keeping your personal financial information intact and free from automatic renewal bots.
With a virtual credit card, you get to check out the service for free, with no obligation. You do not have to worry about remembering to cancel your subscription later or having it renewed automatically without your knowledge. It is the easiest and safest way to create a  so that you can enjoy all your favorite books and podcasts without any financial risk.
How Much Does Blinkist Cost After the Trial?
There are two payment plan options available for Blinkist subscribers.
Monthly Premium Plan
Annual Premium Plan

You can select the monthly billing plan of $12.79 per month and may cancel at any time.
The subscription will expire, upon request, at the end of the current subscription cycle.
This option is available to purchase directly, even if you are not accessing the free trial offer.

The cost of the annual plan ranges between $79.99 and $99.99 per month.
The free 7-day trial offer is included in the subscription.
The annual premium plan offers a 50% savings off the monthly purchase price.
What Else Can DoNotPay Do?

Not only can DoNotPay help you enroll for a Blinkist free trial without a credit card, but it can help you solve a variety of issues that come your way.
The automated DoNotPay system can help you:
Don't get stuck paying for a service you do not want.  can help protect your financial information and show you how to take charge of your everyday tasks. Having help around the clock is invaluable, and you will quickly wonder how you ever handled problems without DoNotPay.